Sampdoria postponement gives Inter a chance to catch breath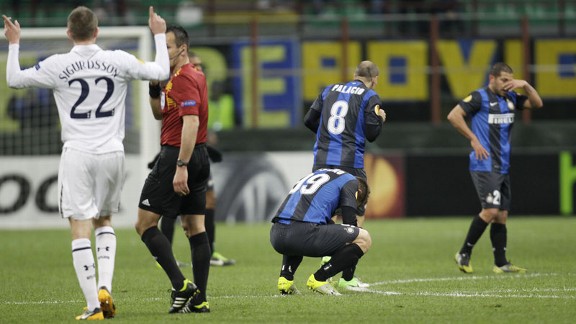 AssociatedThe postponement may be of benefit to Inter given that the players had to play 120 minutes against Tottenham
It is always disappointing for me to see a game get postponed. Like most fans, I spend all week looking forward to sitting back and watching the game over the weekend. This week, however, the game didn't come for Inter. They travelled down to Genoa on their team bus only to be told on the day that the Genoese council had called for the game to be postponed due to the impending threat of heavy rain.

With Sampdoria's Stadio Luigi Ferraris sitting in a high flood risk area, this was of course the only sensible option. As Inter boss Andrea Stramaccioni told the press before he and the squad jumped back on their bus to head home: "Football is secondary in cases like these."

Obviously, the players' and fans' safety is paramount in these situations, but it is hard to hide my disappointment at not seeing my beloved team in action. This is especially the case when you know that, due to the international break, there won't be another club game for nearly a fortnight.

My disappointment could be a blessing in disguise for the Nerazzurri, however. Following their high intensity match against Tottenham just three days previous, it had been suggested that the injury-ravaged Inter squad just didn't have the squad depth to rotate their players sufficiently for this game. After 120 minutes of hard-fought football, the players involved in that Europa League match looked exhausted, and this could only have worked to Sampdoria's advantage.

Stramaccioni did not want to admit this could've been a problem as he stated that: "Obviously we were more than prepared to play this match." Even in his pre-match press conference before the game was called off, he down played the effect of fatigue on his players: "Thursday's game has given us strength and a huge psychological boost. Often the head commands the legs more than you'd think."

Maybe the Nerazzurri boss had in mind to make a push for an early goal and then just sit back and defend the lead. This, to be honest, would've been a tiring feat in itself given the calibre of Sampdoria's attack. This quality was not completely lost on Stramaccioni either as on Saturday he went on to say: "Mauro Icardi, along with Eder, Gianluca Sansone and Maxi Lopez, have the potential to cause problems for us. Samp are a threat that need to be taken very seriously, especially at home."

Personally, I was particularly looking forward to seeing what Icardi could do on the pitch if, as numerous recent rumours have indicated, the ex-Barcelona youngster will be leading the line next season, alongside Rodrigo Palacio and potentially the unsettled Alexis Sanchez from Barcelona.

It's not all good news for Inter with the postponement of this match - it means that the suspension Juan Jesus was facing against Sampdoria for card accumulation will now stand in Inter's next game: The Derby d'Italia, against Juventus. The young Brazilian's disappointment was obvious when he tweeted: "I will now miss the match against Juventus. I saw Atalanta-Roma a few weeks ago and it was snowing really horrible and they still played. And now they did this."

I really do feel sorry for Juan. It must be incredibly frustrating for a young motivated player to have to sit out such a huge match. On the bright side, fan favorite Walter Samuel should be fully fit to start against Juventus, after being deemed fit enough for the match-day squad against Sampdoria. Samuel will be crucial if Inter are to gain anything in a very difficult home game against the league leaders on the March 30.

The influence of Samuel is plainly obvious to Stramaccioni, who spoke of his inclusion in the squad as being "of fundamental importance, not only for his ability as a footballer but also for his leadership skills. We know that this team's tactical evolution was partly down to Samuel's experience. He offers us an extra weapon." This was the opinion offered ahead of a game against a mid-table Sampdoria so, as you can imagine, his inclusion against the rampant Juventus is critical.

Inter now have just under two weeks to prepare for this important game, a game that will be played for pride as much as for the points, during which time eight first-team players will represent their various countries in the upcoming World Cup qualifiers. These players include the usual suspects of Samir Handanovic, Fredy Guarin, Walter Gargano, Alvaro Pereira, Zdravko Kuzmanovic and Andrea Ranocchia.

Also, it is great to see the talented Mateo Kovacic get called up for what may be his debut cap in the Croatian senior team against Serbia and Wales, and it is especially wonderful to see Palacio's great form this season with Inter being rewarded with a recall for the Argentinean national squad. I have always thought it unfortunate that Palacio has only ever made ten appearances for his country since 2005, so I am hoping he gets the opportunity to be part of the squad for next year's World Cup and play alongside the likes of Lionel Messi.