The odds are against Inter as Tottenham look to progress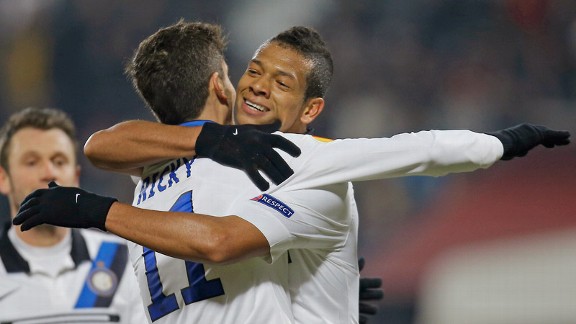 AP Photo/Vadim GhirdaInter's Fredy Guarin won the Europe League with Porto in 2011.
Three goals down and without an away goal to ease the pressure, that is the situation the Inter squad face as they enter the second leg of their last 16 Europa League game against Tottenham in the familiar surroundings of the Giuseppe Meazza. Is this a challenge too far for the team? Or can they pull off the most outstanding comeback of the season?

- Fitch: Spurs must attack to kill off tie

Well, players such as Esteban Cambiasso, Rodrigo Palacio and Fredy Guarin appeared to be saying the right things ahead of the game, stating their desire to see Inter through to the quarter-final draw on Friday.

"The Europa League is a great experience, I know the tournament well and it's very important for us," Guarin told UEFA.com. "It's a difficult tournament with some very good opponents, in order for us to win it we have to take it one match at a time."

Guarin is of course the most recent winner of the tournament in the Inter squad, along with Alvaro Pereira, who was also his team-mate in Andres Villas-Boas' Europa League winning Porto side of 2011.

As Fredy states, at this stage of the competition every game must be viewed by its own merits, but as much as I agree Inter could possibly win the game at the San Siro, the fact that they need to score four goals without conceding any is asking far too much of the under pressure squad and coach Andrea Stramaccioni.

"It's a very important tournament, a big one, especially now since there are so many big and good opponents and we hope to win it," said Palacio, who arrived in Europe in 2009.

This season's Europa League competition should have been the best chance of his career to claim a piece of European glory. His efforts in trying to make this dream come true have been commendable, with seven goals in the nine appearances he's made, a stat that means he is one of this season's top Europa League scorers.

However, his eye for goal is not enough to carry the whole team through and with Inter's creative ability deteriorating so badly in recent months it is fair to say that he'll be lucky to get a handful of chances on goal in this return match, let alone become the Nerazzurri hero that takes his team through to the next round.

You may be thinking these player comments are ludicrous considering the thrashing Tottenham gave Inter at White Hart Lane and you would be right, to a degree, as the UEFA website reveals these interviews took place before the first leg game last week.

The hindsight of knowing the outcome from Inter's away fixture makes Cambiasso's comments almost laughable. "We entered this tournament with the attitude that we were going to take it seriously as it deserves to be taken, because this is a title we believe in. As a team we have a great desire to do well here," he said.

As my regular readers and Twitter followers will know, I consider myself an Interisti, but the Nerazzurri team I watched fall apart on the pitch in London last week most definitely were not taking the competition seriously, nor showing any desire to do well at all!

The truth of the matter is that the current Inter selection, with the exception of Javier Zanetti and maybe one or two others, don't appear to be taking any competition seriously or showing a great desire to win. This sad fact has been evident for a while now, but the dismal display they produced last Sunday against Bologna proved to the footballing world the Inter we are witnessing at the moment is probably heading for another heavy defeat at the hands of their English opponents on Thursday.

With Inter's injury list seemingly growing by the day, and a serious problem within the Nerazzurri ranks with their inconsistent form, progression to the quarter-finals looks out of reach before they even take to the pitch.

It would be great to see Inter progress through to the next round, but I feel the most sensible course of action for Stramaccioni would be to exercise some damage limitation in the team's elimination from this season's European competition and then make a concerted effort to focus on improving the team's league performances for the final run-in.

That being said however, don't totally write Inter off against the stronger, faster and more in-form Tottenham yet, as the visitors will be without their superstar Gareth Bale, and as we all know anything can happen in football, especially where the Nerazzurri are concerned.

As us Interisti like to say - "Non mollare mai" - Never give up! I just hope the squad can live up to that sentiment and fight, if not for the unlikely win then at least just for the pride of trying.