Allam riding the Tiger over Hull City name change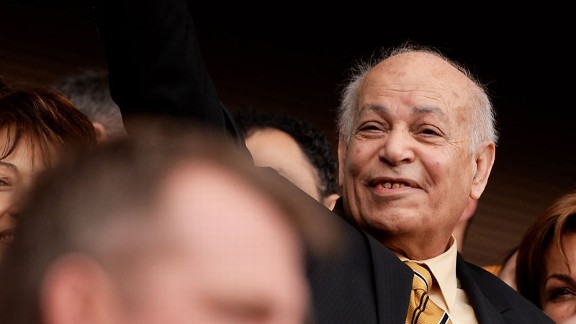 GettyImagesHull City chairman Assem Allam wants to rename the 109-year-old club.
It didn't take long for my phone to light up with a text message on Tuesday morning. "Hull Tigers?? Really?!" it read.

The apparent disbelief was from a friend, a supporter of another football club. The news that Assem Allam would be pressing on with his plans to rebrand his club after 109 years as Hull City Association Football Club had travelled quickly. Even accounting for the inevitable mirth of the inquisitor, you cannot blame folk for double-checking such a madcap tale.

These are changing times in East Yorkshire. A club founded in 1904 could be about to disregard its history and heritage and be reborn as Hull Tigers. Allam says he will take time before he makes a final decision early in the new year but the traditionalists are not holding their breath.

The rebranding saga -- one born in the spring when Hull City Tigers Ltd was first registered at Companies House and subsequently brought to the public attention in August -- is in danger of overshadowing a season laden with promise.

Twelfth in the Premier League, with 14 points already banked, Steve Bruce's men should be able to use the international break to reflect positively on the first quarter and plan for the closing weeks of 2013 without trepidation. Instead, all that supporters have been left to debate this week is what name their side will play under from next August. All clubs will face distractions during a season's course, but none quite like this one.

If a poll conducted by the Hull Daily Mail is anything to go by, this is a hugely unpopular move from Allam. Of 3,600 supporters to respond on the eve of the new season, just 9.8 percent would welcome a change to Hull Tigers. The vast majority, meanwhile, were more than happy for the club to stay just as it is.

Allam, however, takes a markedly different view. The unconventional owner and chairman is adamant he has the majority of supporters in his camp. By his reckoning, 98 percent would not object to change so long as the club continues to flourish in the top flight.

Whatever conclusion you choose to draw, this is turning into a horribly unwholesome affair. Both sides of the divide -- be that the single-minded Allam or one of his many vocal opponents -- only want what is best for the club, yet hold passionately polarised views.

Allam is certainly not for turning. A shortened name, he tell us, will be a golden ticket to gatecrash football's global market. With "a symbol of power" like the tiger, the 74-year-old multimillionaire believes he's cracked it.

Then there are those, specifically a group named "City Till We Die", who will not surrender Hull City AFC without a fight. Why fix what's not broken? Allam has incorrectly dismissed that collective as "200 fans with banners" and said no matter how loud they shout, their voices will not be heard. Such flagrant rhetoric has done little to help matters.

Typifying the sadness of this whole situation, the supporters against the changes are lodged in an impossible situation. Their appreciation for Allam is huge after his reported investment of 75 million pounds built a squad as strong as any in the club's history, but tampering with history brings inevitable unease. For some, you suspect, it will be a step too far.

The question Allam cannot answer, or at least chooses not to, is how a change to Hull Tigers will transform the club's fortunes on the international market. Other than calling it "textbook marketing" he offers the disgruntled supporters not a scrap of evidence to support his theory.

In several interviews on Tuesday he was pressed on what research he will use to arrive at a final decision over the club's new name. "That's my decision; I don't allow questioning of this," was one typically spiky response.

Although Hull Tigers is his stated preference, a final decision over the club's name change is expected in either February or March. Hull City Tigers is seemingly still in the running, but plain old Hull City is about to leave the building.

One can only assume the following step will be for Allam to take his new name to football's authorities. The Football Association moved to clear up confusion this week by stressing that the club's playing name remains Hull City and nothing would change until at least next season. For a change to Hull Tigers or Hull City Tigers to take effect for 2014-15, an application would need to be received and judged by the FA's council. That could be the last stop on the line for those clinging to tradition.

Back to the text message that started all this, and while fans from rival clubs can mock, there is a wider issue for football's traditionalists to fear. While they might have acclimatised to the modern game played out in the Emirates and the Etihad, there are some things they hoped would be immune to change. If a football club's very name is no longer sacrosanct, then what is?