Resilient McShane a leader for Tigers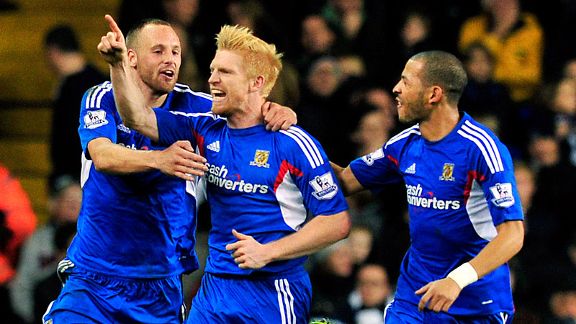 GLYN KIRK/AFP/Getty ImagesPaul McShane, center, is one of the few Hull City holdovers from the club's previous Premier League campaign in 2009-10.
Tap Paul McShane's name into a YouTube search and the top of those videos returned is one entitled "The God of this era."

The tongue is dug firmly in the cheek of its creator. Nine whole minutes are dedicated to McShane and his mistakes as a raw defender with Sunderland. It cruelly paints a picture of a hapless young man: Out of his depth and sinking fast -- an accident waiting to happen.

- Report: Hull hold off Sunderland

The video, which has over 122,000 views and counting, is designed with a satirical edge, poking fun at the shortcomings of its protagonist.

Yet it also helps feed preconceptions over McShane's talents. Grossly unfair preconceptions.

As Hull City fans will testify, the McShane of 2013 is unrecognisable to the player once wide open to ridicule. Maturity kicked in long ago for the formerly headstrong rookie and a long road back to the highest level commands nothing but respect.

McShane is the Tigers' unrivalled cult-hero. Since a two-year spell as the unwanted man of the KC, where he was farmed out on loan to Barnsley and Crystal Palace, the Republic of Ireland international has refused to give up on the club he joined from Sunderland in 2009.

The tide first began to turn 12 months ago. It was then that McShane set about proving Steve Bruce, the man who had moved him out of the Stadium of Light, wrong and how the fans loved him for it.

"Supporters, up and down the country, will appreciate you if they see you giving everything," said Bruce, analyzing McShane's appeal at the weekend. "I should know, I made a living out of it for years."

After helping City clamber out of the Championship, making 29 appearances in the club's promotion year and winning a new two-year deal in the process, McShane has kick-started his charm offensive back in the top-flight.

He was made to wait, overlooked in the first eight league games of the season, but three starts inside a week have catapulted the central defender back to prominence.

As part of a brilliant defensive unit in City's two games at Tottenham, McShane was twice unfortunate to be on a losing side. None more so than when his bullet header in the second of those games carried his side to within 12 minutes of the Capital One Cup quarter-finals.

A clean-sheet in the 1-0 win over Sunderland last time out was much less demanding, but did help bolster his claims to be Curtis Davies' partner at Southampton this weekend. Abdoulaye Faye, equally impressive before injury struck last month, may be forced to bide his time unless Bruce reverts to a five-man defence.

McShane was last on the Premier League stage in 2009-10 when relegated with City but he has used his years in the Championship well. At 27, he has returned with a far greater understanding of the defensive arts.

He is also regarded as one of City's best professionals. Team-mate Stephen Quinn has called McShane an "almighty man" and a leader for all others in the dressing room to follow.

McShane would not profess to be perfect, far from it, but his commitment and desire are undeniable. And that's why supporters hold him so dear. As their terrace anthem warns, City will have a "riot on their hands" if McShane were ever to be sold.

Andy Dawson's departure over the summer has installed McShane as City's longest servant and one of the few survivors of the club's last Premier League odyssey.

Lessons learned from that period ensure he was not getting swept away by a fourth win of the campaign last weekend and the same must apply to his team-mates when heading to Southampton on Saturday.

As the final fixture before 2013's final international break, the Tigers would be thrilled to avoid defeat on the south coast. That will not be straightforward as the Saints chase a fourth consecutive home win, but City have been better than their away record suggests. Defeats at Manchester City, Everton and Spurs were all close encounters.

Bruce's men will again make the journey free of pressure against a high-flying Southampton side. Fourteen points from 10 games has seen to that. Any unease that might have been building following a winless October was released last weekend.

So now for a little bit of history. Be it in trips to the Dell or St Mary's, City have not won in Southampton since the days of Raich Carter in 1951. However, Bruce might not mind that wait extending to another year so long as he returns home with a point.