Sagbo a bright spot at Goodison Park
Until 3:30 p.m. on Saturday afternoon, Yannick Sagbo was best known for a red card on his Hull City home debut. A sorry show of petulance, when lunging headfirst at Norwich defender Russell Martin on the season's second weekend, was no way to begin life in English football.

A contrite Sagbo craved his moment of redemption and, eight weeks on from that sending off, it duly arrived at Goodison Park Saturday.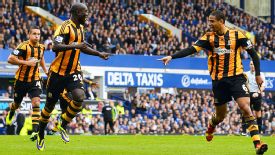 GettyImagesCurtis Davies points out goalscorer Yannick Sagbo after Hull City drew level at Everton.
A first goal in English football would eventually come in a losing cause as City slipped to a 2-1 defeat at Everton, but a corner was turned for the former Evian striker. His stunted season is now ready to develop.

As part of a side that has struggled for goals throughout the reign of Steve Bruce, Sagbo's belated arrival to this Premier League party could yet prove pivotal for the Tigers.

Although reluctant to heap pressure on a 25-year-old whose previous experience is limited to Ligue 1 with Monaco and Evian, there is a quiet belief that City have snared a bargain at 1.6 million pounds.

Sagbo, half-brother to West Ham United's Guy Demel, is a strong, powerful and direct centre forward. More a battering ram than a skeleton key, but there is instinct in front of goal. An unstoppable left-foot finish, high past Tim Howard to draw his side level at 1-1, was compelling proof of his promise at the weekend.

The only shame is that it has taken Sagbo this long. After impressing on the opening weekend loss at Chelsea, his powerful presence had won his team a decisive penalty against Norwich seven days later before a rush of blood brought a three-game ban.

That allowed Danny Graham to leap back to the front of the queue alongside Sone Aluko, but fortune has now turned. One way for Graham, the other for Sagbo.

Graham, still without a Premier League goal since New Year's Day, left Goodison Park on crutches following a high challenge from Gareth Barry inflicted knee ligament damage. Sagbo, meanwhile, floated out of Merseyside on a cloud.

Graham's loss yielded profit for Sagbo and Bruce will surely give the new partnership opportunity to grow at Tottenham this weekend. Results of a scan on Graham's knee may yet make the decision for the City boss, but he will still be tempted to roll with fate.

Sagbo and Aluko make for an exciting pairing and already have history of sorts. Sagbo's first appearance in City colours during the pre-season tour of Germany saw him teed up for a sumptuous goal in the 1-0 win over Dynamo Dresden. Hardly definitive evidence, admittedly, but the understanding has been there from the outset. It was there again at Everton, where Aluko again set up his alert partner to pounce.

Sagbo's impact was a sizeable crumb of comfort for Bruce to pocket on a day his side suffered their first defeat since Aug. 31.

Another bold performance on their travels, following the pattern set at Manchester City and Newcastle United, promised a fifth game unbeaten when Sagbo cancelled out Kevin Mirallas' opener for the Toffees. The second half, however, belonged to an Everton team destined for nothing less than the top eight under Roberto Martinez.

For all City's endeavour, matching their hosts up until Steven Pienaar's lovely winner in the 57th minute, Bruce was still malcontent. The focal point for his grievances was referee Neil Swarbrick.

If missing Barry's flick from an offside position, deflecting Mirallas' shot into the bottom corner, was almost excusable at such pace, the England midfielder's shabby tackling could not be overlooked by an angry Bruce.

After catching Graham with his studs in a late challenge after 15 minutes, Barry went over the top of the ball to catch Aluko high on the shin soon after. A yellow card was the only punishment as the sun shone on the unrighteous. Asking Everton to play for over an hour with 10 men could well have brought an upset.

Ifs, buts and maybes spun around Bruce's mind, yet he also knew his men had fallen just short when it mattered after the break. Pienaar's goal was a move that proved the visitors once they were level.

The task facing Bruce and his side gets little easier in the short-term. This weekend brings a trip to fifth-placed Spurs, a game made no easier with Jake Livermore's ineligibility against his parent club. He was his typically ebullient self at Everton and City's central midfield will surely be weaker without him.

One change is guaranteed but Bruce will hope a second can bring inspiration for an unlikely point at White Hart Lane. Sagbo is ready and waiting.