Rested Tigers ready to resume run
Zealous and enthusiastic in their approach throughout the opening two months, a two-week international break has afforded Hull City the chance to regroup and catch a collective breath.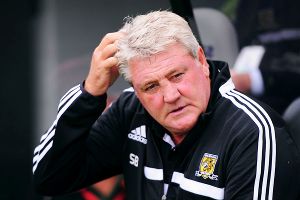 Michael Regan/Getty ImagesSteve Bruce's hard-nosed style has Hull City off to a fast start in the Premier League.
Eleven points from seven games has elevated Steve Bruce's unfancied newcomers to eighth in the Premier League and quickly banished all trepidation from the KC Stadium as autumn begins to bite.

The top flight has been made to look ordinary by the Tigers with a handsome return already banked, but the coming weeks will require every inch of air drawn into those green lungs. This interval, therefore, can be seen as much a blessing as a curse.

Before the final interruption of 2013 arrives next month, City must travel to the sides that currently sit seventh, sixth and fourth. Everton, Tottenham and Southampton are a formidable test of early season buoyancy, especially away from home.

Only the home game with Sunderland, the division's only winless outfit, offers any sort of respite in the coming weeks, but even that is a fixture comes three days after a Capital One Cup tie back at White Hart Lane.

These are the hard yards that can find holes in the armour of a cocksure freshman and, for all the optimism built up through September, Bruce will know anything in excess of four points from the next four games would be something else pretty special for his side.

At least there is confidence firmly intact. While fellow newcomers Crystal Palace appear beaten already and Cardiff fight internal instability, the Tigers have shown heartening progress since their watershed arrival at Chelsea on the opening weekend. Only the ignorant will take them lightly on current form.

Although Alan Pardew would argue otherwise, Newcastle United were perhaps guilty of that sin when Hull City were last on the road. A 3-2 win at St James' Park last month was everything and more that Bruce's men deserved. Despite falling behind twice, they found the bravery and finesse to find three precious points on Tyneside.

That win also plucked a monkey from City's back. Since winning at Fulham in the spring of 2009, they had collected just seven points from a possible 78 away from the KC Stadium in the Premier League. They were once a soft touch on their travels and everyone around them knew it. Easy pickings.

But no more, it would appear. Supplementing the steel of a miserly defence and the discipline of an astute midfield, Bruce has men such as Sone Aluko who can hurt players on the break. Manchester City, 2-0 winners at the Etihad Stadium in August, found a narrow escape when the Tigers were in town.

Finding the goals to trouble Everton, Spurs and Southampton will be the key to further upsets. The Newcastle triumph was the exception to a concerning rule and just three goals have come from the other six league games this season. Bruce needs the like of Danny Graham, goalless since arriving on loan from Sunderland, to repay the faith shown in them thus far.

City will arrive at Goodison Park boasting an unbeaten run dating over seven encouraging weeks, but history points toward an uphill battle.
Only one win has come from eight trips to Everton (the solitary success in August 1952) and their most recent venture ended in a harrowing 5-1 defeat in March 2010, a wretched loss that marked the beginning of the end for former boss Phil Brown.

A disagreement born in the visitors' dressing room of Goodison Park brought about an infamous spat between Jimmy Bullard and Nick Barmby during a team walk in the shadow of the Humber Bridge 24 hours later. Brown issued a public apology to a meeting of the Women's Institute that had looked on in disbelief and lost his job a week later.

There is no such disharmony this time around, praise be, but Everton will be the strongest test faced since those trips to Manchester City and Chelsea inside the opening month. Newcastle and Chelsea, who both left Goodison Park empty-handed last month, will testify to that. Romelu Lakaku, scorer of six goals in his last six games for club and country, typifies the danger that lurks on Merseyside Saturday.

Even with confidence high and winger Robbie Brady likely to play some part just a fortnight after his hernia operation, a point would be an outstanding result for the Tigers. Bruce would remove the hand that offered that particular bargain.