Huddlestone's cap-worthy form inspiring Hull
Strange but true fact -- never in their 109-year existence have Hull City been able to boast an England international.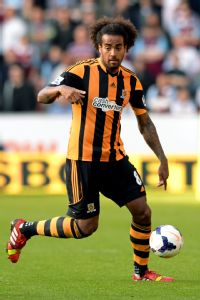 Gareth Copley/Getty ImagesTom Huddlestone should eventually find himself back in an England jersey if his Hull City form continues.
No end of illustrious names have made East Yorkshire a late stop-off in their careers (Stan Mortensen, Raich Carter, Neil Franklin, Emlyn Hughes and Nick Barmby to name just a handful), but the last of their England caps were won long before turning to the Tigers.

Pride has come in England under-21s internationals such as Garry Parker, Peter Daniel and Paul Haigh, not to mention Chris Chilton and Ken Wagstaff, arguably the greatest strike partnership never to hear their country's call.

The closest thing to an England international was a thorny issue dating to 1906. Although Gordon Wright was registered as a Hull City player with the Football League when winning his one and only full cap against Wales in Cardiff, the Football Association's records had the left winger down as a Cambridge University player. Denied by paperwork.

A century on, and still City wait for that elusive first England cap to fill in a blank in the record books. Perhaps, though, not for much longer. The man carrying those revived hopes is Tom Huddlestone.

An imperious midfielder with a passing range to rival the Premier League's best, the 5.25-million-pound, club-record signing has made a near-perfect start to life at the KC Stadium. With an effortless sense of control and awareness, he currently has supporters purring with his every touch.

That bouncing mop of hair, one that will stick around for charity until a two-year goal drought ends, is not the only thing getting talked about all of a sudden.

Manager Steve Bruce and team-mate Jake Livermore both stated a case for Huddlestone's inclusion in the England squad this week following another consummate performance in the Tigers' 1-0 win over West Ham United. A further 20,000 supporters would have queued to echo those beliefs.

As it was, Roy Hodgson chose not to listen when entrusting a familiar group of midfielders to seal World Cup qualification against Montenegro and Poland next week, but Huddlestone cannot be far away, surely. Bruce believes he has one of the best midfielders in the Premier League on current form.

While rival managers did not see the rewards in taking a chance on Huddlestone this summer, Bruce has been thrilled to bring a "big fish" into his small pond. Alongside the equally impressive on-loan Livermore in central midfield, the former Derby and Spurs man is elevating City to another level and five starts in black and amber have yielded a 10 points.

Huddlestone has no bigger admirer than his new boss and Hodgson is certainly a fan too. As recently as last November he called on Huddlestone in the 4-2 loss away to Sweden, despite making just eight Premier League appearances in the previous 15 months. The England boss may well have come calling again if the stakes were not quite so high 180 minutes away from Brazil.

Huddlestone has represented his country at every level from under-16s to under-21s and won the first of his four caps under Fabio Capello in 2009. Although he made the provisional 30-man squad for the World Cup finals in 2010, he was one of seven players not to make the final cut for South Africa -- an eventual blessing in disguise.

For now, Huddlestone has more important issues to concern himself with. Regular football is inviting sharpness back into a body blunted by inactivity since his pomp of 2009-10 with a Spurs side finishing fourth, complementing an already razor-sharp footballing mind. While he inspires City, the platform is also there for his own personal gain.

Livermore called his team-mate's performance in victory over West Ham one of the best he has seen from a Premier League midfielder and more of the same will be needed against Aston Villa this weekend if City are to continue this terrific start to the campaign.

Two wins and a draw have come since the last international break and a fourth game unbeaten at home would still ensure Huddlestone can enjoy a quiet fortnight without England.

Those chances will come if his current form can be maintained. It is fast becoming a question of when, rather than if, Huddlestone can be an England player once more.