Visit to Sunderland of significance to Bruce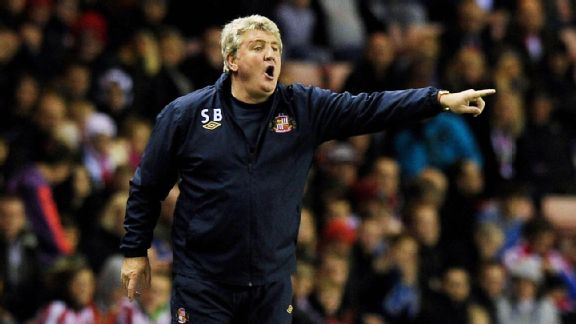 Gareth Copley/Getty ImagesSteve Bruce's last match in charge of Sunderland was in November 2011. The Hull City boss returns to the Stadium of Light this weekend for the first time since his sacking.
Steve Bruce has not set foot inside the Stadium of Light since November 26, 2011. On that day he saw his Sunderland side beaten 2-1 at home to Wigan Athletic, a grim defeat that would signal the end of his reign on Wearside. A phone call from owner Ellis Short confirmed as much four days later.

Bruce knows exactly what will greet him back at his former home. The same taunts that waved him goodbye 26 months ago will be recycled to rain down from the terraces once again when he returns with Hull City on Saturday. "I'll never forget that day against Wigan, when the crowd turned on me," said Bruce, ahead of meeting Sunderland earlier in the season. "The hatred in some people's faces was ridiculous."

- Report: Hull City 1-1 Tottenham

Memories of that managerial nadir will be vivid for Bruce as he returns to his former home for the first time, but the City boss will be keen to ignore the sub-plot where he is the main attraction. There are simply more important things to worry about.

Sunderland versus Hull City is a fixture that leaves no room for distractions. Too much is at stake. Two sides split only by goal difference are only two points clear of the Premier League's bottom three and defeat to a relegation rival will feel like a hefty blow to survival ambitions. The Tigers have known the deflation in defeats at Norwich and Crystal Palace of late.

Given the contrasting form of the Bruce's past and present employers, it is City who perhaps need a result most at the Stadium of Light. They were much improved in a 1-1 draw with Spurs last weekend, but it is still just one win in 11. Or, going further back, three wins in 18. Either way, the W's are gradually drying up in East Yorkshire.

The greatest concern for Bruce will be City's struggles away from home and, more importantly, away from home against relegation rivals. The 3-2 win at Newcastle United in September continues to stand as the only success away from the KC Stadium this season and the recent trips to Swansea, West Brom, Norwich and Crystal Palace all failed to buck the trend. That quartet of games returned just two points.

With dates at Cardiff, West Ham and Stoke to follow Saturday's game at Sunderland, an extension of the winless away run will place a huge pressure on the more fertile grounds of the KC Stadium. As Bruce readily accepts, an away win must come soon if heads are to be kept above rising water.

The manager will no doubt have cursed last weekend's events at St James' Park -- not because of his Newcastle-supporting roots that he blames for his eventual demise at the Stadium of Light, but because a 3-0 victory for Sunderland will have injected fresh impetus into his hosts this weekend. With a Capital One Cup final berth also booked, there has never been a worse time to face the Wearsiders all season.

Bruce, though, will suggest something similar for his own troops. Although it is one point from a possible 15 since the turn of the year, City's starting line-up has never looked more formidable than with Shane Long and Nikica Jelavic together in attack. If Spurs were troubled by the duo's pace and guile, plenty of others will struggle.

Joining the lively new boys will be three more individuals familiar to regular patrons at the Stadium of Light. Just like Bruce, Paul McShane, David Meyler and Ahmed Elmohamady all return to Sunderland feeling better for the separation.

McShane has grown from a figure of fun at Sunderland to a cult hero with the Tigers. Meyler and Elmohamady were both respected squad members before leaving Wearside to follow Bruce last year, but return as Premier League regulars with the Tigers. A win this weekend, coupled with the 1-0 victory over Sunderland at the KC Stadium in November, would mean plenty.

As it would for Bruce. For all the talk of the significance of Saturday's reunion for his side's survival hopes, a win at the Stadium of Light would be a notable feather in the cap. Bruce was barracked mercilessly at St James' Park in September before having the last laugh with a touchline jig and what price the same joy back in his native north-east? City and Bruce could certainly do with three precious points.