Big moves in the transfer market as important as the Chelsea game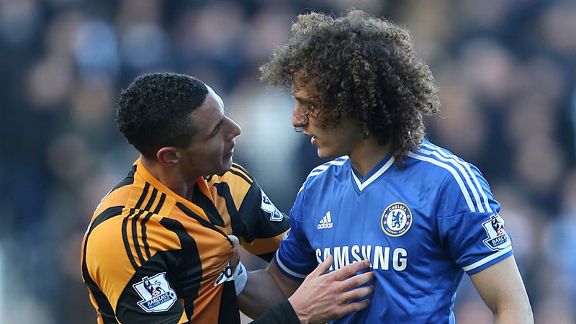 PA PhotosJake Livermore and David Luiz exchange words at the KC Stadium.
So another weekend passes and Hull City cling on to the top half of the Premier League. A cause for contentment you might think, even after a 2-0 defeat at home to Chelsea, yet Steve Bruce will not let complacency become a bedfellow with 17 games of the season still to play.

City's first moves into the January transfer market provide the tangible proof. Rather than placing hope in the squad that has brought him this far, Bruce is ready to break the club's transfer record to land the forward he has craved. Not once, but twice.

The wheels are in motion to sign Nikica Jelavic of Everton and West Brom's Shane Long in transfers that would be worth a reported £14 million. A deal has already been accepted for Jelavic and only personal terms provide any apparent obstacle. The protracted pursuit of Long is more complex, just as it was when the transfer was scrapped back on the final day of the summer window, but City would not be canvassing an unoccupied house. They want both forwards and are willing to pay the high January premiums.

This is Assem Allam rolling the dice while his stacks are still high. The 74-year-old owner and chairman has spent big getting City here -- upwards of £70 million and counting -- and is unwilling to stop now. Allam has the greatest of respect for Bruce and will back him to the hilt. As windows of old have shown, the City boss typically gets what he asks for.

Bruce will clutch his worry beads until at least one of the deals are done this week because he knows this promising job is only half done. A blanket of six points is all that splits the Tigers in 10th to Crystal Palace in 20th. A poor sequence anywhere between now and March and City are right in the thick of it.

The pursuit of Jelavic and Long is an admission of City's failings. They have defensive strength and midfield purpose but lack a goalscorer to provide total peace of mind. Yannick Sagbo and Danny Graham, the two forwards used most often in the last three months, have contributed three goals in 37 Premier League appearances between them this season.

Sone Aluko and Robbie Brady, the club's most technical astute attacking players, are both on course for returns by the end of the month, but neither offer a genuine predatory streak. Like the majority of clubs around them, goals are the missing piece of City's jigsaw.
Eyebrows have been raised at the touted cost of Jelavic and Long. The former scored just twice in 2013 and is out of favour at Goodison Park, while the latter has hit a contractual impasse with West Brom and netted only three Premier League goals this season.

Cheaper can be sought in the Championship or abroad, but the two targets have a history of scoring goals at the highest level. And that comes at a cost. Allam and Bruce have accepted as much and are loath to see the good work of 2013-14 unravel before survival is secured.

For all City have won admirers upon their return to the top-flight, a strong wind is no longer in their sails. A silly assumption to make after walloping Fulham 6-0 a fortnight ago, but that was only one of three wins in the last 15 league games. More coal is needed on the fire before the warmth really begins to fade.

Chelsea ensured there was no lift gleaned at the weekend with what eventually proved to be a routine win. Once Sagbo shanked wide when presented with a golden chance to beat Peter Cech midway through the first half, the Tigers best chance of an upset came and went. Jose Mourinho's men climbed up through the gears and goals from Eden Hazard and Fernando Torres deservedly earned all three points.

It was a game where more was learnt about Chelsea than their hosts. The Blues will not be far away from the title race if such efficiency can be replicated, but City's fate will be decided by much less glamorous dates.

Norwich and Crystal Palace, for example. The next two Premier League games, both away from home, will have a significant bearing on how Bruce and his men move forward and into February. Collect a couple of points or more and mid-table security will be extended for another few weeks. Anything less, however, could see a secure footing crumble. The final weeks of January promise to be big in every possible way.