With no Fabian, others need to step up vs. Pachuca
Poor Marco Fabian. First, there was the hand injury and now the knee problem that kept him out of last weekend's draw against Pumas is set to sideline him for Sunday's home clash against Pachuca, too.

He certainly didn't look too happy doing laps of the Chivas training pitch on Thursday under the 80-degree midday sun. But who would?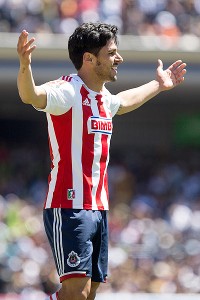 Miguel Tovar/Getty ImagesRafael Marquez Lugo will have to help come up with the offensive answers Sunday against Pachuca.
First up, let's not underestimate what a fully fit and in form Fabian brings to Chivas. In his last two games, the 23-year-old scored three times as Chivas picked up four points. Especially against Leon, he was inspirational. He can conjure up moments of magic that turn losses into draws and draws into wins.

Without him, there is nowhere to hide for those other attacking players at Chivas, who really haven't sparked into life so far in the Clausura tournament. Rafael Marquez Lugo, Miguel Sabah, Luis Morales and Chapo Sanchez need to step up in the Estadio Omnilife Sunday against a Pachuca team with four wins in its last five Liga MX matches.

At least it seems as if players in the Chivas camp are fully aware that without Fabian there is a little extra responsibility.

"Without doubt I have to contribute more, I'm conscious of that," right wing Sanchez said Thursday. "I'm working hard to take advantage of the spaces that (Marquez Lugo) and (Sabah) open up."

If he could add goals, Sanchez would be a player many outside the club would be talking about in the same breath as some of the bigger names. But the fact is that just two goals in 81 appearances for the Rojiblancos is not a great stat for an attacking winger.

Sunday, expect a Chivas that is willing to chase the victory, with the team having more ties than any other in the Liga MX this season.

Said midfielder Luis Perez: "Without doubt we will have to risk a little more, maybe be less rigid to get the victory. We have to pick up the three points because we want to get to the playoffs."

It should be a fun encounter and three points would guarantee that Chivas finish round 10 of the Liga MX Clausura in the top eight, which would qualify them for the playoffs.

Perez likely to return

Luis Perez is back from injury and likely to feature in his first match since Feb. 9 against his former team Monterrey. . . .Hector Reynoso is also in full training and will slot back into the center of defense. It will be his milestone 350th appearance for Chivas; the captain is now just 33 off ex-captain Ramon Morales, who occupies fifth place in the all-time appearance list for Guadalajara . .While Fabian's injury prognosis was initially two or three weeks, he's already been doing some work with the ball in training and isn't limping at all. A return may well come sooner than expected. . . .Possible starting 11 against Pachuca: Luis Michel, Sergio Perez, Reynoso, Kristian Alvarez, Miguel Ponce, Patricio Araujo, Luis Perez, Jesus Sanchez, Luis Morales, Sabah, Marquez Lugo.

Opposition watch

Pachuca spent the early part of the Clausura recovering from the whirlwind of change from last season's dismal performance under the outspoken Hugo Sanchez. During the offseason, Gabriel Caballero took over as coach with players Daniel Luduena, Christian Suarez and Abraham Carreno also coming aboard. Slowly but surely, the Tuzos are looking like a convincing unit that will be fighting for the top eight. Now in fifth position, Pachuca sits four ahead of Chivas, making the three points ever more vital with eight games to go in the regular season. Key for Chivas is stopping Luduena dictating play. . . .In the teams' last ten league games, Chivas have won four, Pachuca three, with three ties.


Follow Tom on Twitter @MexicoWorldCup




@MexicoWorldCup