Success and failures for Chivas so far this Clausura 2014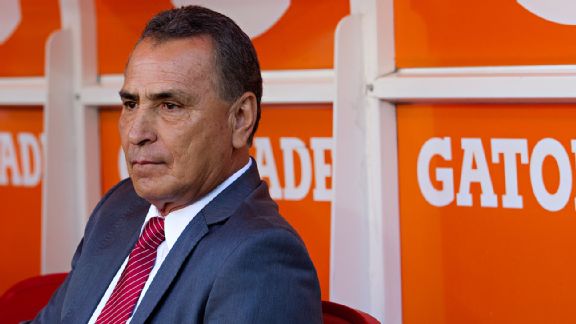 Refugio Ruiz/LatinContent/Getty Images
GUADALAJARA -- With seven games of the Clausura 2014 gone, coach Jose "Guero" Real's team and style is beginning to take shape following his appointment in the offseason.

Sunday's 2-1 victory against Queretaro -- with Omar Bravo scoring both goals -- puts Chivas in fourth place in the Liga MX, on 12 points level with America and having won consecutive league games for the first time since November 2012. But despite the success on paper, it's been a mixed season so far. While there has been an improvement on the dire 2013, there is clearly plenty of work still to do.

Here is a look at the positives and negatives from Chivas so far this season:

Successes

Center back partnership

The pairing of Patricio Araujo with newcomer Jair Pereira has been the basis for Chivas' improvement. The duo complement each other well, with Pereira the pure defender, who enjoys the battle and Araujo the ball-playing defender who reads the game exceptionally well.

Chivas have only conceded six goals in seven games, which is a marked improvement on the tragic defending last season in which the defense leaked 30 goals in 17 games. The improvement is largely down to the Pereira-Araujo rock at the heart of the defense.

Antonio Rodriguez

There have been a couple of errors for 21-year-old goalkeeper Rodriguez, but he's generally looked the part in the Rebano Sagrado goal, winning fans over with his enthusiasm, spectacular saves and his willingness to talk to the media. Considering his inexperience, it is a major positive for Real and the Chivas hierarchy, especially after letting the experienced Luis Michel leave for Costa Rica's Saprissa in the winter.

There will likely be rough periods for the young 'keeper, but he looks to be supremely confident in his own abilities and Real has spoken of the high regard he holds Rodriguez in.

New signings

Gerardo Rodriguez was superb before his injury and Israel Castro has been one of the quiet success stories of Chivas' Clausura. Then there is Omar Bravo, who now has three goals this season and was a key factor in the win against Queretaro.

Rodriguez's attitude and honesty has been good since he came to the club to fill-in for Miguel Ponce and his return from injury will be a boost, with Edgar Solis not completely convincing.

As for Castro, his experience helps both shield the defense and gives the team a base to launch attacks from. Castro has given 7/10 performances every week, which was exactly what was required.

Pereira has -- as previously mentioned -- made a big impact on the defensive side of the team.

Failures

Offensive third

It just hasn't clicked in the attack so far this season. Starting Bravo, Aldo de Nigris, Rafa Marquez Lugo and Carlos Fierro appears to be a case of too many cooks in the kitchen, with all of them arguably better in a central position. The result has been a lack of creation and, by extensions, goals.

Moving forward, Marquez Lugo seems to be the odd one out, with Chivas' second half display against Queretaro seeing the team shift to a 4-3-3, score two goals and look much more dangerous going forward.

Producing excitement

There is an unwritten rule at Chivas that teams have to play exciting football, which hasn't exactly been the case this Clausura. Indeed, some of the games Chivas have been involved in have been snoozers, with the matches against Veracruz, Atlante and Puebla immediately springing to mind.

Real has defended his style of play, suggesting that the team still needs to be improved and that there is a long way to go before this Chivas side is how he would like it to be.

The issue has been at the center of brewing friction being the local Guadalajara press and fans and Real, who can justifiably point to Chivas' points total as evidence of improvement right now.

Not enough points

Chivas may be fourth in the Liga MX, may have equaled the number of points they achieved in all 17 games of the Apertura 2013, but all may not be as rosy as it seems.

Chivas have had a gentle start to the season in terms of fixtures and not picking up the three points against relegation strugglers Veracruz and Atlante may come back to haunt them.

The Guadalajara side was comprehensively defeated by leaders Cruz Azul and the feeling remains that Chivas will find it tough to overcome the better sides in the Liga MX.

It shouldn't take long to find out exactly where Chivas are at, with a trip to second-place Toluca next Sunday followed by games against Tigres, Tijuana, Leon, Atlas and America.