Fear factor is affecting C.D. Guadalajara
GUADALAJARA -- Chivas have taken the lead in five of their eight games in league and cup in 2014, yet have won just twice. Defender Nestor Vidrio suggested on Thursday that the stat can partly be put down to fear.

"We've been wary of conceding a goal, of not risking too much upfront," Vidrio said in a news conference on Thursday. "When you attack [you take defensive risks] and it makes us scared to lose and not pick up points."

It was a refreshingly honest statement from Vidrio at a time when resentment is building over the team's safety-first style. Instead of going for a second goal to kill the game, the side seems to have withdrawn into its shell.

There are those who believe Chivas should be fighting every season, hour and minute for the title, but 2013 highlighted that the Rebano Sagrado is a long way off from competing with the best in Mexico.

Last Saturday's game against Cruz Azul, which finished 2-0 to La Maquina, was another indicator that while the team has at least appeared to have greater solidity this Clausura, there is much work to do for it to be fighting for titles, which Vidrio also conceded.

"Taking on Cruz Azul was an important parameter and with a good side we were overcome," he said. "The coach and the players are conscious that we are lacking."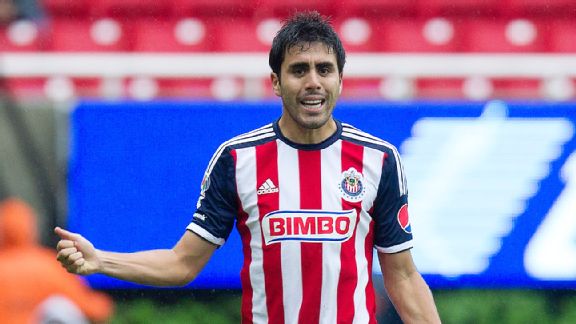 Refugio Ruiz/LatinContent/Getty ImagesNestor Vidrio believes Club Deportivo Guadalajara needs to show more confidence in order to get the results the club wants.
Chivas travel on Sunday to Puebla in what is a very winnable game. Queretaro at home comes after, followed by Toluca (away), Tigres (home) and Tijuana (away).

Turning draws into wins and leads into three points over that series of games will be key. Three wins or nine points should be the goal. If not, talk of making the playoffs will once again slide away, with Chivas' end-of-season run-in difficult.

Injury update

Jorge "Chaton" Enriquez is due back in full training next Monday and should be available for the game against Queretaro.
Winger Carlos Fierro suffered a scare midweek when he strained his hamstring slightly, although Chivas' medical department released a statement saying he should be able to play on Sunday.
Full-back Omar Esparza is nearing a comeback after a cruciate ligament injury and should be in contention for the Under-20s side in around two weeks.
¿Canta y no llores?

Jose Luis "Guero" Real's relationship with a section of Chivas fans has been tainted in recent weeks with his proclamation that some supporters are "bandwagoners" for not going to the stadium in bad times and that the club''s various barras bravas (porras in Mexican Spanish) shouldn't be singing rude songs demanding players show more huevos when wearing the Chivas shirt.

Now the club's president Juan Manuel Herrera has waded in.

"I had a meeting with the barras, I told them I would respect what they wanted to say, but that what we don't like much is having chants from other countries, being the most Mexican and traditional team in the country, although they are free to do it," he told news outlet Cancha in quotes published on Thursday. "It isn't xenophobia, it is simply that in our country we have had great chants."

It is an issue that is unlikely to go away and again smacks of the Chivas hierarchy aiming to create squeaky clean, no swearing, official merchandise-only, sanitized environment. The fans are unlikely to pay much attention.

Fan invasion

Wednesday's training at a private school just outside of Guadalajara turned chaotic when over 1,000 kids descended on the Chivas squad, forcing them off the pitch –- bar two players. There were reports that it was dangerous and provoked by poor organization, but Enriquez seemed to love it.

"What a great race!" he tweeted, along with this photo:

Relegation

It is a question many within the club want to avoid, but relegation is very likely to be on the agenda for Chivas in 2015. Here's how the Clausura 2015 relegation table is shaping up:

Atlante - 50 points (0.68 per game)
Pachuca – 56 points (0.76 per game)
Puebla – 57 points (0.78 per game)
Chivas – 57 points (0.78 per game)
Atlas – 58 points (0.79 per game)
Veracruz (1.14 points per game)

Recently-promoted Veracruz's points-per-game ratio could rapidly drop with a run of bad results, but with Atlante very likely to go down at the end of this season, Chivas are just one point off last place at present.

Worrying times...