Chivas crushed by clinical Cruz Azul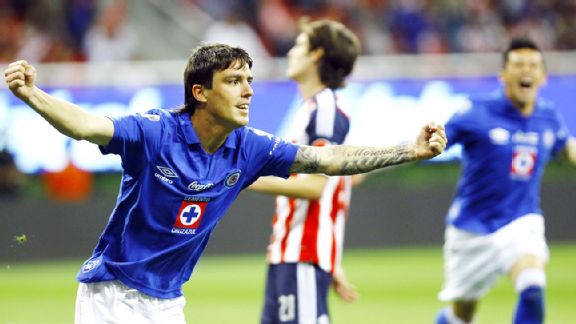 HECTOR GUERRERO/AFP/Getty ImagesMauro Formica and Cruz Azul romped to victory on Saturday night in Guadalajara.
GUADALAJARA -- Both Chivas and Cruz Azul are two of Mexico's "big four", but La Maquina's 2-0 victory over Guadalajara left nobody in attendance with any doubt as to which of the two is most likely to be challenging for trophies come the end of the season.

- Marshall: Marquez Lugo focused on Chivas

Marco Fabian was the main focus of the pregame build-up after having switched from Chivas to Cruz Azul in December. From Saturday's evidence, he's stepped up a level, with Chivas showing not just the same impotence in the attacking third, but displaying problems all over the field.

Cruz Azul, on the other hand, lived up to its "Machine" nickname and clinically took apart Chivas in front of just over 38,000 spectators inside the Estadio Omnilife. It was a mature performance from a side likely to mount a fight for the title.

The game could've been a major positive for Chivas in terms of this season. It could've sparked them into life and injected a real belief that Chivas can compete at the top end of this Clausura championship.

As it happened, the defeat was a crude wake-up call and a stark reminder that there is a lot of work still to do. It was a kick in the teeth for the club's aspirations and premature talk of competing for the title.

It isn't easy to know where to start when analyzing the performance.

There were the obvious errors for Cruz Azul's goals, especially the second, but it was the overall ineptitude of Chivas as a unit that stuck out most. The lack of creativity in the final third was again evident, with Rafael Marquez Lugo being taken off at halftime -- with the score still 0-0.

"Cruz Azul was better, but we could've fought more," said Jose Luis "Guero" Real in the postgame press conference, adding that Marquez Lugo's substitution was tactical due to Cruz Azul having an extra man in midfield.

There seemed little danger that a Chivas player would be played in behind the Cruz Azul defense, with the lack of options leading to balls being pumped into Aldo De Nigris, who battled unsuccessfully all night long with Colombian center back Luis Perea.

On the wings, Omar Bravo and Carlos Fierro were quiet, not producing chances and struggling to link up with De Nigris and Marquez Lugo.

In midfield, Israel Castro didn't do much wrong, but Giovani Hernandez alongside him doesn't seem ready for the responsibility as a regular in the center. He looks like he needs a season or two in the second division under his belt before he can become the kind of game-changer that many who follow Chivas believe he has the potential to become.

Elsewhere, an injury to Gerardo Rodriguez meant Edgar Solis stepped into the left back position, but neither he nor right back Nestor Vidrio added much support to the wingers going forward.

When Chivas fell behind to two swift goals from Mauro Formica and Rogelio Chavez at the start of the second half, the bench again highlighted the lack of depth in the squad. There was nowhere obvious to turn and not for one moment did you think Chivas could get back in the game.

The honeymoon period is very much over for Real, whose main task has to be finding a solution to the lack of creativity.