Three observations from Chivas vs. Atlante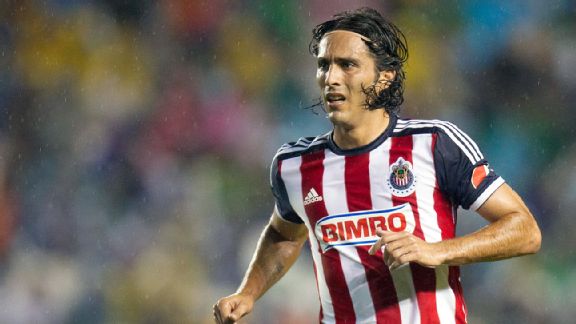 AllsportStriker Aldo de Nigris 'isn't on form and often doesn't seem to be on the same wavelength as those around him'.
It is now 12 games since Chivas scored more than one goal in a match and Sunday's 1-1 tie away to Atlante provided further evidence that things just aren't clicking upfront.

In the team's defense, the game against Atlante was played on a horribly uneven pitch and Los Potros -- even as the home side -- were intent on stifling Chivas, especially early on.

• Villagrana: Herrera expects July 13 stay

But the point puts Jose Real's Guadalajara in seventh position in the Liga MX and means it is still undefeated in 2014.

Here are three talking points from the game:

1. Lack of chemistry upfront

The fact Rafael Marquez Lugo -- Chivas' best player by a mile in 2013 -- was hauled off the field after 53 minutes tells you everything you need to know about how it just isn't working in the final third at present for Chivas.

The combination of Omar Bravo and Carlos Fierro on the wings, with Aldo de Nigris as the target player and Marquez Lugo behind lacks balance. There is a strong case to be made that both Bravo and Fierro are more comfortable in the center. There certainly aren't enough quality crosses coming in.

Marquez Lugo's ability in the box is nullified when he plays deeper, while De Nigris isn't on form and often doesn't seem to be on the same wavelength as those around him.

A look at the Opta stats data over the 90 minutes of the Atlante game shows Chivas had just four shots and rarely got the ball into the opposition's penalty area.

It isn't inspiring and perhaps Real should experiment and leave one or two of the four out, especially with the team improving after Abraham Coronado was introduced for Marquez Lugo and Bravo shifted to a more central role.

2. Antonio Rodriguez looking the part

It might seem a little strange to mention Rodriguez here as a positive, considering there were suspicions that he could've made a better effort from Michael Arroyo's 30-yard free-kick.

But the 21-year-old keeper was one of the big question marks ahead of the season, having only played three first team games before the Clausura 2014 kicked off, and he has looked increasingly confident each week.

The Guadalajara native is athletic, a good communicator and handled crosses exceptionally well on Sunday, with his assuredness radiating through to the defense.

These are early days and there will be the odd hiccup, like on Sunday, but Rodriguez is looking like the real deal in the Chivas goal.

3. Negative tactics

It is an issue that is being hotly debated by Chivas fans, who naturally want to see their team playing an exciting brand of soccer.

This season's games haven't provided that and large swathes of the game against Atlante were unremarkable.

Real making late substitutions in Chivas' last two games, seemingly to wind down the clock, haven't sat well with those who want to see a swashbuckling side always on the front foot and going to places like Veracruz and Atlante -- where Chivas fans are in the majority -- and go after the three points, not settle for one.

The first thing to mention is that opposition teams are closing up when facing Chivas, making themselves extremely difficult to break down.

Secondly, at least the team isn't losing, like they did with almost metronomic precision last year.