Marquez Lugo focused on Chivas revival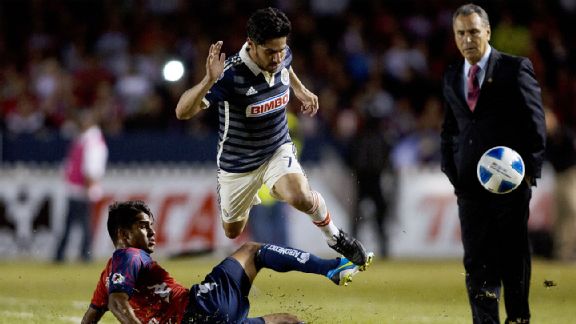 Victor Straffon/AFP/Getty ImagesRafael Marquez Lugo, middle, credits new Chivas boss Jose Luis Real, far right, for improving the fortunes of the Guadalajara side.
GUADALAJARA -- Chivas' sporting director Francisco "Paco" Palencia is engaged in what seems to be a deep discussion with the grounds-man over the pitches at the club's Verde Valle training ground. Jovial new sporting president Juan Manuel Herrero is chatting away -- off the record -- to a few assembled reporters.

Inside the changing room, players can be heard laughing and joking around as they take their showers after a hard training session mainly focused on physical work.

It is early days in the Clausura, but it is fair to suggest that things seem to be looking up for Chivas, who have started 2014 without a loss in their first five games in league and cup.

- Faitelson: Chivas are back on track

The newfound positivity and harmony around the club is not lost on perhaps the only Chivas player you can definitively say had a consistently good 2013: Rafael Marquez Lugo.

"The team has improved quite a lot, each one of us is beginning to understand what the new coach demands of us," Marquez Lugo told ESPN FC's Guadalajara blog in an exclusive interview. "There are still aspects to improve, but the team looks well organized, which is a reflection of the advances we have made under Jose Luis Real."

Marquez Lugo stresses that the four new signings -- Jair Pereira, Israel Castro, Gerardo Rodriguez and Omar Bravo -- have added solidity to the team, something they badly lacked last year.

But it is Real, who the 31-year-old has known since he was a teenager in youth national teams, who has been the main conduit for the shift within the club in recent weeks, according to Marquez Lugo.

"He's someone who knows the institution inside out. He's someone who has worked here practically all his life," stated the former Morelia forward. "He has known the younger players since they were kids."

"I don't think there is a better coach for us in this moment to get us out of the problems that we're still immersed in because we're still not saved," he added.

Having leaders within the team like Marquez Lugo come out in such support of Real is a massive boost, even if there have been ripples of dissatisfaction in sections of the media and some supporters due to the coach's tendency to hold leads instead of going for additional goals.

But last year, the club wasn't getting into the position to even have that choice, so the criticism does seem slightly premature.

Marquez Lugo in many ways doesn't strike you as a typical Chivas player. Born in Mexico City, he talks in a refined manner, is immaculately groomed, played for America and his love life has had more than a few column inches dedicated to it in Mexican gossip magazines.

His cosmopolitan nature almost rubs against that provincial, working class grit with which Chivas are traditionally associated.

But with 21 goals in 47 Liga MX games since he joined in the summer of 2012, Marquez Lugo has won over the fans with ease and is humble in his assessment of his time at Chivas so far.

"Hard work pays dividends," he said. "Goals allowed me to stay in the institution."

The player adds that he identifies with Chivas as a club, that he would like to finish his career at Guadalajara and is comfortable taking on the responsibility of helping youngsters develop.

"To play with only Mexicans at Chivas represents something big, even more than with the national team," stated Marquez Lugo, taking a slight dig, perhaps, at El Tri's use of naturalized players.

This season, Marquez Lugo is aiming to score at least "seven or eight" goals, but admits he is adapting to playing a more withdrawn role under Real, off central striker Aldo de Nigris, which requires more discipline and more tracking back to help out in midfield.

"It doesn't stand out as much, but I know it is very important for the team and the most vital thing is that the team keeps picking up points," he said.

But while Marquez Lugo's scoring record is exemplary for Chivas, De Nigris has struggled, as has Guadalajara's offense in general. The last time the team managed to score more than one goal over 90 minutes was 15 games ago.

Marquez Lugo implies that there is work to do on his partnership with De Nigris, which is crucial if Chivas are to go beyond grinding out results and compete with the Liga MX's top sides.

The raw ingredients for the partnership to work are there and Marquez Lugo is convinced De Nigris' qualities compliment his game.

"Aldo is strong, physical, holds the ball up well and that helps me because it opens up spaces and it gives those playing behind breaks too," said Marquez Lugo. "His quality is proven."

The swiftly approaching World Cup is only a secondary consideration at present for Marquez Lugo, who wasn't named in Miguel Herrera's squad to face South Korea on January 29th in San Antonio.

Instead, propelling Chivas to the top echelons of the league is his primary concern.