Guadalajara adjusting to life after Marco Fabian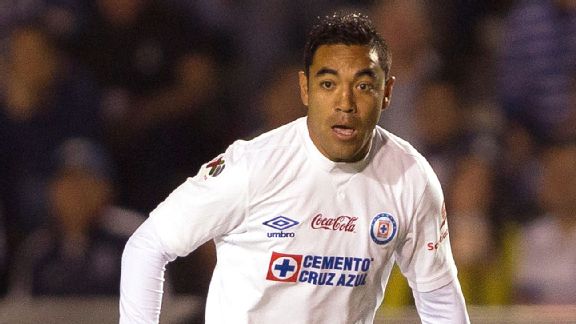 Victor Straffon/Straffon Images/LatinContent/Getty ImagesMarco Fabian, now with Cruz Azul, is missed by Guadalajara but the club is beginning to show signs of progress without the attacking midfielder.
GUADALAJARA -- Don't shout it too loudly, but Chivas showed the first signs of missing a player with the skill set of Marco Fabian in Saturday's 1-1 away tie at Veracruz.

The team had gone ahead through a brilliantly struck volley from Israel Castro in the 21st minute, with Jehu Chiapas bringing Veracruz level in the 58th.

But three minutes later, Cristian Llama was sent off for Veracruz and Chivas didn't seem to possess the necessary nous to break down the Tiburones Rojos and secure the three points.

Carlos Fierro summed it up perfectly after the game.

"I think we could have won, they were left with 10 players," he said. "We lacked a little creativity to attack in different ways."

The limited invention in a central midfield duo of Castro and Jorge Enriquez was evident. On the bench, Giovani Hernandez, 21, and Julio Gomez, 19, are the type of players who could've provided it, but the talented duo is far from established in Mexico's top league.

Coach Jose Luis Real may regret not at least throwing them on late in the game, but it is in such situations that Chivas' squad still seems to lack the depth required to mix it with the very top sides in the Liga MX.

Real has been asked about the lack of a creative midfielder in the Chivas ranks ever since Fabian was loaned to Cruz Azul, and brushed off the question ahead of the Clausura 2014 by stating Fierro would be the provider from the right flank.

But Fierro is only 19 and still getting to grips with life in the Liga MX. He has certainly shown flashes of brilliance early this season, but inconsistency should be expected.

The other side of the coin is that the Enriquez/Castro axis has made Chivas look like a much more powerful unit and one that teams won't be able to walk through with ease. Both seem to be hitting some form early in the season, which is a major positive.

Where Real needs to see improvement is from his expensively assembled and experienced attacking duo of Aldo de Nigris and Rafa Marquez Lugo.

So far, the partnership hasn't clicked. Chivas haven't scored two goals in any game -- Liga MX or Copa MX -- since Sept. 15, a run of 15 matches. While the duo hasn't featured together in all of those, there has been little sign that there is chemistry between them.

De Nigris' career with Chivas hasn't really got going yet. The 30-year-old has only got over five goals in four short seasons, so he's never been an out-and-out goal scorer. But what he did at Monterrey was strike up a partnership with Humberto Suazo that was probably the most feared in CONCACAF over a sustained period.

That hasn't happened with Marquez Lugo, who was one of the bright spots for Chivas in a dismal 2013.

On the positive side, both players have the intelligence and attitude to work hard to make it click.

But aside from the lingering bad taste about Chivas not picking up the three points, Guadalajara is undefeated in its first three games of the Clausura 2014.

It feels like a corner has been turned and the team is slowly and surely picking itself up under Real.