Copa MX holds extra importance for Chivas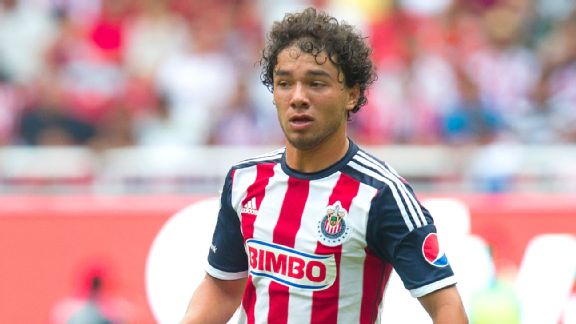 Refugio Ruiz/Getty ImagesGiovani Hernandez is one of many young Chivas Guadalajara players getting first team action in Copa MX matches.
Chivas drew 1-1 against city rivals Universidad de Guadalajara on Wednesday in the Copa MX, with Giovani Hernandez netting a first half penalty in the Estadio Omnilife and Argentine Gabriel Rodriguez equalizing for Leones Negros in the 73rd minute.

- Canales: Queretaro remain at top of Liga MX

It was a largely dull game in front of a surprisingly good crowd (20,500), and while the competition has been derided in some quarters in Mexico as being of secondary importance, for Chivas, it is currently an important link between the Under-20s and the first team.

The all-Mexican club does not have the mandate to go looking abroad for foreign players, and with the owners complaining of high transfer fees within Mexico, the youth system if of more importance at Chivas than at other Liga MX clubs.

A dilemma at present is that youngsters like Hernandez, Victor Perales and Kristian Alvarez have grown out of the Under-20 league, yet aren't consolidated in the Liga MX first team.

Getting competitive minutes against mature players is vital to continuing their development so that they can step up when required and the Copa MX provides that. Good performances in the Copa MX also create pressure on those who currently occupy first team spots, increasing competition for places.

It's been well-documented that in recent years Chivas players have been promoted too quickly, and a look at the current Liga MX starting XI tells you only three -- Rodriguez, Jorge Enriquez and Carlos Fierro -- are under 24.

Head coach Jose Luis Real has been adamant that the development process that players go through can't be artificially sped up to suit the club and ease the need to spend on reinforcements.

One idea being floated, according to what sporting president Juan Manuel Herrero said on Monday, is to re-institute a sister club in the second division -- the Ascenso MX. This would help bridge the gap between the youth sides -- who are current Under-15 champions, U-17 title-winners and U-20 runners-up -- with a more senior league filled with highly paid and experienced players.

It is worth remembering that players like Carlos Salcido and Javier Hernandez benefitted greatly from their time in the second division with former side Tapatio, before it was sold to Universidad de Guadalajara in 2009.

A reserve team in Ascenso MX makes sense moving forward, but for now, the Copa MX is the young players' best chance to prove they are worthy of more first team opportunities.

Copa Chivas Internacional

Twelve Under-18 teams will compete in the eleventh edition of the Copa Chivas Internacional between Jan. 28 and Feb. 4 in Guadalajara.

MLS outfits Chivas USA and FC Dallas, Brazil's Vitoria, Liverpool, the Colombian national team, Universidad Catolica from Chile and Japan's Yokohama Marinos are the international sides that will participate.

Sporting president Juan Manuel Herrero announced the details of the event on Monday, and added that the club will be seeking to increase the number of international tournaments its youth teams will compete in each year, which has to be a sensible move.

TV times

At the same event, Herrero told reporters that Chivas are looking to move the times of their home games from 6 p.m. ET on Sunday to 8 p.m. ET on Saturday, although the club is still awaiting the green light from the television companies.