Plenty of positives for Chivas on opening day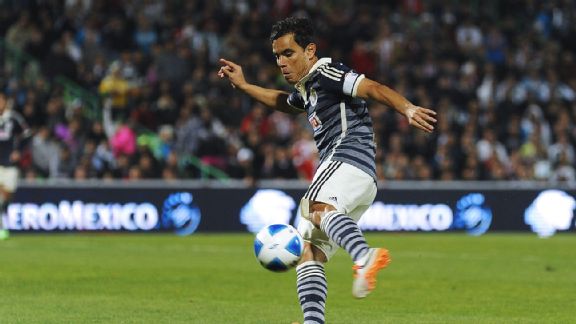 Oscar Wong Soto/LatinContent/Getty ImagesOmar Bravo made an instant impact for Chivas netting a third minute goal in Friday's 1-1 draw at Santos.
It is almost cathartic to write something positive about Chivas. Last year provided little but negative headlines, stories about players under-performing, changes in the front office and on the bench and a team that wasn't united. But Friday's 1-1 tie away against Santos Laguna was a glimpse of light after what has been a dark time for the Guadalajara club.

- Gamecast: Santos 1-1 Chivas

Granted, it was only a point and Chivas were a man up after Oswaldo Alanis was sent off for Los Guerreros in the 66th minute, but it is difficult to remember a Guadalajara team showing this kind of fight and resolve at any point in 2013.

Friday showed there are reasons to be quietly optimistic during this Clausura 2014 tournament, with Chivas ticking the boxes of some of the main questions asked ahead of the game.

Players flew into tackles, pressurized an opposition used to dominating at home and showed the hunger fans have been desperate to see of late. The new signings came in and straight away looked like an improvement on the players Chivas had fielded in their positions last season.

Omar Bravo captained the side and put Chivas 1-0 up in the third minute. Playing on the left wing, he transmitted his intensity and enthusiasm throughout the team, picking up the form he showed at Atlas.

At left back, Gerardo Rodriguez was solid, as he played some dangerous balls into the box and coped well in defense. A Liga MX stalwart, he looks like being the long-term answer to Chivas' left back problem.

Israel Castro showed his experience in closing Santos down and restricting the service to Oribe Peralta and was slightly unlucky with the own goal he conceded to hand Los Guerreros a point. The partnership alongside Jorge "Chaton" Enriquez also showed early signs of having a nice balance.

Chivas' new No. 1 Antonio Rodriguez made some spectacular saves and justified coach Jose Luis "Guero" Real's decision to back the 21-year-old, but there were also some nervous moments and it could be a rollercoaster of a season for the young 'keeper.

But the star of the show was Carlos Fierro. The 19-year-old didn't stop running, provided the bulk of the threat down the right wing and was a constant menace to Santos Laguna.

Looking physically stronger at the start of the Clausura, Fierro was one of the only players to come out of the Apertura 2013 with any real sense that they did themselves justice. Now in a team that is likely to do better and play with more confidence, Fierro should come into his own and could potentially be one of the league's breakout stars if he continues in this same vein.

The only disappointments for Chivas were Rafa Marquez Lugo and Aldo de Nigris. De Nigris really should've converted from a 59th minute cross from Fierro, but headed wide and he just didn't quite looked 100 percent ready for the new season. In defense of the former Monterrey striker, having a proper number nine occupied the Santos defense and allowed others to play off him and shine, while he did the grunt work.

Finally, Real deserves praise for what he has done since returning as coach. The 61-year-old has reverted back to a more familiar formation, managed to instill confidence into players -- like Enriquez -- and, most importantly, has his players working together as a team, hunting down the opposition in packs.

These are early days for Chivas in this Clausura tournament, but Friday felt something like a cleansing. And the fact that the name Marco Fabian was far from anyone's mind says a lot about the Chivas performance.