Predicting Chivas' 2014 Clausura starting XI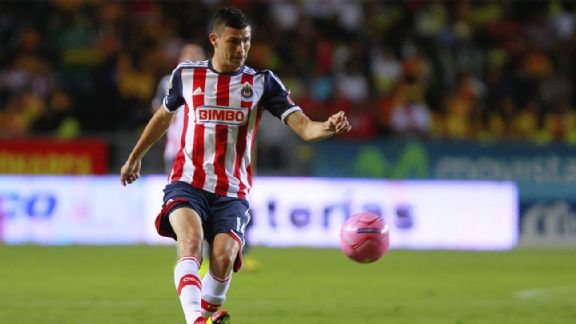 Hector Vivas/LatinContent/Getty ImagesMidfielder Jorge Enriquez will hope to regain his 2012 Olympic form when Chivas kick off the 2014 Clausura.
The new season is slowly creeping up and Chivas' preseason warm-up matches are very much in full swing, with the first team drawing 1-1 draw against San Luis last Friday and losing 4-0 against Queretaro on Monday.

- Canales: Herrera should heed Blanco advice

Jose Luis Real has already given some strong indications of what his team might look like for the new season and how the incoming recruits will knit together with the existing players.

"El Guero" is likely to play a 4-4-2 formation that at time looks more like a 4-2-4, with both the wide midfielders charged primarily with impacting the attacking third.

In goal, youngster Antonio Rodriguez has the edge at present. The 21-year-old started against San Luis and Queretaro and has been praised by Real, who told this blog earlier this year that Rodriguez has all the facets to succeed Luis Michel when the time is right.

Hugo Hernandez will be disappointed that his experience on loan at Puebla hasn't helped him nail down the No. 1 shirt, while Michel still hasn't moved despite being transfer-listed, but Real stated on Monday that the veteran will not feature this season.

Right back has been a real headache for Chivas in recent seasons, but Real's solution seems to be Nestor Vidrio, who usually features at center back. The former Atlas player should bring more solidity to the position than the club has seen in recent seasons, although he doesn't add much going forward.

Jesus "Chapo" Sanchez could also do the job, although he's not a natural in the position and you have to question whether he is up to it considering he isn't a defender. The club's other first team right backs, Omar Esparza and Edgar Solis, continue on their comeback trail from injuries and should be available to Real at some point this Clausura.

On the other flank, new signing Gerardo Rodriguez has the spot all to himself now that Miguel Ponce isn't at the club, with Hedgardo Marin and Juan Pablo Ocegueda behind him in the pecking order.

Center back suddenly seems much stronger for Chivas this season. The heart of the defense was ripped out when Hector Reynoso left for Morelia, but bringing in Jair Pereira to replace him should mean more consistency at the back for Chivas.

Alongside him, there is a battle brewing. Vidrio remains an option, although Real fielded Pato Araujo there against San Luis. Normally a defensive midfielder, Araujo has played center back before with some success and it could be that the coach opts for the 25-year-old alongside Pereira at the start of season and gives him a chance to win the spot. Behind those two are Kristian Alvarez and Victor Perales, both of whom are from the youth system, already having seen first team minutes and can do a job.

In the central midfield positions, Israel Castro will be charged with pinning the side together and shielding the defense, with Jorge Enriquez alongside. It is a combination that should give Olympic-winner Enriquez the freedom to break out of his hugely underwhelming dip in form since London 2012.

Araujo could shift into midfield if there are any injuries, but Chivas look slightly short in the center of the pitch, with only inexperienced youth teamers behind them. Stopping the flow of goals against that came all too regularly in 2013 will be the key to Chivas next season, but there are reasons to be positive about this Guadalajara side in the final third.

Omar Bravo and Carlos Fierro should be a decent combination on the wings, but there is a worry that both are naturally better suited to playing more down the middle. They are certainly not out-an-out winger types.

Upfront, Rafa Marquez Lugo and Aldo de Nigris is one of the most dangerous partnerships in the Liga MX, and if they can show it, Chivas could be one of the more exciting teams this season.

Marquez Lugo can drop off into the space between the opposition defense and midfield to good effect, while De Nigris is a straight number nine, who really should benefit from the crosses Fierro and Bravo can provide.

Giovani Hernandez, Julio Gomez, Angel Zaldivar and Eduardo Lopez offer decent, if not proven, backup in the forward positions, although Real favorite Erick "Cubo" Torres, currently at Chivas USA, would substantially improve the coach's options off the bench.

On paper, this Chivas side should be able to distance itself from the relegation places in the 2014 Apertura, but there still seems to be a lack of depth in certain positions. Not getting important players injured or suspended will be key.

Predicted Chivas team (4-4-2): A Rodriguez, Vidrio, Araujo, Pereira, G Rodriguez, Enriquez, Castro, Fierro, Bravo, Marquez Lugo, De Nigris.