Te Kloese gone, but the problems remain
With hindsight, the moment Francisco Palencia was taken on by Chivas as sporting director at Guadalajara in late November, the writing was on the wall for sporting president Dennis te Kloese.

There seemed little obvious delineation between the jobs, especially with owner Jorge Vergara once again fully involved following a period right after Te Kloese's appointment on Christmas Eve 2012 when Vergara didn't attend training and featured very little in the Mexican media.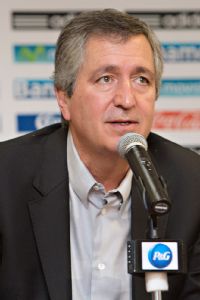 Miguel Tovar/Getty Images If form holds, Chivas president Jorge Vergara, above, won't be very patient with new sporting director Francisco Palencia.
But when the team didn't lift itself in the first few games of the Apertura 2013, after finishing the Clausura in 17th position and seeing archrivals Club America hoist the trophy last May, Vergara reacted and has been a regular at training ever since, finding out what has been going on and attempting to rectify things.

Then, on Monday, the guillotine came down on Te Kloese via a press release, which announced he was being relieved of his duties as sporting president.

If you have followed Chivas over the last few years, you know exactly how those statements are worded due to the steady stream of hirings and firing of staff, specifically sporting managers, sporting presidents and directors of football. In other words, there has been a consistent problem since the days of Nestor de la Torre in finding someone to be the link between Vergara and the football side of the club.

It would seem rational that Palencia will now fulfill that role, which is a massive task considering it is the former player's first big job since retiring from the field.

On one hand, Te Kloese's reign will do down as one of disappointment. Chivas won just five Liga MX games in 2013, finishing 17th in the Clausura and 16th in the Apertura. John Van't Schip was fired as coach swiftly after Te Kloese's arrival, Benjamin Galindo came and went, as did Rafael Ortega, with Jose Luis "Guero" Real now managing the first team.

There were also problems in signing players, with Aldo de Nigris a big boost to the club, but others not exactly inspiring supporters that are desperate for the club's fortunes to improve.

Then there was the decision to bring in U.S. U-20 left back Juan Pablo Ocegueda. Although the Californian is a Mexican citizen, the feelings of fans shouldn't be underestimated when it comes to the club's "All Mexican" policy. Te Kloese, who had brought the player to Mexico with Tigres, was given a rough ride on the issue in the Guadalajara press.

In defensive of Te Kloese, 2013 was a year of change and reversing what both Vergara and Te Kloese said were mistakes by Johan Cruyff and his band of foreigners charged with returning Guadalajara to the top.

Te Kloese leaves a club with a slightly better squad than the one he inherited 12 months ago, despite the results over the past year, and he has every right to argue that 364 days wasn't nearly enough time to implement the necessary changes required to fully influence the club.

But, once again, the overriding message to Chivas fans is that the club is seemingly a rudderless ship, with no apparent destination. There is no other way to view the situation where managers and sporting directors with such vastly different philosophies and outlooks come and go with such regularity.

Follow Tom on Twitter @MexicoWorldCup and at about.me/tom.marshall