Fabian out, Pereira in, while Salcido demands move to Chivas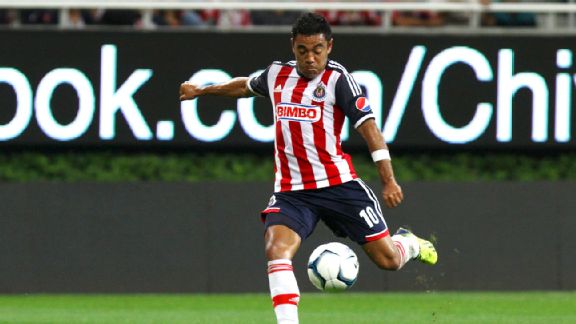 Edgar Quintana/LatinContent/Getty ImagesMarco Fabian will spend the next year in Mexico City on loan at Cruz Azul.
It was a whirlwind burst of transfer activity at Chivas on Thursday, with four pieces of big news coming out of the club as it prepares for the Clausura 2014 after a disastrous 2013.

1. Chivas officially announce Marco Fabian will join Cruz Azul on a one-year loan deal

While the writing was on the wall when Fabian was placed on the Chivas transfer list, seeing such a talent leave for another Mexican club does leave a tinge of sadness.

- Canales: Only Leon stands in America's way

The plan was that Fabian would shine with Chivas in the six months after the Olympics and that a top European club would swoop in with a eight-figure check (in US dollars) and Chivas would be hailed once again as a fine producer and developer of Mexican talent.

Seeing perhaps the player most identified with Chivas over the last three years in the blue of Cruz Azul will be strange, although on the positive side for Chivas, if he does produce for La Maquina, the Guadalajara club would be the financial beneficiaries of any big money future move.

Alternatively, he could even return and make good on those promises to take Chivas to the title.

2. Jair Pereira signs for Chivas from Cruz Azul for $3 million USD

Mexico and Cruz Azul goalkeeper Jesus Corona described Pereira on Thursday as "one of the best center backs I've had," and while the 27-year-old isn't a star name, he is someone who can brings consistency and experience to the heart of Chivas' rocky defense.

It's not a sexy signing to appease fans promoting the "Chivaton" hashtag on Twitter as a way of raising awareness about owners Jorge Vergara and Angelica Fuentes not spending money on new recruits. Those fans will point out that despite Chivas' official announcement releasing the three million dollar price tag -- a rare occurrence -- in essence, this is a part exchange deal involving Israel Castro and Fabian.

But Pereira should add a substantial positive to the team's backline, which only managed five clean sheets in 34 league matches in 2013 and had the second-worst record in the Liga MX last season.

3. Mexico international Carlos Salcido comes out and states he wants to leave Tigres and rejoin El Rebano Sagrado.

There was no gray area when Salcido came out in a press conference on Thursday to express his disappointment with Tigres for not letting him go and explicitly stated that he wants to go back to first club Chivas.

It was refreshing for a player to say it and makes his place at Tigres most likely untenable, despite him admitting that he still has a contract and would "give his all" if he had to stay.

What is much more likely is that a deal will now be struck to bring Salcido home to the city where he used to wash cars outside the bus terminal as a teenager. For Chivas, the professionalism, experience, leadership and link he has with locals will very much be welcome.

Salcido should've moved back to Chivas from Fulham two years ago, but Vergara said he wasn't going to pay more than he sold him for. Surely that was a mistake, but rectifying two years late is better than not doing so at all.

4. Carlos Gerardo Rodriguez is reportedly close to joining Chivas, with Miguel Ponce heading in the opposite direction to Toluca.

Like Pereira, the Rodriguez signing would be unspectacular, but would bring Chivas a player that gives seven-out-of-ten performances week in, week out, rather than the inconsistency of Ponce. It would be a like-for-like replacement at left back.

Rodriguez may be four years Ponce's senior at 28, but can, like Pereira, provide a greater degree of solidness at the back, with the Californian primarily known for his attacking forays.

When you are in a relegation battle, as Chivas will be in 2015, keeping it tight in defense is going to be key.