Chivas supporters brace, bristle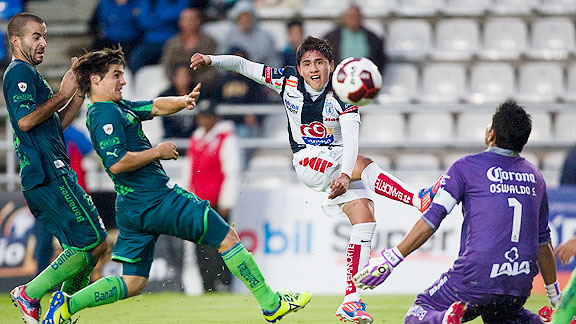 Angel Delgado/Clasos.com/LatinContent/Getty ImagesGuadalajara picked up Julio Gomez from Pachuca on loan, but it's not the kind of major signing that will satisfy Chivas supporters.
America will face Leon in the two-legged Liga MX final beginning Thursday, and the moment Chivas fans have feared most is 180 minutes from becoming a reality: Las Aguilas overtaking them as Mexico's most successful club.

It was, therefore, no surprise that as Mexico City's America was successfully negotiating its one-goal deficit in the Liga MX semifinal second leg against Toluca with aplomb in front of 90,000-plus fans inside the Estadio Azteca, a substantial number of Chivas fans took to Twitter and other social networks to express their desperation at the current fate of their club.

The disaffection took the form of the hashtag "#Chivaton."

In Mexico, the "-ton" ending is understood to be referring to a charity campaign to raise money for one worthy cause or another.

Obviously it is tongue in cheek, but it does highlight a rising resentment at the club's transfer policy so far this winter, after a year in which Chivas finished 17th and 16th in the two regular seasons.

Over recent days, quality young Mexican midfielders Diego de Buen and Edgar Andrade -- thought to be on Chivas' wish list -- have both signed for new clubs, while Guadalajara picked up veteran midfielder Israel Castro, who is solid but not exactly a signing to excite fans.

The loan signing of youngster Julio Gomez from Pachuca is another that hasn't exactly captured the popular imagination, especially as it is for a year and without an option for Chivas to buy if the talented forward does well.

Then, there was Tigres coach Ricardo "Tuca" Ferretti saying that his club would not be accepting "peanuts" for players, something that was widely interpreted as him having a dig at Chivas' attempt to bring Carlos Salcido back to the club where he started his career.

The bad press -- at a club that likes to keep a tight control on what message it is getting out -- wasn't helped by the club bragging last weekend it has over three million "Likes" on Facebook and was urging fans to buy "Chivabonos" -- or season tickets -- for the Clausura 2014 as Christmas presents. The same message indicated that anyone spending over 5,000 pesos (almost $400) would get a free Chivas shirt.

When the club's owners are being accused of not spending enough on bringing in players to overhaul a struggling squad, attempting to use those same fans to keep pumping money into the club didn't go down well.

The messages in response from some of those three million were overwhelmingly negative, with the sentiment from followers that the club should bring in new players. Some suggested the club owners should use some of the money from those multi-million dollar TV deals.

These are tough time for Chivas and their fans, who will be watching the Liga MX final peeking through their fingers, praying that Club America doesn't overtake Guadalajara.

If America does capture title number 12, the pressure on Chivas to react will be ratcheted up another notch or two and it will have to humbly stop referring to itself as Mexico's most successful club.