What Chivas get by adding Israel Castro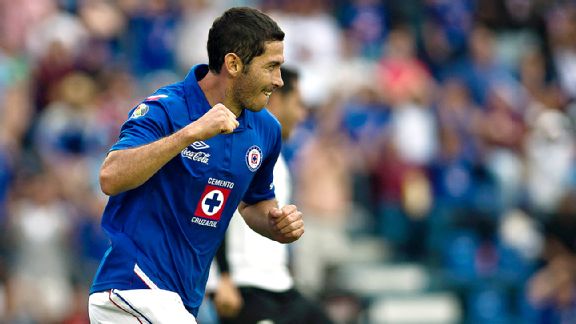 Ronaldo Schemidt/AFP/Getty ImagesIsrael Castro joins Chivas from Cruz Azul and will be a sorely needed steady presence in the Guadalajara midfield.
Carlos Salcido? Jesus Corona?

Chivas fans were on tenterhooks Wednesday as owner Jorge Vergara announced to a local media outlet that there could be a "big signing" announced very soon.

Then it came: 32-year-old midfielder Israel Castro from Cruz Azul.

Fans may have been underwhelmed given the hype, but the Pumas youth product has the potential to become an important cog in Chivas' team for the next couple of years.

In a team of players in Guadalajara who have a tendency towards inconsistency, central midfielder Castro is a seven out of ten type of player, week in, week out.

He may be unspectacular, but Castro can provide the consistency and be the workhorse in the center of the field that Chivas have missed recently. He also adds both steel and competition for players, with Pato Araujo and Jorge Enriquez in the central midfield.

"It's a very informed and well though-out decision," Vergara told ESPN.com on Wednesday. "Paco Palencia took the decision together with 'Guero' Real and we are supporting them 100 percent."

The deal is very much a sign of Palencia's influence, with the two playing together for years at Pumas, and it is unlikely to be the last bit of business this transfer window as Chivas seek to rise out of the relegation battle.

"We're negotiating for three players more," said Vergara. "They are well-known."

There have been conflicting reports on who could follow, with Vergara telling Jorge Ramos y su Banda on Wednesday that a deal to bring Carlos Salcido back to Chivas is already done.

"Tigres have a contract signed two weeks ago, in which everything is finalized," stated Vergara. "Carlos Salcido is coming to Chivas in exchange for two players, one is Luis Michel and the other I can't name."

That contrasted sharply with Tigres coach Ricardo Ferretti emphatically denying any interest in Michel, also Wednesday, indicating that he didn't want Salcido to leave and that he wouldn't be selling for "peanuts".

In the goalkeeping position, Vergara denied interest in Cruz Azul's Jesus Corona -- who has been strongly rumored to be on Chivas' wish list -- instead confirming that Club Tijuana's Cirilo Saucedo is a target to replace the outgoing Michel.

As for Marco Fabian, Real said earlier this week that it is not guaranteed that the transfer-listed player would be leaving, but Vergara claimed that there are "a lot of interested teams" and that Palencia is working on thrashing out a deal.

Julio Gomez

Another player coming in for Chivas is Julio "La Momia" Gomez, who starred at the Under-17 World Cup in 2011, but has since not lived up to the huge expectations placed on his shoulders.

Childhood Chivas fan Gomez joins on loan from Pachuca, with Vergara stating that he is very much a player for the future.