Marco Fabian heads Chivas transfer list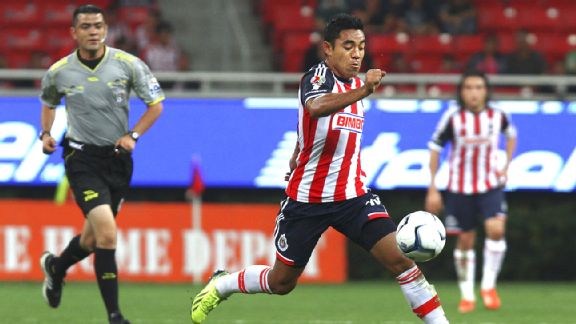 Edgar Quintana/LatinContent/Getty ImagesMarco Fabian is one of four Chivas players set to depart the Guadalajara club.
Marco Fabian was supposed to be the next great Chivas player in a lineage that began with the great Campeonismo team of the 1950s and 60s with Salvador Reyes and that weaved through Ramon Ramirez, Benjamin Galindo, Ramon Morales, among others and onto Javier "Chicharito" Hernandez.

But it isn't to be for 24-year-old Fabian, who was the most high profile name on the team's transfer list announced on Wednesday, alongside long-time goalkeeper Luis Michel, youth product Miguel Ponce and Giovani Casillas.

- Canales: Goals galore in Liga MX playoffs

The recent spate of bad publicity instigated by his off-the-field behavior harmed Fabian's image, but it was multiplied ten-fold by the fact he hasn't performed to the best of his abilities on the field.

With the club in need of bargaining tools to restructure the team and change the culture of failure within the first teams, heads have had to roll.

Here are a few thoughts on each of the four players set to leave Chivas this winter:

Luis Michel

The 34-year-old goalkeeper was handed the unenviable task of replacing Oswaldo Sanchez as Chivas' No.1 in 2006 and has done well for the majority of the time since. But the fact remains that while Michel is a good 'keeper who made the Mexico squad at the 2010 World Cup, he's never seriously threatened to be the starter.

Michel has played some great games for Chivas and became one of the leaders in the squad, although when he lost his starting spot for the last two games of the Apertura season, the writing was on the wall.

The obvious option would be for 27-year-old Hugo Hernandez -- who shone in his loan spell at Puebla -- to step in, although reports over at ESPN Deportes have also hinted that Cruz Azul's Jesus Corona could also be a target.

For Michel, Tigres could be a possible destination.

Miguel Ponce

It wasn't long ago that the California-born left back or left-winger was being talked about as the natural replacement for Carlos Salcido in Mexico's national team.

It's hard to put your finger on where exactly it went wrong for Ponce, but this year has been a disaster, with the Olympic gold medal winner's form dropping notably.

Reports in the local press suggest there was a bust up over former coach Juan Carlos Ortega's tactical system, meaning Ponce lost his starting place at the end of the season.

It would be a sad end to his career at Chivas for a player who featured in both games of the Copa Libertadores final against Inter and is approaching his prime. He could be a great buy for someone if he can get his confidence back.

Puebla is one mentioned destination, possibly in exchange for midfielder Diego De Buen, according to a report in Wednesday's Record.

Giovani Casillas

The 19-year-old had interest from European clubs after the 2011 Under-17 World Cup win in which he scored in the final against Uruguay, but now Chivas is looking to get rid of Casillas.

Casillas' development hasn't progressed as expected and even when he was sent on loan to Chivas USA, he only managed to start two games. The forward also recently lost his starting spot in the Under-20s team.

Back in August there was also an incident of off-the-field indiscipline for which Casillas was fined. Quite possibly a new start will be good for both Chivas and the player.

Marco Fabian

Perhaps too much hope was unfairly put on Fabian at Chivas. Whether that is true or not, he certainly fell a long way short of meeting the lofty goals expected.

On paper, Chivas are losing one of their best players and someone who has the talent to go on a run of form that could propel the team, but constant stories of his penchant for enjoying himself a little too much away from the field, an ill-advised apology combined with mediocre performances mean Fabian's position at the club has become untenable -- as much for the player as the club.

Plenty of other clubs are likely to be enquiring about how much Chivas want for Fabian, but for the Guadalajara club, getting a deal done quickly will be key, so that new players can be brought in.

But the overriding feeling regarding Fabian has to be one of sadness, with Chivas losing such a talented player that the institution has nurtured and the player leaving with his tail very much between his legs.