Palencia appointment raises questions at Chivas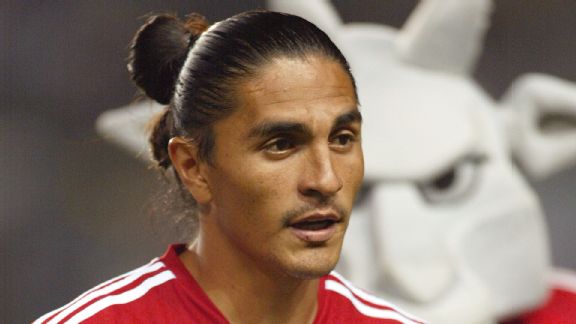 Victor Decolongon/Getty ImagesPaco Palencia is moving from Chivas USA to Chivas Guadalajara to serve as sporting director.
This week Francisco 'Paco' Palencia was named Guadalajara's new sporting director, leaving his post at Chivas USA to become the main link at Chivas between the sporting president Dennis te Kloese and the first team.

- Canales: El Tri relief

Palencia will be announcing who will coach Guadalajara, sorting out details of incoming and outgoing transfers and attempting to put in place a first team at Chivas next season that can do substantially better than its 16th place finish in the Apertura.

On the face of it, having someone with the 40-year-old Palencia's pedigree exclusively working in Guadalajara is a positive. He is well-respected after an exemplary career at Chivas, Chivas USA, Pumas and Espanyol and has the raw ingredients to become a top sporting director.

But in terms of putting together a team at a club where relegation is a latent possibility in the near future, his inexperience also represents a risk.

"This is a winning team, we don't think about relegation, we think about going for the title," was Palencia's take on a relegation situation that Chivas is likely to confront in 2015.

Palencia is a newcomer to the role and will head to the offseason draft as such, with Chivas in absolute desperate need of wrapping up a number of intelligent signings. He is certainly being thrown into the deep end.

The first task is that of finding a coach, with Palencia non-committal on Juan Carlos Ortega's future, simply indicating that the name of the Chivas manager for next season will be named in "the next few days."

Palencia did give a profile of what the club is looking for.

"He needs to know the club, the players and the identity of the player that is required here," stated Palencia.

That seemed to rule out a host of names and was an apt description of Jose Luis "Guero" Real, whose return to the bench would be a huge decision, considering he's occupied various positions in the institution throughout all the turmoil over the last few years.

Palencia is also stepping into a job that is a poisoned chalice at a club with a rotating door of "sporting directors."

With his painted nails, long hair and stylish attire, Palencia looks a bit different than the others, but history tells us he'll need to make a quick impact if he wants to avoid becoming just another name on that ever-expanding list.

Rumors flying:

Sporting president -- different than Palencia's role as sporting director -- Te Kloese announced that there will be important news in coming days and weeks and that the club has been "doing a lot but saying little" so far this offseason.

Until there is hard news on transfers coming out of the club, here's a wrap of the rumors flying around Guadalajara: Marco Fabian close to Europe; Pavel Pardo offered sporting director's job; Carlos Salcido to return after Tigres' season is over; Miguel Sabah heading to Leon. Remember, these are only rumors.