Ten potential transfer targets for Chivas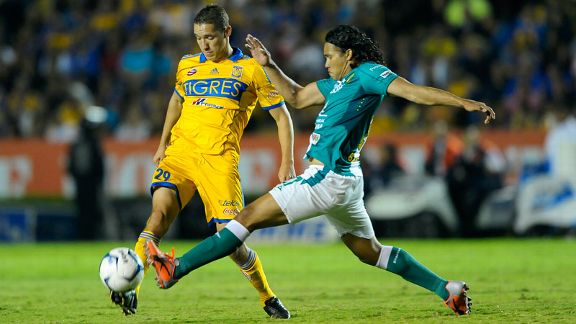 Juan Fernandez/LatinContent/Getty ImagesLeon's Carlos Pena, right, could be one of Chivas' top transfer targets.
The Liga MX playoffs may only just be getting underway, but Chivas' season ended in any meaningful sense weeks ago and attention has shifted to what comes next for a team that achieved 41 points less than rival Club America during 2013 -- in just 34 regular season games.

All the talk in Guadalajara is about who is leaving -- rumors suggest Luis Michel, Hector Reynoso, Miguel Ponce, Marco Fabian and Nestor Vidrio are on the transfer list -- and which players will be brought in to rescue the club from what is likely to be a relegation battle in the Clausura 2015.

Here are 10 realistic targets for Chivas this transfer window, keeping in mind the key positions that need to be filled are center back, wingbacks and central midfield. The players could make an instant impact to improve Guadalajara, don't play for Club America -- with deals between the clubs a no-go -- and aren't Javier Hernandez, Carlos Vela or any other player currently out of the club's reach. The other thing that needs to be taken into account is not one of the players mentioned should be regarded as "saviors," but as cogs in a wider reconstruction of the Chivas first team.

Carlos Pena, Center midfield (Leon) Age: 23

"Gullit" is slowly making a name for himself at international level and has become a key part of high-flying Leon's charge to Copa Libertadores qualification. He is the kind of player fans would adore at the Estadio Omnilife, with his non-stop effort and the drive he provides his team on the attack. The downside is that the player is likely on the list of transfer targets of teams in Europe.

Jair Pereira, Center back (Cruz Azul) Age: 27

Chivas need central defenders who can be relied on to be solid and give a seven-out-of-10 performance week in, week out. Pereira fits the bill, but prying him away from La Maquina could be difficult.

Hugo Rodriguez, Center back (Tigres) Age: 23

Bought from Atlas by Tigres in 2012 with one eye on Hugo Ayala leaving, Rodriguez has been waiting patiently for his chance under Ricardo Ferretti, but it doesn't seem to be coming anytime soon, with Ayala still at the club. Rodriguez does have an Atlista past and when he did play regularly for the Rojinegros, proved that he was an excellent young talent.

Diego de Buen, Center midfield (Puebla) Age: 22

A Pumas youth product, De Buen has established himself as a regular the last two seasons with Puebla as a dynamic central midfielder who can contribute both ends of the pitch. One of the brighter talents for Mexico in the 2011 Under-20 World Cup in Colombia, De Buen has surpassed some of his better-known teammates from that competition. Rumors suggest De Buen is very much on Guadalajara's radar and a deal could be close.

Luis Montes, Central midfield/winger (Leon) Age: 27

Like his teammate Pena, Montes is starting to consolidate himself at international level and there is no doubt that the electric Montes could play that role of linking the Chivas midfield and offense. The problem with Montes, as with other players, is that it may be difficult for Chivas to attract them considering the club's situation and the fact "Chapo" is already at an institution fighting for titles including the Copa Libertadores.

Julio Cesar Dominguez,
Left back/center back/ right back (Cruz Azul) Age: 26

A versatile defender with international caps under his belt, Dominguez has been a regular as a right-footed left back for Cruz Azul over the last couple of seasons. Tried and tested in the Liga MX and has exactly the kind of profile Chivas need right now – a proven player in his prime.

Carlos Salcido
Left back/center back/central midfield (Tigres) Age: 33

A return to Chivas would have been perfect when Salcido left Europe, but even now the Jalisco native could add a level of professionalism, leadership and steel the current team doesn't possess. Salcido played his early career as a center back and would provide a strong option either as the leader of coach Juan Carlos Ortega's back three, in the holding role or up and down the left flank as a wingback.

Edgar Andrade
Center midfield (Morelia) Age: 25

The major problem with Andrade is that he moved just last summer from Chiapas to Monarcas, but the midfielder is another that could slot straight in to improve Chivas. Andrade is a free-kick expert and was part of Mexico's Under-17 World Cup winning squad in 2005, although his career was held back by a horrific injury in 2007.

Ivan Estrada, right back (Pachuca) Age: 30

Jesus Sanchez may have had a decent season for Chivas, but he's not a real wingback and falls short on the defensive side. Former Santos Laguna right back Estrada has the speed and stamina to bomb up and down the wing and is much more capable in the defensive third.

Edson Rivera, Attacking midfield (Atlas) Age: 22

Rivera didn't succeed during his time with Braga in Portugal following the 2011 U-20 World Cup, but that doesn't mean he doesn't have the talent to one day do so. When he was given the opportunity this past Apertura, Rivera proved he is physically capable of dealing with first division soccer. His technique is exceptional and with Fabian possibly leaving, Rivera could fill the gap. Getting Rivera from Chivas' city rivals could be problematic, but given Atlas' financial situation coupled with the small problem of Omar Bravo supposedly not wanting to rejoin Chivas and you could have the makings of a mutually beneficial deal.