Galindo breaks silence, calls for Chivas changes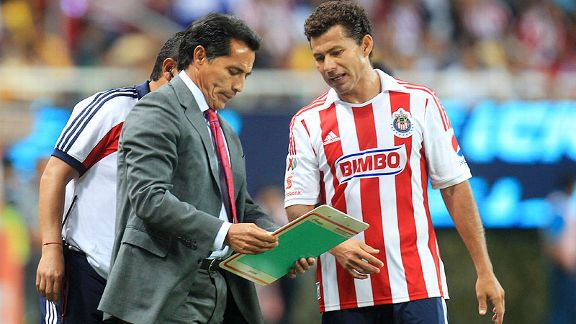 Cioran Castañeda/LatinContent/Getty ImagesBenjamin Galindo was relieved of his coaching duties from Chivas in August.
Rumors of unrest are common at Chivas; getting insiders to actually come out and state on the record about what is going at the club is not.

So it was refreshing to hear Chivas legend Benjamin Galindo break the silence and talk a little this week about the problems he had at the club before he was removed as manager in August.

- Canales: Rescue should have been sooner

"(In January) there was talk about some changes (to the playing staff) that should've happened the previous tournament, but they didn't come about," Galindo told journalists on Wednesday at the Salon de Fama in Pachuca. "Now they've got to think about reinforcing the team."

That may well happen, but players are also likely to be on the way out.

The rumor mill is well and truly churning in Guadalajara and Record reported in recent days that Marco Fabian, Miguel Sabah, Luis Michel, Hector Reynoso, Miguel Ponce and Nestro Vidrio are all on the club's transfer list, although nothing official has yet come out of Chivas.

Interest in Fabian appears to be high, and while his inconsistency, coupled with his price tag, may put European clubs off, Mexican clubs are lining up to take the wayward star.

"He's a very good player, but the atmosphere in Guadalajara is adverse, a change could do him good," Monterrey coach Jose Guadalupe Cruz told a press conference on Thursday, adding that Fabian is on a list of potential new recruits for Los Rayados.

Galindo revealed that Fabian frustrated him at Chivas and was critical at the 24-year-old's development.

"I always told him that he should strive to consolidate himself," said Galindo. "Sometimes he wants to, sometimes not."

Continued the former midfielder: "He is a player that everyone is waiting for and the truth is he is wasting a lot of time... the player that we want to see on the pitch hasn't arrived."

Galindo made it clear that for Chivas to move forward, a strengthened squad is required. He admitted he was forced to debut youngsters too early and not under the right circumstances.

"I debuted various (youngsters), but it wasn't the right time," stated "el Maestro," who handed nine debuts in just seven months in charge. "You have so many requirement that you (feel you) ought to debut them, but for me it isn't formation."

"When you debut a young player, you have to back him up keeping him in the first team, not play one, then go for another. That's not formation, that is hurrying processes and, in the end, isn't in the youngsters' interest," he added.

If the big names at Chivas are to leave, fans are going to expect some movement in terms of incoming players this transfer window, although the rumors have been substantial slower in that department.