Time for Fabian to make fresh start away from Chivas?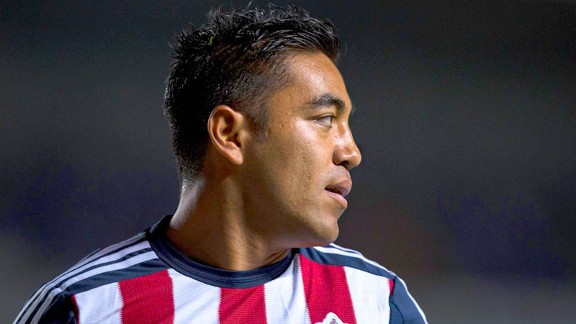 Miguel Tovar/Getty ImagesIs it time for Marco Fabian to leave Guadalajara?
Rumors of interest for Marco Fabian from Tigres and other clubs has again brought up the prospect of the 24-year-old Olympic gold-medal winner leaving Chivas, less than two months after he made a U-turn on going to play in Qatar.

On Sept. 5, after deciding to re-dedicate himself to Chivas, Fabian called a press conference with the rest of the squad and coaching staff to ask for fans' support.

"Believe in me and I will do the rest," came the promise from the forward.

Since then, the boos haven't stopped, Chivas have yet to win a league game and the scandal surrounding Fabian's life off the field has continued.

Last week, he was the subject of a story in a local newspaper (Mural) about neighbors launching an official complaint to local authorities about the player using a house he owns in a private neighbor to regularly throw parties las into the early hours.

And either side of the Super Clasico against America, Fabian was in photos and/or videos enjoying himself in different nightspots.

Then there is the regular speculation in local gossip columns about who he is dating.

Fabian has every right to enjoy himself, and not all the allegations are necessarily true. But the apology backfired in that his every move would be increasingly scrutinized to see if he was going to keep his head down, lie low and focus exclusively on fulfilling his substantial talent.

On the field, Fabian set up Guadalajara's equalizer against Morelia Friday with an exquisite pass that debutant William Guzman's pushed into the goal.

It was a moment of magic from Fabian and a reminder of the talent he possesses. But such occurrences have been few and far between since the London Olympics. Five days before against Pachuca, he was substituted at halftime, with his team down 2-1 in what turned into a 3-1 loss.

Now, with the season ending, Chivas battling for points in the relegation fight and talk of change among the club's playing staff, the possibility of Fabian leaving is once again being discussed.

Considering his form since the Olympics, finding a top European club to pay a fee that owner Jorge Vergara would accept would now seem unlikely and the inconsistency he has shown must be off-putting.

Yet there would still be options for Fabian, and accepting an offer from a club such as Tigres, Leon or Santos Laguna wouldn't exactly be the dream move he had hoped for. But it could be a good opportunity for Chivas and Fabian to part for the mutual benefit of both.

At Chivas, the pressure for Fabian to be the savior and the player who rescues the team every week is immense and in many ways unfair. His off-the-field activity has almost become an ongoing game around town that reflects negatively on him.

It all doesn't seem to be what Fabian needs at a crucial time in his career. He wouldn't have the same heavy weight on his shoulders at the aforementioned clubs.

For Chivas, the Guadalajara native is a rolling PR disaster at present, a symbol of wasted talent. Getting rid of Fabian would bring in vital funds to purchase other players for a squad that needs a radical overhaul.

Chivas could buy two players in essential positions such as fullback or central midfield for the money Fabian could raise.

Increasingly, it seems the marriage between Chivas and Fabian just isn't working.

Notes

A strong second-half showing from Guadalajara in Friday's draw against Morelia lifted Chivas into 17th place in the Liga MX, ahead of Atlante on goal difference. In the relegation table, Chivas are now 16 points ahead of Atlante, six ahead of Atlas, four in front of Chiapas and two ahead of Puebla. Pumas are the nearest team above Chivas, 10 points ahead. . . . On Wednesday (9 p.m., ET), Chivas host a Santos Laguna side that has already secured a playoff spot and a place in next season's Copa Libertadores. Guadalajara coach Juan Carlos Ortega is still looking for his first win.