Fans protest as Chivas fall to last in Liga MX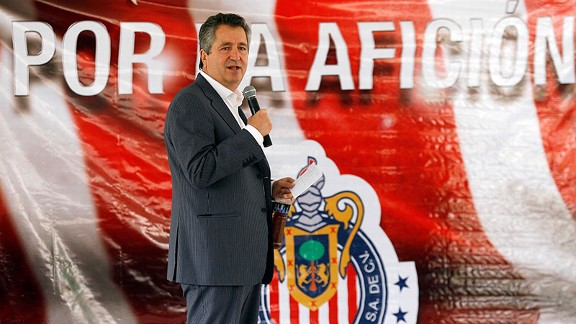 GettyImagesAngry Chivas fans have protested outside Jorge Vergara's suite.
With over three-quarters of the Apertura season over, Chivas sit in last place in the Liga MX. The club has gone 10 games without a win and has just one victory in its past 20 outings.

It is a sorry state of affairs for the Mexican giant and one that led to fans becoming angry after Sunday's 3-1 capitulation to Pachuca -- a team that has performed well below par this Apertura.

Boos for Chivas and cheers for the opposition are a normal occurrence at the Omnilife, but, on Sunday, a group of supporters gathered outside Jorge Vergara's private suite after the final whistle, hurling insults at the team owner and causing extra security to be called in.

While such aggressiveness cannot be condoned, it isn't difficult to see how Chivas fans are livid with the team's management and players.

Guadalajara has fallen to new depths on the field, and the owner's promises of grandeur -- remember, it was only 20 months ago he told a press conference, "My hope and dream is that Chivas becomes a better club than Barcelona, and playing with only Mexicans" -- ring more hollow than at any time since he took over 11 years ago.

Avoiding relegation must now be the club's number-one goal over the short and medium term.

Only time will tell whether the incident outside Vergara's suite was just a one-off or a watershed moment that leads to further action to oust the club's current ownership -- which is now the course of action most fans seem to prefer.

Earlier in the week, Vergara taking centre stage as America's Miguel Herrera replaced Victor Manuel Vucetich as El Tri's coach didn't go down well with Chivas fans, and neither did his open thanks to Club America for allowing Herrera to move.

Many wondered why Vergara was getting so involved in national-team affairs when his club is so poor at present, especially considering his dire record of hiring and firing coaches.

The irony is that there is a parallel between the Mexican national team and Chivas at present, with both stuck in a rut, watching their main rivals -- the United States and Club America, respectively -- soar.

The overriding similarity is the frequency of changes in staff within both institutions.

Mexico has had 10 coaches since 2006, while Juan Carlos Ortega is Chivas' 13th manager in that time. It is little wonder, then, that there was widespread criticism of Vergara meddling in El Tri's managerial situation.

The instability seems to have caught up with the players of both squads at the same time, the result being a real lack of confidence and firm conviction of how they are going to go out and win matches.

For Chivas, a trip to Morelia on Friday and then high-flying Santos Laguna in the Omnilife on Oct. 30 will offer little respite. Both are chasing Copa Libertadores qualification -- something that seems a world away for this Chivas side.