Relegation threat hovers over Chivas
"Ghosts" surround Chivas.

And in Guadalajara, they have set up an "emergency plan" where everyone has an assignment, a specific role to try and help leave this crisis period behind: Juan Carlos Ortega and the coaching staff are in charge of on-the-field matters. As far as state of mind, the thorny world of the mental state and thoughts of the players is in the hands of none other than Jorge Vergara.

As much or as little as one wants to consider the difficult percentages, there is a serious worry and uneasiness at Chivas, undoubtedly for good reasons.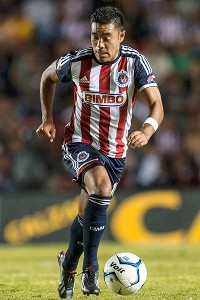 Miguel Tovar/LatinContent/Getty ImagesMarco Fabian ultimately decided to remain in Guadalajara.
This is no longer just a soccer issue. It's clear that Chivas isn't working on the field. They commit serious defensive errors, they don't create good scoring opportunities and their strikers - the area which they have brought in the most players in recent years - can't take their chances to score goals. But the most important problem that the team continues to drag these days is still their state of mind. Chivas players do not show commitment, pride, spirit, and teamwork which the red and white shirt demands.

Jorge Vergara had to resort to his tried and tested method to find a solution. That method which for 10 years has given him, more or less, decent results. He appeared without warning on the training grounds and walked around them, with an almost forced smile, with a small orange drink bottle in his hand and without socks - as he says himself, in order to feel the earth's vibrations. In the recent past, that was enough to encourage players. Vergara's words, more than a threat, would serve as an encouragement for Chivas to close ranks and motivate them on the playing field.

Today's circumstances are even more serious. And Vergara himself knows it.

While the new coach tries to distance himself from despair and find the right tactics on the field, the management, with Dennis Te Kloese in charge, tries to de-emphasize the subject of relegation. "We are not going to enter into a state of pressure or panic. It is something that we are aware of, but which we are not worried about at this time.

Chivas is 18 points from last place in the percentages table, a safe distance but one which in no way allows for feeling confident and out of danger from being relegated. The task now is to get the team to recover its ability to play on the field - with the resources at hand and nothing else - and to try to recover the spirit which once the Chivas shirt embodied.

The coaching staff as well as management and the owner know that the fans will return once results improve.
Chivas is going back to its original plan, the same which it established almost 11 years ago when Jorge Vergara burst into the partners meeting and took control of the club: those who know about soccer would be in charge of soccer, and he would lend support to the team as far as motivation and state of mind. This separation of tasks, at the time, worked for Chivas. Today, that plan emerges as hope.

And they don't say it, they don't want to make it obvious, they don't want to show it, but Chivas is worried and overwhelmed and is looking for recovery on and off the field.