Fabian stay a major boon for Chivas, despite fan backlash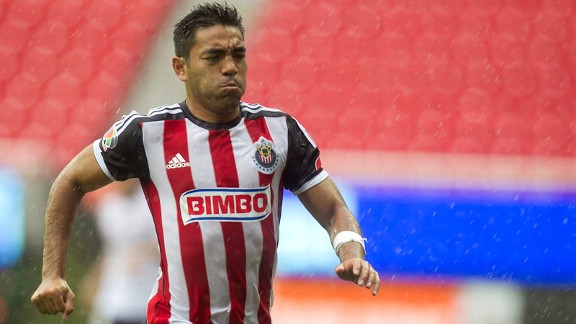 Refugio Ruiz/Latin Content/Getty ImagesMarco Fabian has decided to turn down a move to Qatar and will stay with Chivas.
No other player but Marco Fabian at Chivas could've provoked the media storm that has swept Guadalajara over the last few days. The saga over whether he would stay or take the money and run to Qatar even overshadowed the managerial change from Benjamin Galindo to Juan Carlos Ortega that occurred after last Sunday's 4-2 home loss to Puebla.

- Canales: Chivas makes more news

But Fabian's decision to remain is a major positive for the club, despite the general swell of opinion being against the 24-year-old, at least around Guadalajara.

"I've taken the decision to stay with my family, which is Chivas," said Fabian in a press conference in Guadalajara on Wednesday. "I know that you don't abandon family."

He added: "I made a mistake in contemplating a (lucrative) financial offer outside of Mexico, but it wasn't what I wanted, I've learned a lot of things here."

Now Fabian has no excuses left. His offer from abroad came and he rejected it. He simply has to take the huge weight of responsibility that has been on his shoulders since before the Olympics and produce for Chivas.

It's not going to be easy at first, with the prospect of him getting booed at the Estadio Omnilife a real possibility.

His reputation as a happy-go-lucky player with more than the usual penchant for a fiesta will be difficult to shake off, but those fans will be won over again if the player can produce anything near the form he showed at that Toulon Tournament before the Olympics, or the 2010-11 season when he scored 15 goals in 29 starts, or those ridiculously brilliant two goals in a friendly against Barcelona back in 2011.

The positive for Fabian is that he also seems to know he needs to get back to that level and stressed his commitment to the club he has been at since he was nine years old.

"I reiterate my commitment to the institution, to the fans, to my teammates, I don't have any doubt that I am going to succeed," said Fabian.

Look at it as a fresh start, turning over a new leaf or however you want. The bottom line is that if Fabian is going to be the main man at Chivas and with the club waiting on him to make up his mind about his future, he now needs to start showing it on the field. The team is in desperate need of the Fabian of old.

Notes:

-- Chivas won 3-2 in Sinaloa against Dorados on Tuesday evening in Ortega's debut as coach in the Copa MX. The win took Chivas to eight points from the three Group 7 games and in an excellent position to qualify for the knock-out stages. The main positive was out-of-form Miguel Sabah firing in a second half double. On the negative side, the defense again looked shaky.

-- Friday's visit to La Corregidora in Queretaro is Ortega's first league match in charge and a chance for Chivas to start making some headway in the Apertura. The prospect of Fabian, Aldo de Nigris and Rafa Marquez Lugo all starting together is mouthwatering. At the back, Ortega is likely to continue on from Tuesday and use three central defenders: Nestor Vidrio, Kristian Alvarez and Hector Reynoso.

-- Midfielder Jorge "Chaton" Enriquez is back in full training at Chivas and could make his first appearance of the season after picking up an injury at the Gold Cup.