Fabian vowing to redouble efforts with Chivas, national team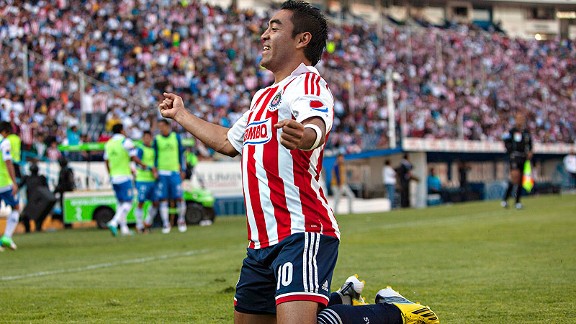 Miguel Tovar/LatinContent/Getty ImagesMarco Fabian has long been linked with a move to Europe.
Chivas forward Marco Fabian is fully aware of the national team's poor form recently in World Cup qualifying and the Confederations Cup, so he is setting his sights on reviving his stalling career for both club and country.

"I'm working day after day to be a better player, a better person, with more humility," Fabian told the club website in an interview with a markedly different tone than usual. "I want to get better than I have been, overcome limits and be able to carry this team and win a place both here and with the national team."

The 24-year-old was highly-touted in Europe before, during and after last summer's London Olympics, but Fabian hit an extended patch of indifferent form on return to Chivas and -- although he did improve in this year's Clausura -- the last part of his season was blighted by injury.

What Fabian needs is to rewind the clock back to the Apertura 2011 season and reproduce the kind of form that saw him score nine goals in 13 games. He made Guadalajara tick as he sought to impress on-looking European scouts and make his dream move across the pond.

Talk of Fabian going to Europe reached a crescendo after the Olympics, but with Chivas holding out for big money and reluctant to let their star asset leave, the player's form dipped and so has the buzz around the player.

Fabian says he is now redoubling efforts in preseason training to once again become the offensive protagonist for Chivas.

"I've realized that the first thing is to be healthy, strong and good physically to be able to show myself 100 percent on the field," said the Guadalajara-born player.

Talking about moving abroad has turned to consolidation in Chivas and winning the championship, something that will be music to the ears of Rojiblancos -- even if there is still work to be done if Chivas are to challenge next season.

"I have the biggest dream in the world which is to become champion with Chivas, something I've visualized since being young and I won't rest until I achieve it," stated Fabian.

In terms of El Tri, Fabian was one of the principal candidates to step up from that Olympic team to become an integral part of the national team squad, but now faces a battle in force his way into the squad for Brazil 2013, should Mexico make it.

The first step is performing at the Gold Cup in July and then carrying his form back to Chivas.

"It's an important moment in my career, without doubt," he said. "I've still got time to demonstrate I'm one of the best players in Mexico."

Notes:

Chivas returned to Guadalajara from preseason in Los Angeles on Monday, after defeating sister club Chivas USA 1-0 Sunday, with Erick "Cubo" Torres getting the only goal.

The Rebano Sagrado will continue preparation work for the Apertura 2013 season at the Verde Valle training ground this week, before heading back north for preseason games against Club America (July 3, Las Vegas), Pumas (July 6, San Jose) and D.C. United (July 12, Washington D.C.).