Chivas need a boost after Cruyff attack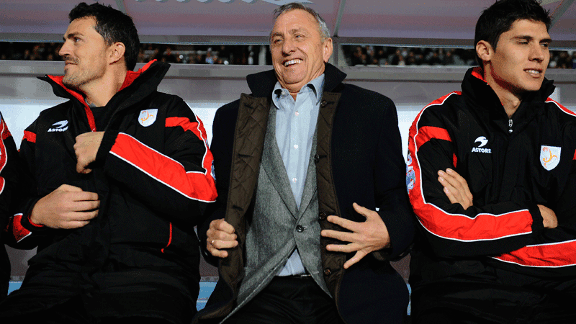 GettyImagesJohan Cruyff's criticism adds to Chivas' woes
Jorge Vergara once described Johan Cruyff as "the person who knows most about soccer in all the world." But that was before Cruyff's brief stint at the club was cut short by an email stating that the Dutch legend's time at Chivas was up back in December.

- Chivas fire coach
- Chivas face lawsuit

This week, Cruyff once again tackled the subject of Guadalajara, calling the club "embarrassing".

"In the last 22 seasons, which are 11 years (in Mexico's split season format), I believe they have won only once," stated the former Barcelona player and coach. "You can only say that the people that direct the club aren't directing it well."

The criticism came hot on the heels of coaches Daniel Calichman and Theothoros Chronopoulos making headlines all over the world by filing a lawsuit against Chivas USA for "harassment and retaliation based on ethnicity and race."

Then there was the firing of the popular Jose Luis "Chelis" Sanchez in Los Angeles and the subsequent press statements that were translated loosely from Spanish to English, with the English-language meaning sometimes unclear.

It certainly wasn't a good week for Jorge Vergara and Angelica Fuentes' Chivas empire on the PR front. What makes it worse is that these statements and claims are coming from former employees, people with authority in the game and that have been around the sport a long time and in many different organizations.

The owners and sporting president Dennis te Kloese are really in need of a boost from somewhere. Chivas USA sit rock bottom of the Western Conference in MLS and Guadalajara is attempting to build on last season's disastrous 17th place finish.

At least on the Liga MX side, this week is the club's last chance to inject some urgency into the squad, with Wednesday's domestic transfer deadline approaching fast.

So far, only Nestor Vidrio has been added to the Chivas squad and, while an improvement on the current squad, that isn't likely to satisfy the thirst of fans desperate to see some improvement and ideally the splashing of cash in the wake of America's record-equalling 11th title.

The rumors suggest former Club America player Angel Reyna is a possibility, which, alongside the likes of Marco Fabian and Rafa Marquez Lugo, is a mouthwatering combination. However, there is stiff competition for the player from up to eight other Liga MX clubs.

Disappointingly, there have not been many other big names mentioned that haven't been quashed almost instantly, as has been the case with Carlos Salcido, Israel Jimenez and Luis Montes. Instead, forward Jeronimo Amione seems a more viable option, or Romita Rojas.

As always, negotiation is more difficult at the annual draft for Chivas than other sides, with Liga MX notorious for increasing prices and terms in full knowledge that the Rojiblancos only really have the domestic market to rely on, being an all-Mexican team.

There may also be some bad blood, or at least that's the only real way of interpreting Tigres president Alejandro Rodriguez quite vicious attack against Chivas on Monday.

"You tell me who is good on that team," he is quoted as saying on ESPN Deportes. "They don't have anyone. Guadalajara would like to have Tigres' squad."

But the need for significant improvement remains and can be highlighted by another announcement last week - Mexico's provisional Gold Cup squad. Of the 35-man preliminary list, there were just four Chivas players – Marco Fabian, Miguel Ponce, Jorge Enriquez and Rafa Marquez Lugo. Combined with the Confederations Cup list of 23 players, that means there are four Guadalajara players in the top 58 Mexican players, according to Jose Manuel de la Torre.

It is a damning statistic that fans will be hoping will at least be partly rectified with a couple of big signings this week.

The club really could do with the lift.