Season in review: Picking up the pieces
As Club Deportivo Guadalajara turned 107 Wednesday, there was little celebration and players were busy painting the front of a local orphanage.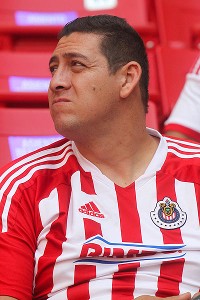 Cioran Castañeda/LatinContent/Getty ImagesChivas has some work to do to re-engage a disappointed fan base.
Unlike most clubs that didn't make the playoffs, Chivas players have been made to stay around Guadalajara this week to carry out altruistic works around the city. The club says it isn't any kind of punishment, but it's hard to believe considering it came off the back of the game last Friday against Tijuana which Chivas lost, 4-0. Local journalists reported rumors suggesting some players had to cancel pre-planned vacations.

The shambolic defensive performance and inept attack against Xolos summed up a miserable season for the Rebano Sagrado, who finished 17th, above only financially strapped Atlante. The game was a new low in a Clausura season that came crashing to a halt.

Origins of the failure

The poor season didn't come out of nowhere and has to been seen as a product of years of periodic overhauls at the club that has resembled the 'crazy goats' nickname (initially given to the club as an insult to the disorganization of the players on the pitch).

In the last three seasons, Chivas have finished 15th, eighth and 17th. In that time, there have been three sporting presidents (all promised time to turn the club around) and four managers.

Granted, injuries to key players this Clausura have to be taken into account. Reynoso, Luis Michel, Luis Morales, Adrian Cortes, Luis Perez and Marco Fabian were all out for periods and Reynoso, Michel and Fabian missed vital matches.

But when injuries did force changes, the squad was left threadbare, forcing coach Benjamin Galindo into handing 10 debuts to players who had come up through the club's youth ranks.

The season highlighted that competition for places at Chivas isn't yet what it should be.

Then there was the shoddy preparation. Sacking John Van't Schip and bringing in Galindo on the eve of the Clausura, getting rid of Johan Cruyff during that Apertura final last December and the exodus of Dutch backroom staff in between meant the players' preseason was badly interrupted.

On top of that, there were reccurring mumblings and photos on social networks that players were not being as disciplined as they should be off the pitch.

The positives

Before that 2-0 home defeat against America -- in which Chivas were devoid of luck -- it's easy to forget that Chivas were right there in the playoff race and hadn't lost in nine games. At that point Galindo and the team were obviously doing something right. There was a solidity about the side, which was becoming genuinely difficult to beat. Rafael Marquez Lugo was also more than justifying his place with some memorable goals.

At Monterrey, Chivas picked up three points and there were also some good away performances against Pumas and Tigres.

Along the way, Kristian Alvarez proved himself as an ever-more accomplished center back, Fabian was generally good when he was fully fit and Jesus Sanchez improved on past seasons.

Future?

Forget titles for the moment. Chivas are gradually slipping into the relegation race. There may still be a 17-point gap between Guadalajara and San Luis in last place, but the club is moving in the wrong direction in the percentage points table, worked out over the past six seasons. Slipping into the relegation dogfight -- which Chivas will if they don't improve on recent seasons -- would be nothing short of a disaster from Mexico's most successful club.

Bottom line

What's needed is continuity backed by a project that will combine producing players with splashing out into the transfer market. Liga MX is attracting better quality of players and Chivas are getting left behind, as this season has highlighted.

Notes

Chivas' Under-20s take on Pachuca's in that division's quarterfinals, with the first leg on Thursday and the return in the Omnilife on Sunday. The Under-17 side play Morelia Thursday, with the second leg also on Sunday. . . .Once Chivas' community week ends on Saturday, players will head off on their breaks. They are due to return to preseason training on May 27.