A tough four-game run-in awaits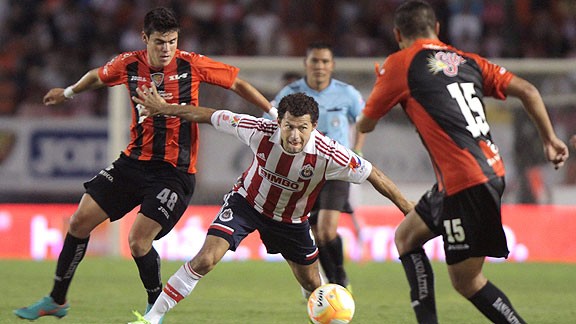 Pablo Virgen/LatinContent/Getty ImagesIt was a tough night for Guadalajara and Miguel Sabah, center, Friday at Chiapas.
Next Sunday, Tigres will face Pumas looking to make it 14 games undefeated in the Liga MX. If they do so, it would equal a record set by Chivas in the Invierno 2001. How Benjamin Galindo and his current squad must be wishing for those kinds of halcyon days. The stat comes as a poignant reminder of just how far Chivas still have to go to be fighting consistency at the very top of the Mexican league.

In contrast to record-chasing Tigres, Chivas are in a dogfight just to make the playoffs. Friday's 3-2 loss in Chiapas left them in a precarious 13th position in the Liga MX, two points off the playoff zone, but with five teams ahead of them also fighting to get in.

Friday, we saw a Chivas side without key players such as Marco Fabian, Hector Reynoso, Luis Michel and Jorge Enriquez succumb to basic defensive errors. Incoming 20-year-old goalkeeper Antonio Rodriguez didn't look at all comfortable, and Galindo taking out 22-year-old center back Victor Perales at halftime and replacing him with 19-year-old debutant Abel Fuentes told its own story.

However, despite the errors, the positive to take away is there was a good work ethic about the side and coming back from 2-0 down showed there is still a lot of fight, as well as Rafa Marquez Lugo's inspired two-goal display.

But none of that hides the fact that what is required to overcome the injuries and suspensions in the four games that remain is nothing short of a Herculean effort.

Some good news arrived Monday, with reports suggesting Michel will return in goal at home against Atalnte Sunday, although winger Jesus Sanchez will be out through suspension.

Of the others on the treatment table, it is unlikely any will be back Sunday.

However, the fact is that game couldn't be more welcome. The Cancun-based club is in last place and has lost its last six. If there is one game you'd expect to get three points from, it would be Atlante at home.

After that, Chivas face bitter city rivals Atlas, who are flying high, but far from unbeatable in the Estadio Jalisco, and a draw could be enough for Chivas. By that time, Atlas will likely be qualified for the playoffs and free from relegation. In other words, it wouldn't be the worst time to play the Rojinegros.

In the penultimate round of matches, Chivas host Queretaro, who is seven points adrift at the foot of the relegation table and will quite possibly be mathematically relegated when the Chivas game arrives. Even if it isn't, it should be a winnable game in the Omnilife with Fabian and Reynoso likely back in the lineup.

Last up is possibly the toughest assignment -- Tijuana away. But the reigning champions Xolos have won only once in their last nine league games and are clearly focused on the Copa Libertadores.

Of course, the argument that Chivas could still qualify for the playoffs is easy to make on paper. The reality of getting 10 points from the remaining four games will be a lot more difficult -- although not beyond the realm of possibility.

The caveat is that whatever happens in coming weeks, that Chivas are once again struggling to get into the playoffs at this stage of the season shows that the squad is not of the quality required.

Chivas must start planning now for the June transfer draft and not get caught up in any misguided euphoria if they do make the playoffs.