Chivas start Clasico countdown with upper hand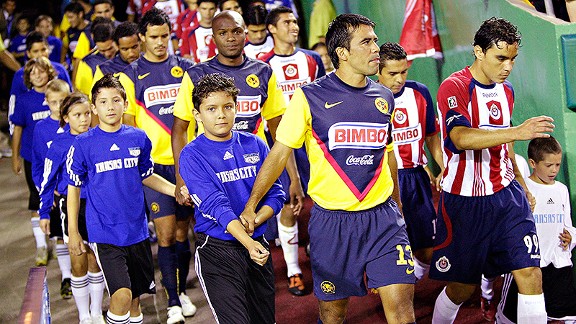 Jamie Squire/Getty ImagesChivas and Club America from a 2009 contest -- After Tuesday's El Tri clash against the U.S., all of Mexico will turn their attention to the Chivas-Club America Clasico.
The press in Mexico may be focused on Tuesday's Mexico-United States World Cup qualifier, but there's another big game around the corner in which Chivas have been quietly knuckling down in preparation.

Of course, it is the Super Clasico on Sunday, the game that brings Mexico to a halt for 90 minutes: Las Chivas Rayadas from Guadalajara against Club America of Mexico City. The tickets are already sold out for the clash at the Estadio Omnilife and from Wednesday onwards, it will be the big topic of discussion, with bets placed, barbecues arranged and likely numerous crates of beer bought in preparation.

We'll be gathering opinions and talking to players within the Chivas camp during coming days about what exactly the game means for the club, Mexico and the Liga MX, but for now, let's deal with the actual preparation and what has gone on over the last few days, the results of which leave Guadalajara with a major advantage.

As has been well publicized, no Chivas players were called into the Mexico squad to face the United States, with Marco Fabian still recovery from a knee injury. That has given the squad some quality time to train with coach Benjamin Galindo, really for the first time he took charge just one day before the Clausura season begun.

Galindo took the players to Ciudad Juarez both for altruistic reasons, to promote a civil society organization in the violence-affected city, and also to play two friendly games to keep the players in rhythm and iron out problems.

The first game finished 3-3 against Chivas USA last Wednesday and the other a 2-0 victory over Mexico's U-20 team last Saturday.

Crucially, in that second game, Fabian returned to the fold (even if he did see red after elbowing an opponent in the 52nd minute). His importance is magnified in big games and he relishes matches against the Aguilas, against who he has netted four times. Whereas Fabian has, in the past, been criticized for underperforming in lesser games and for being inconsistent, in the big games he usually steps up.

Hector Reynoso didn't feature in Juarez, but the two week break in the Liga MX has given him time to rest up from his injury caused by muscle fatigue. Club doctor Rafael Ortega is hopeful the 32-year-old captain will make the clasico. His partner in central defense, Kristian Alvarez, has the same problem of muscle fatigue, but is also likely to return alongside Reynoso.

Then there is issue of Jorge Enriquez. With Patricio Araujo out suspended, Enriquez will start against America. His form has been shaky this season, but starting both games in Ciudad Juarez should have helped him find some rhythm. Galindo will certainly be hoping Enriquez is back to his best.

With two weeks of preparation under their belt, Chivas should have the luxury of lining up against America with what many consider their best XI: Luis Michel, Miguel Ponce, Reynoso, Alvarez, Sergio Perez, Enriquez, Luis Perez, Marco Fabian, Jesus Sanchez, Rafa Marquez Lugo, Miguel Sabah.

On the other side of the fence, America hasn't had the luxury of a meticulous preparation, with Raul Jimenez, Jesus Molina, Maza Rodriguez and Diego Reyes (who is suspended and won't be able to play in the clasico) all in Mexico's squad. On top of that, Aquivaldo Mosquera is with Colombia, Christian Benitez with Ecuador and Osvaldo Martinez with Paraguay.

Under the shadow of Mexico-United States and before media games between the two clubs really get going this week; it is the Guadalajara team that starts with the upper hand.