Brazil's concerning Ballon d'Or drought
ZURICH -- Technically speaking, it was not a total washout: Two Brazilians were pretty close to winning the Ballon d'Or on Monday night. But the fact that one of them was the presenter, Fernanda Lima, and the other was Pele, last seen on a football pitch in 1977, says a lot about the rut experienced at football's gala prize ceremony by a country once famous for its individual talents.

Even with Lionel Messi's recent monopoly on the prestigious FIFA award, Brazil still retains the largest amount of Ballon d'Or trophies received since the prize became a more global affair, winning five times and placing a further four times in the final three. (When it comes to the FIFA World Player of the Year, a separate award given from 1991 to 2009, Brazil dominates there also with eight wins.) Worryingly for some, though, the last victory in either award was in 2007, when Kaká swept the vote ahead of Messi and Cristiano Ronaldo on the back of AC Milan's Champions League conquest.

He was also the last Brazilian to even make it onto the three-man short list.

While more optimistic sectors of the Brazilian media pointed out the fact that Neymar has ranked among the top 10 in the past two editions of the Ballon d'Or (he finished fifth on Monday), the reality is that he amassed less than four percent of the vote in 2013, a year in which his exploits at the Confederations Cup were much more visible than even the slalom run-like goal that won him the Puskas Trophy in 2012.

Neymar didn't even make the FIFA/FIFPro World XI on Monday. While the European bias had understandably bigger weight and the Santos FC graduate is still dipping his toe in the water at Barcelona, the presence of only one other Brazilian player in the 23-name short list (PSG defender Thiago Silva) is a cause of concern.

Full Ballon d'Or Coverage
- Cox: Why don't defenders win the Ballon?
- Duarte: Ronaldo shows his human side
- Train: Ronaldo's win deserved
- Miller: Ballon d'Or nearly men
- Report: Platini questions voting process
- Story: Spain reacts
- Leboeuf: Ribery should have won
- FC TV: Ego of Ballon d'Or nominees

With all due respect to Fabio Cannavaro's groundbreaking win at the 2006 Ballon d'Or -- the first for a defender -- the prize will be inevitably skewed toward attacking players. In this case, this is quite unfortunate for Brazil, who find themselves for a couple of years now without a showman or even a straightforward goal man.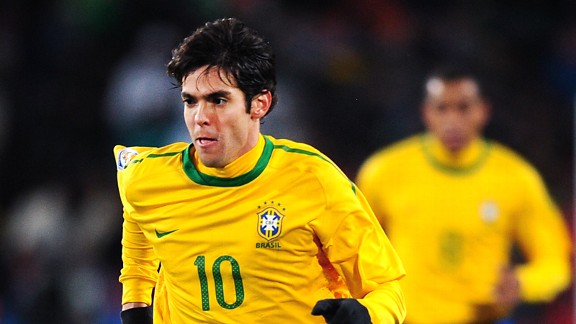 Christophe Simon/AFP/Getty ImagesKaka was Brazil's last Ballon d'Or winner. What will it take for another Selecao star to win it again?

The last Brazilian striker to top a scoring chart in one of the main European leagues was Grafite, who helped Wolfsburg to the Bundesliga title in the 2008-09 season. And while "slippery" midfielders like Oscar are winning plaudits in Europe, Brazil has been producing more tactically sound, robust stars like Thiago Silva and Luiz Gustavo.

This Ballon d'Or drought will add more heat to the discussions on how the country should address their grassroots policies, a topic that in the past few years has proved to be volatile in the country: the famous debate on how much artistry and discipline should be mixed.

"You should give a discount to Brazilian players. There has been a change in generations in the last few years, and younger players need to establish themselves before they can flourish. You have also to notice the game nowadays is much more leveled internationally," Real Madrid legend Emilio Butragueño said Monday night in the hectic Kongresshalle media zone.

It can all change in 2014, of course. It is a World Cup year, and if Brazil wins its sixth title, that should at least place a Selecao player into the last three. "I don't see a huge problem in this Brazilian absence. Individual awards are not an objective measurement of success, and I am really sure that Brazilians will be back sooner than later, especially with a good World Cup," reckoned Jupp Heynckes, Bayern Munich's treble-winning coach and winner of the 2013 coach of the year award.

So, more pressure for Neymar in 2014. The Barcelona forward has often spoken of his desire to win this prize, and his advisers often brief the press about their "project" to have him challenging for the honor by 2015. Far much easier said than done, obviously, but as we speak, Neymar's fulfillment of his potential remains Brazilian football's best bet to regain recognition on the Ballon d'Or stage.

Ultimately, winning football's biggest individual prize is no substitute for team trophies, and you could bet that Ronaldo, for example, would think twice if asked about exchanging Monday's victory for a Champions League trophy with Madrid. But just take a look at how much the Portuguese improved himself as a player in search for recognition from his peers and the media -- subsequently enhancing his importance for Real Madrid and Portugal -- and you could be forgiven for thinking that the tacky and kitsch FIFA January jamboree is more important than anybody could imagine.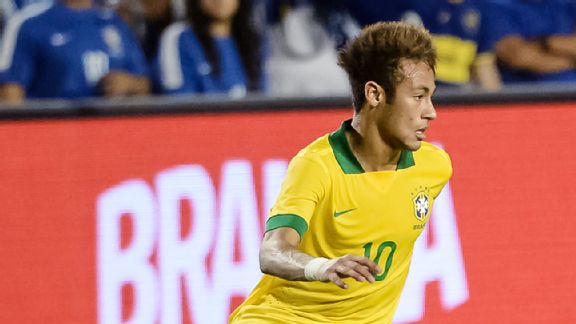 Ron ElkmanSports Imagery/ Getty ImagesNeymar's great year didn't make a dent in the Ballon d'Or race. Yet we can expect him to have a chance if Brazil lifts the 2014 World Cup.
Brazil's "R curse"

"Neymar, are you planning to change your name if you want to win the Ballon d'Or?"

The question was asked a couple of days before Neymar's home debut for Barcelona last August, in a packed news conference, by famous Brazilian TV reporter Mauro Naves. While the international media representatives were puzzled, the Brazilian contingent giggled, for they were aware of the "R curse" -- all eight Brazilian world player of the year winners and all five Ballon d'Or winners have names starting with the letter.

The first winner in either was Romario in 1994, the year Brazil broke a 24-year duck in the World Cup by winning in the United States. Two years later, a buck-toothed and shaven-headed striker took the World by storm by winning the trophy. Ronaldo would also clinch the 1997 and 2002 editions before Ronaldinho won back-to-back awards in 2004 and 2005. Rivaldo also won in 1999.

Oh, and before you say that Kaká broke the spell in 2007, let us remember his name is actually Ricardo dos Santos. "I am aware you seem to need a name starting with 'r' to become a Brazilian Ballon d'Or winner, but I am thrilled by the challenge of attempting to write mine into history the way it is," Neymar said, jokingly, at the time.

If he really does it, perhaps a name change will be impossible to avoid. The "Reymar" nickname, using the Portuguese word for king ("rei"), would fit him so snugly.