The next wave of Brazilian transfer exports?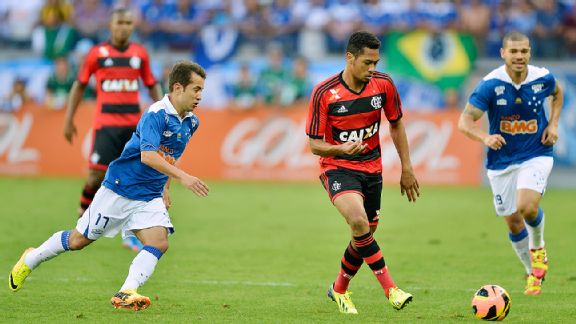 Pedro Vilela/LatinContent/Getty ImagesOf all the likely Brazil exports, Everton Ribeiro should make the most noise.
When virtually all of the Selecao talent is already playing outside Brazil, the January transfer window shouldn't offer too many surprises -- especially when Brazilian clubs are now able to hold on to players a bit longer and fend off advances from foreign sides.

Much as the Brazilian league has become more competitive in financial and sporting terms, a move abroad is still something younger players dream about. With that in mind, the coming weeks could still result in some promising talent hopping over to Europe.

Everton Ribeiro
While Cruzeiro's irresistible dominance of the Campeonato Brasileiro in 2013 has been celebrated as a triumph of their collective brand of football, attacking midfielder Ribeiro was one of the main reasons their intense and quick tactics worked wonders.

After winning the 2013 Bola de Ouro -- Brazil's most prestigious football award; Ribeiro became only the second Cruzeiro player in history to receive it -- Ribeiro attracted the interest of Manchester United. The player is obviously flattered and people linked to him have said Ribeiro turned down an approach from Real in order to make himself available to join David Moyes' team. Yet Cruzeiro are still trying to convince him to stay for the Copa Libertadores and leave in the summer instead.

Though Ribeiro was just one of the crowd as Cruzeiro signed 19 players at the beginning of the 2013 season, he finished the year as a crowd favourite thanks to a repertoire of dribbles with his left foot, alongside 11 assists and seven league goals.

Matheus Doria Macedo
A 19-year-old defender who helped Botafogo to an impressive campaign in the Brasileiro, one that put the Rio side back in the Copa Libertadores after an 18-year absence, Doria has already been "sold" to Juventus a couple of times. As such, Botafogo now have a lot more reasons to try to fend off a more concrete approach.

Just like more famous counterparts such as Thiago Silva and David Luiz, Doria feels at ease on the ball and likes to surge into the box at dead-ball situations. Napoli and Milan have also reportedly approached his club, and it's tempting to think Doria might have heard good things about the Rossoneri from former Botafogo teammate (and San Siro legend) Clarence Seedorf.

Wellington
After a miserable 2013 season in which Sao Paulo FC flirted with relegation for a good part of the season and were knocked out of the Copa Sudamericana by minnows Ponte Preta, the club could do with some rebuilding.

Therefore, cashing on the 22-year-old midfielder, who seemingly failed to impress manager Muricy Ramalho, is likely on the cards. A product of Sao Paulo's much-heralded youth academy, Wellington is usually deployed as defensive midfielder but can also play as a No. 8. He has been linked with Inter Milan and could probably benefit from a change of scenery.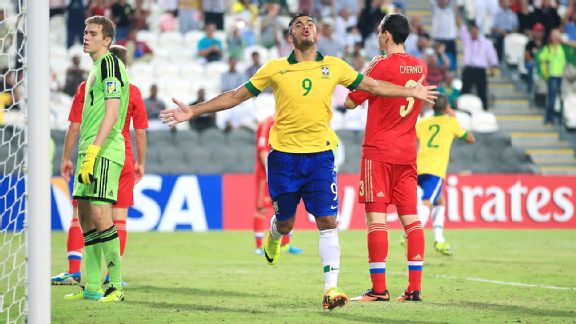 Richard Heathcote/FIFA/Getty ImagesYoung striker Mosquito has an extremely bright future.
Mosquito
Brazil might have crashed out of the FIFA U-17 World Cup at the quarterfinal stage, but striker Mosquito preserved his cred by finishing the tournament as the Selecao's top scorer.

Though the 17-year-old has yet to properly break into Atletico Paranaense's first team, such facts have never stopped young, hyped Brazilian players from heading to the airport. Depending on which rumor you believe, Mosquito could join either Man United, Real Madrid or Chelsea. In these times where Brazil lacks a prolific No. 9, Mosquito is a sign of better days ahead.

Luiz Antonio
A defensive midfielder and one of the heroes in Flamengo's Brazilian Cup win, Luiz Antonio ended 2013 in a foul mood with the Rio club, taking them to court over unpaid wages. He has since been linked with Porto and Cagliari and few people believe the 22-year-old wants to stay in Brazil. His passing and vision is impressive for a player supposed to be more focused on stopping the opposition in midfield.

Andre
After Vasco's relegation, the departure of the 23-year-old striker became all but certain. Despite his young age, Andre has already played in Ukraine and France before recent stints at Atletico-MG and Santos, where he earned a Selecao cap under Mano Menezes.

Linked with Sporting Lisbon, Andre was Vasco's top scorer in 2013, netting 12 goals in 20 matches. The talent is there but the lack of consistency is a barrier that the striker will have to overcome if he wants to really fulfill the ambition of playing alongside Neymar again, as he once did at Santos.

Alex Telles
Though the six men above are still sorting their overseas futures, Telles is the first of the crop to successfully make the switch.

After being voted the best left-back in the 2013 Brasileiro, Telles was not enthralled by the prospect of a Libertadores campaign with Gremio in 2014 and departed for Galatasaray, where he will play alongside Didier Drogba and Wesley Sneijder. The 21-year-old is now dreaming of a Champions League debut for the Istanbul side.

Telles is a rare case of Brazilian full-back who won't have to worry too much about adapting to a more conservative role in Europe -- his style is more defensive than one might assume given Selecao traditions at the position.