Lucas Moura motivated by recent omissions from Brazil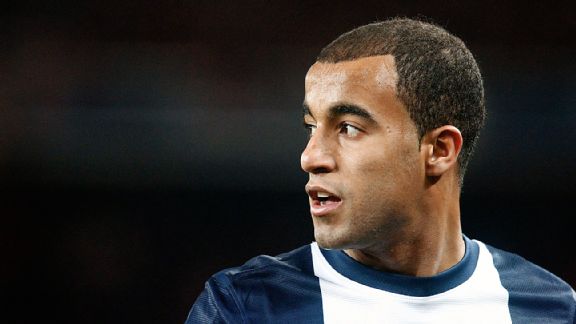 Xavier Laine/Getty ImagesThe year of 2013 hasn't gone to plan for Lucas Moura.
January 2013 was a funny month for Brazilian football.

Having recently lost manager Mano Menezes and waiting to play the first match under Luiz Felipe Scolari, the national team was rattled. Many fingers were being pointed at Neymar; at the time, he'd yet to choose between financial gains in Brazil and the leap of faith of a move to European football, a clear acid test for the Santos wonder boy.

In fact, Lucas Moura was pretty much stealing Neymar's thunder thanks to his 43 million euro move from Sao Paulo FC to Paris Saint-Germain. He was the one perceived to be accepting a challenge, albeit being six months younger than his national team colleague.

Yet, the two players couldn't be in more different situations as the calendar year comes to an end. While Neymar has settled down reasonably well at Barcelona, sending a massive "shush" to a lot of critics by stepping up big time at the international level, Moura has gone the other direction.

Not only has the 21-year-old failed to establish himself in the Selecao first XI, but he's been gradually fading away from Felipao's plans to the point of being left out of the team's last two friendlies. On the club front, the arrival of Edinson Cavani has threatened his starting spot there, too.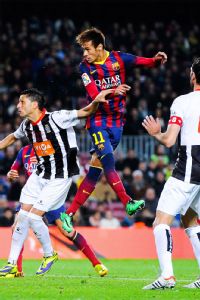 David Ramos/Getty ImagesNeymar has delivered on his potential at Barcelona and had a strong year for Brazil.
While Neymar hasn't completely set Europe on fire, he looks much more comfortable abroad than Moura. The PSG forward might indeed be getting more playing time than many expected this season, but nine starts in 19 Ligue 1 matches so far would hardly make one jump with joy.

Anyone who briefly bumped into the boy the last time he showed up for national duty back in October could see that he was worried. "I have to remember what brought me to the Selecao and to PSG. I need to believe in my quality," Moura told the Brazilian media in a very deflated pitchside news conference at the Bird's Nest in Beijing.

In fairness, he has shown signs of improvement in France, with a couple of useful goals and crucial assists during a tense game of title-chasing cat and mouse with Monaco. But Lucas' chances of making it to the World Cup have still decreased all the while. After falling down the pecking order courtesy of Scolari's preference of using Hulk on the right side, along with Bernard's blooming, Moura now faces fresher competition in the form of Chelsea's Willian and a resurgent Robinho.

This decline has unsurprisingly sparked a festival of rumors about a transfer in January, including a possible interest from Manchester United, who were previously linked to the winger before PSG came and flexed their financial biceps. Some stories even linked him to a possible return to Brazil -- on loan to Sao Paulo -- as a tactic to reignite his career and earn some attention from Big Phil.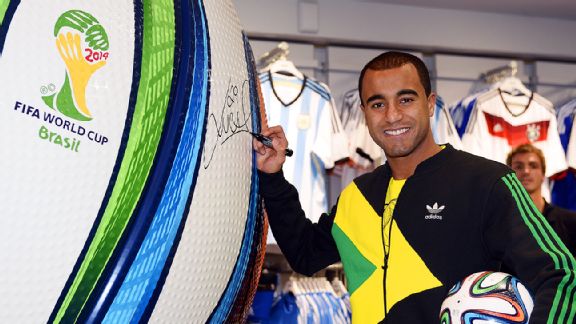 Franck Fife/AFP/Getty ImagesWill Lucas Moura be playing with the Selecao next summer? He'll need a strong start to 2014 to improve his chances.
Yet Lucas is showing no signs of giving up so easy. "I have no intention to go back to Brazil. I have my career goals in Europe and will work hard to achieve them," he explained in a recent interview with ESPN in Brazil. "As for PSG, it's my first full season at the club and I need to be patient and soldier on to get more opportunities."

PSG and Brazil teammate Marquinhos believes Lucas might actually have been spurred on by his latest omission from the Brazilian squad -- curiously enough, the defender was present at the North American tour Moura missed last November. "The great thing about Lucas is that he never really moaned about being dropped. Of course you could see he was a bit sad but instead of sulking Lucas has been working his socks off. He's a gifted guy and no one should doubt his quality," Marquinhos said.

Time, however, is not on Lucas' side and it could take a very special second half of the season to get Scolari convinced that the PSG man deserves another shot. And so far, a reunion with his former Brazil U-20 teammate Neymar is looking quite unlikely.

After ending 2012 as an "it boy" in Brazilian football, Moura finds himself a bit lonely in Paris, a crucial winter for his career.