What's next for Ronaldinho?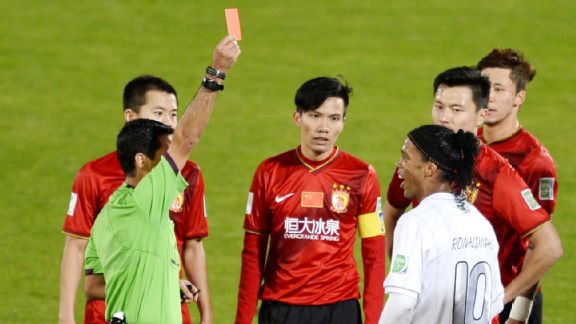 Julian Finney - FIFA/FIFA via Getty ImagesRonaldinho's Club World Cup ended with a red card minutes after a crucial goal.
Another magisterial free kick goal from Ronaldinho, this time against Guangzhou Everglade in the Club World Cup third place-off, serves as further testimony to the extraordinary depth of his talent. The way that he flitted around on the game's periphery, even against a team from China, was an all too eloquent statement of how much of this talent has been wasted.

What a puzzling enigma he is! The question is not easy to answer; should we be grateful for the fabulous moments Ronaldinho has given us, or frustrated that he could have delivered so many more of them?

A mixture of both is entirely possible -- and probably the only rational approach. When he was good, he was incredible. But this is a career that has been operating absurdly below potential for the past seven years. The best of Ronaldinho was all done and dusted by the time he was 26 -- just like George Best.

In the case of Best, though, the flaws and the problems were out there in the open. With Ronaldinho this is not so apparent. Best was honest about his demons. Ronaldinho, on the other hand, seems unable even to publicly admit that he has been betraying his own talent since 2006.
Perhaps, in this case as in so many others, the triumphs and the decline are two sides of the same coin. Ronaldinho in his pomp was a synthesis of the childlike joy that football can bring. But what came next is seemingly underpinned by an infantile lack of capacity to take responsibility for his own career.

- Report: Brazilians snatch CWC third place

Aspects of Ronaldinho may also stand as a symbol of his country. With his ready smile, he fits the image of somewhat shallow happiness that Brazil loves to sell. But the country is far more complex -- as the global media has been discovering this year ever since the protest movement hit the headlines -- and so too, it would seem, is Ronaldinho.

He was only a child when he was first mentioned by the Brazilian media. His brother Assis is ten years older. He was spotted by Gremio, a club in the family's home city of Porto Alegre in the south of Brazil, a connection eased by the fact that their father worked at the club as a match-day doorman. Assis was seen as a youth prodigy. When he had just turned 18, Brazil's leading football magazine Placar published a piece on him, where he stated that his seven-year-old brother was the real star of the family.

Within the next year came the tragic event that would change their lives. The first big professional contract that Assis signed enabled the family to move out of poverty and into a plush neighbourhood, where they had a house with a swimming pool -- into which their father fell, hit his head and drowned.

It is entirely feasible that the sudden death of his father has left Ronaldinho with a deep sense of the precarious nature of life. Better to enjoy himself today because it might all be over tomorrow.

The other consequence of the untimely death of his father is more concrete. It meant that Assis explicitly took on the paternal role. Taking care of Ronaldinho became even more important than his own career. To this day Assis is in charge, dealing with the negotiations and making the statements.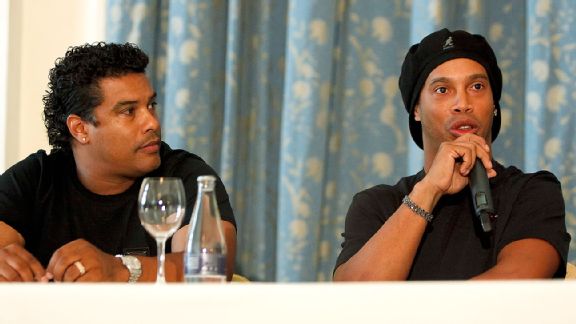 Buda Mendes/LatinContent/Getty ImagesRonaldinho and his brother Assis, left, have endured a lot in life, which might explain why the Brazil star's been more content with happiness than trophies.

This has certainly given Ronaldinho a support structure. But it also carries a risk. A son will one day take over from the father, but a younger brother is always a younger brother. In Ronaldinho's case, the situation appears to have left him in eternal little brotherhood, a permanent state of infantility. Taking adult responsibility is something that does not come naturally.

Playing football, though, certainly does. Even at his lowest moments there has always been something to celebrate. I saw plenty of him in the time he spent with Flamengo, in my adopted city of Rio de Janeiro, during 2011 and the start of 2012. It will not go down as a high point in his career, but in every game there was usually something to treasure -- for example, I will never forget the way that brought a difficult ball under control in a match against Botafogo as if he had a suction pad on the side of his boot.

Many were clinging to hopes that he would have one final crack at World Cup redemption with the national team in 2014, and that he would use the World Club Cup in Morocco to stake his claim.

In truth, it always looked unlikely. Like his two predecessors, Brazil coach Luiz Felipe Scolari appeared already to have arrived at a definitive conclusion that from open play, Ronaldinho no longer has the capacity to tip the balance at the top level. It is hard to see how anything that happened in Morocco could have changed that and indeed, events on the field only served to re-enforce such a belief.

Though he can still play the odd eye-catching, defence-splitting pass, more than anything else, Ronaldinho has become a specialist free kick taker when he used to be an exuberant, joyful, one-man attacking force of nature.

Ronaldinho's 2014 redemption would be a great story. But it is not going to happen.