Young Marquinhos makes waves at PSG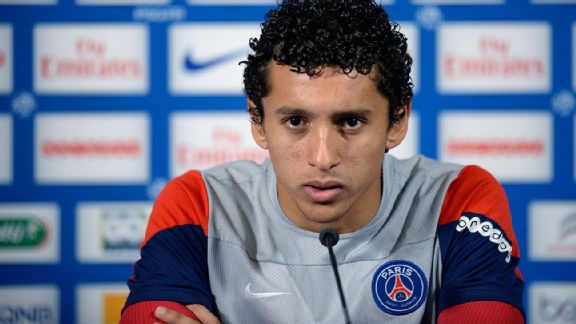 Martin Bureau/AFP/Getty ImagesThough still so young, Marquinhos has adjusted brilliantly to the pressures and quality of football in Europe.
After just a season in Italy -- albeit a relatively successful one -- you're told that Paris Saint-Germain have just shelled out 31 million euros so you can reinforce their star-studded squad. When you arrive at your new club, it becomes clear that you might force out local hero Mamadou Sakho, a player admired by fans and a symbol of life in Paris before the arrival of the Qatari Investment Authority and PSG's subsequent leap into globalization.

This scenario would already be enough to make butterflies dance in the stomachs of experienced players, let alone a 19-year old. But Marcos Aoas Correa, aka Marquinhos, is no ordinary youngster and has taken these pressures firmly in stride.

Too well, in fact: in six games in the Champions League group stages (five of them as a starter), he not only kept things tight at the back for PSG but also scored twice to help the French side edge ahead of Olympiakos for top spot in Group C. He also did enough to earn praise from UEFA; alongside fellow defender Miranda of Atletico Madrid, Marquinhos was the only Brazilian to make it the Group Stage XI.

It is tempting to imagine that manager Laurent Blanc might now use Marquinhos a bit more often in Ligue 1 -- so far, the Brazilian defender has only played a part in half of the club's 18 games -- but the defender is the first one to avoid exasperation.

"I am not in a hurry. This is my first season at PSG and things have already happened fast. I have got to keep on working to be in my best shape in order to help the team," he explains.

It is exactly this kind of readiness and willingness that has enthused PSG supporters. Marquinhos has stepped in to help the club cope with the loss of captain Thiago Silva for more than a month, never mind that he still admits to being a bit star-struck at the presence of the Selecao regular.

"[Thiago Silva] is a defender I have admired and it was already quite something to play alongside him. Replacing him felt weird, but I had to put in my mind that this is part of the learning curve. There's enough in my plate with all the expectations around the money PSG paid for me," Marquinhos says.

His confidence is also underpinned by the plaudits he won during his brief time at Roma. Signed from Corinthians in July 2012 for a reported fee of less than 10 million euros, he slotted beautifully into Zdenek Zeman's side, forming center-back partnership with fellow Brazilian Leandro Castan. "Playing in Serie A was an amazing opportunity to learn the ropes," Marquinhos notes. "It is a tough league that demands a lot from defenders, especially in tactical terms."

That spell helped him settle into European football and made the PSG opportunity look a bit less threatening. "But I was quite aware that the club will always be under pressure to compete for all trophies, something very different from Roma. I am sure that a lot of people did not know me and wanted to see who what such a young player was all about," the Brazilian says.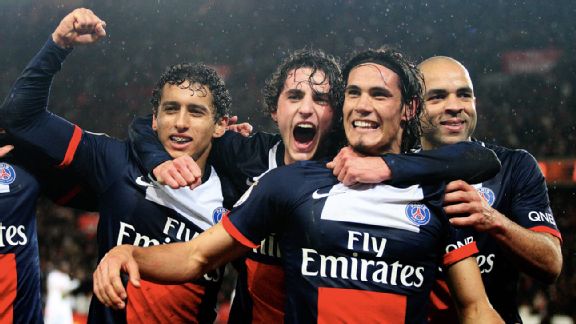 Xavier Laine/Getty ImagesMarquinhos, left, has slotted in seamlessly with established stars like Edinson Cavani at PSG and has caught the eye of Selecao manager Luiz Felipe Scolari.

Although Marquinhos was hardly a famous face when he left Brazil after only six senior games for Corinthians, his exploits have already raised interest back home. Luiz Felipe Scolari called the defender up for the Selecao's recent North American tour, and all of a sudden Marquinhos sees himself in contention for a place in the World Cup squad. Young though he may be, his precious European experience against top opponents is giving him the advantage of actually being used to stepping into Silva's shoes.

Still just 19, missing the 2014 World Cup would not be the end of the world though Marquinhos got the bug after the brief Selecao experience last month. "Once you have a chance to be alongside those guys and wear the Brazil shirt, you just wanna keep coming back. Of course there is still a lot of time before the World Cup and you have to be on top of your game to get a call-up, but my situation could be a bit worse," he jokes.

It could definitely improve if he maintains his Champions League momentum. PSG have what many consider a kind draw in the round of 16, paired against Bayer Leverkusen. "There were other teams supposedly more dangerous, but to think Leverkusen is in the second round by accident would be foolish of us."

Ultimately, Marquinhos just hopes he gets more chances to play in Europe -- and perhaps score a few more goals.

"It's quite funny that I hadn't scored for Corinthians and Rome and all of a sudden I'm only behind Zlatan [Ibrahimovic] and Edinson [Cavani] in PSG's European scoring charts. But I have to be more worried about not conceding them," he says.

Though it's only his first season in the French capital, expectations for him have now risen. But it's impossible not to see that Marquinhos has so far handled the rapid rate of change quite well. He's hit the ground running, which has come as a nice surprise for Laurent Blanc and Big Phil, who all of a sudden are not going to need a stiff shot of something strong if Silva's injury concerns continue.