A video of a superb moment of footballing skill has gone viral in the last few days. The ball is lofted over in a deep cross from the attacking side's right wing towards the far side of the penalty box, upon which the side's playmaker, shaping to cushion the ball with his chest, abruptly changes the angle of his body and chests the ball up, over his marker's head, and into the path of the forward running ahead of him.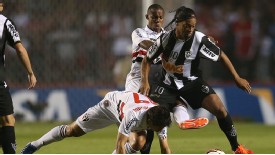 AssociatedRonaldinho has enjoyed an all-action revival since joining Atletico Mineiro
The resultant header is saved by the goalkeeper, but the swagger, showmanship and desire to entertain is unmistakable. The Brazilian top flight takes a break for a couple of weeks after this Wednesday to accommodate the Confederations Cup, a tournament which for some will be just a little less entertaining for not featuring Ronaldinho.

In all honesty, though, it's probably better all round that it doesn't. Ronaldinho has enjoyed an Indian summer to his club career since moving to Atlético Mineiro from Flamengo last June. The stats will show he hadn't done badly at Flamengo – in the national league, for instance, he set up four fewer but scored four more than he has so far for Atlético, in the same number of appearances – but neither he nor the club's fans were happy with the situation.

The day before signing for Atlético, he gave an interview to Globo, Brazil's biggest TV news network, admitting that, 'at no point' had he managed to perform as he and Flamengo had hoped during his time in Rio de Janeiro. He also claimed the reason he'd cancelled his contract with the club was that, 'Sometimes we'd get paid days late, sometimes the club would get money together and pay you... you could receive two months [wages] in a week... what did it in the end was that they went several months without paying me.'

When asked about criticism of his professionalism from the local press and Flamengo fans, he insisted, 'We spent seven months winning, no-one had any complaints. Only now we're not winning do people come asking questions.' Clearly, a change of scene was what he wanted. Not many, though, were expecting him to take a rumoured 75% pay cut and move inland to the landlocked (no beaches!) state of Minas Gerais, and Atlético Mineiro.

Aside from the lack of beaches, there were other reasons to suppose the move to Belo Horizonte might not go well. For starters, I'm assured by my Brazilian friends that women from Minas Gerais are known for being better looking than average (in Brazil!), and secondly the city allegedly has more drinking holes per person than anywhere else in Brazil. Given Ronaldinho's reputation for partying, it's not hard to see why some sceptical Belorizontinos weren't expecting fireworks from him. Well, at least not on the pitch.

And yet what's followed, in spite of that enormous pay cut after some had called him a mercenary, has been sensational. Atlético, with Ronaldinho as the attacking fulcrum, finished second in the 2012 Brasileiro and were the league's highest scorers. They carried that form on into 2013, winning the recently-concluded Minas Gerais state championship with a 4-2 aggregate victory over arch-rivals Cruzeiro.

Their national league position earned them a place in the group stage of the Copa Libertadores, which they qualified from in spectacular fashion, topping the table of group winners and scoring 16 goals in their first five matches, before easing up in the last one with the seeding already secure (in the Libertadores, group winners and runners-up are ranked by points won and the knockout round is seeded).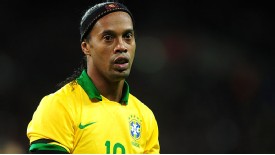 GettyImagesRonaldinho made a shortlived comeback for Brazil but looks unlikely to be involved in the World Cup
His form was so good that as well as winning the Golden Ball for best player in the Brazilian league last year, he was recalled to the national side for friendlies against Ghana and England, and then for a couple of friendlies using domestically-based players, against similarly made up sides from Bolivia and Chile. The great entertainer, it seemed, was back.

And yet, Ronaldinho won't be at the Confederations Cup - a decision from Brazil manager Luiz Felipe Scolari which, given the competition represents Brazil's only vaguely competitive matches between the Copa América debacle two years ago and next year's World Cup, seems to slam the door shut on any hopes he might have had of appearing in a third World Cup.

He was hardly stellar in any of those friendlies, and Scolari's forward line for the Confederations Cup is largely made up of younger players. When looking at Brazil's side, and in particular at the ages of their key players, I can't help wondering whether their home World Cup has come one cycle too soon for them - the bulk of them will be more closely approaching their peak ages in 2018. Neymar, for instance, will be 25; Lucas Moura, 24.

Although there are some experienced heads in the Brazil side for this Confederations Cup, I can't help wondering whether Big Phil is thinking the same thing. I'm also reminded of something fellow ESPNFC columnist Tim Vickery has said of Neymar in the past; that with the more relaxed, less high-pressing style of defending in Brazil and South America's continental cups, Barcelona's new signing needs this move to Europe, and a more challenging style of opponent, if he's to develop.

The converse seems to be true of Ronaldinho. He was never blisteringly fast over the length of the pitch in the way Neymar is (I'm not saying he was slow, mind you), but at 33 he's lost the short-distance acceleration he once had, and it seems the slowing of his game is suited to South American club competition, but not the rigours of the international game. Against Chile - who press as high up and as quickly as many European sides, a legacy of Marcelo Bielsa, the coach Pep Guardiola claims influenced Barcelona's high-pressing style - Ronaldinho was all at sea.

Still, perhaps this is one instance when international football's loss is the club game's gain. Ronaldinho might not be lighting things up at the very top level as he once so gloriously did, but for those able to catch him in the Brasileiro and the Libertadores, he's very definitely still got it.