The final round of fixtures in this year's Brasileirao Serie A on Sunday promised great excitement, with almost half of the division's 20 teams either chasing a qualifying spot for next year's Copa Libertadores or battling against relegation.

- Vickery: Violence mars Brazilian game
- Thompson: Generation June

Atletico-PR vs. Vasco da Gama, played at the Arena Joinville in the southern state of Santa Catarina, was especially loaded with tension, with the home team seeking a top-four finish and visitors Vasco in terrible trouble at the bottom.

But 17 minutes into the first half, the drama took a darker turn when fierce fighting broke out between Atletico and Vasco fans. The battle raged across the terraces for several minutes, with supporters kicking, punching and wielding improvised weapons. One particularly unpleasant scene saw the head of a prone fan being repeatedly stamped against the concrete.

After an age, the police arrived and used tear gas and rubber bullets to control the fighting; when the dust had settled, ambulances and a helicopter took four injured fans to hospital. Although rumours circulated during the game that one fan had died and the others were in a coma, one of the four has since been released and the other three have now regained consciousness. Remarkably, after a long delay the game was restarted. Vasco lost 5-1 and were relegated.
The violence was allowed to spiral sickeningly out of control at least in part because of a local law in the state of Santa Catarina that makes crowd control at "private events," including football matches, the responsibility of private security firms (and therefore ultimately the home club) and not the police.

The safety arrangements on Sunday were woefully inadequate, with only a cordon separating the two groups of fans and the police outside rather than inside the stadium, and with the "private security forces" at best unprepared and at worst nowhere to be seen.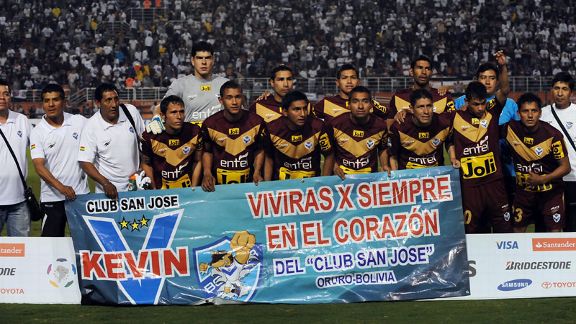 GettyImagesBolivian side San Jose pay tribute to 14-year-old fan Kevin Espada, who was killed by a flare thrown by Corinthians supporters during a Copa Libertadores match earlier this year.
Such violence is worryingly common in Brazil. According to the Brazilian magazine Lance!, there have been 30 football-related deaths this year, and a total of 234 since 1988. The real total may be even higher because many such fatalities occur far from stadiums, the result of long-running feuds between torcidas organizadas (officially fan clubs, but often simply hooligan gangs).

This year began with the tragic death of Kevin Espada, a 14-year-old fan of Bolivian side San Jose killed by a naval flare launched by a group of visiting Corinthians supporters at a Copa Libertadores tie. Afterward, 12 members of the Corinthians' organizada Gavioes da Fiel suspected of the crime were held by Bolivian police for five months before being released due to a lack of evidence.

Then there was a highly visible brawl during the Vasco vs. Corinthians match at Brasilia's spanking new World Cup venue, the Estadio Nacional Mane Garrincha, in August, with scrapping fans scattering families in their wake. And just a couple of weeks ago, new champions Cruzeiro's official celebratory street party was canceled as rival factions of supporters of the Belo Horizonte side battled outside the Mineirao, another World Cup venue.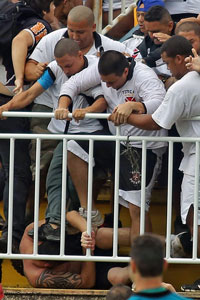 GettyImagesThe violent scenes during Atletico-PR vs. Vasco da Gama were the latest to mar Brazil's domestic football scene.
Although such fighting does not usually end in murder, the same cannot be said for the ongoing gang wars between organizadas, which can last for months or even years. A Fortaleza supporter was shot and killed on his way to the Serie C game with Luverdense in September, while seven ABC fans were shot, two fatally, after their team played ASA in Natal last month. From May 2011 to May 2012, no fewer than 11 fans were killed in a purported gang war between Goias and Vila Nova in the midwestern city of Goiania.

The reasons for such violence are many and complex. The most obvious is that a football crowd is a reflection of the society from whence it comes, and there can be no denying that violence leaves a dark stain on life in Brazil, where there were nearly 50,000 murders in 2012.

The majority of such deaths occur in the most overlooked parts of the country -- the deprived favelas and periferias (the outer suburbs of major cities), as well as the smaller towns and villages of the country's interior, particularly in the north and northeast of the country, where the police presence is often minimal.

Most of those involved in Brazil's football disorder come from such areas, where career and educational activities are often limited or nonexistent, and where violence, whether involving drugs gangs, organizadas or simple street crime, is an appallingly common part of life.

"Sometimes there will be a murder in the middle of the week, when there isn't even a game on," Eduardo Barbosa, the president of Vila Nova FC, said about the deaths in Goiania last year. "Sometimes they'll kill someone in a Goias shirt and say it was a Vila fan that did it, or the other way around. Often it has got nothing to do with football and is connected with drug gangs."

In eight years of watching football in Brazil, I have spent time in the company of torcida organizada gangs, particularly that of Santa Cruz in Recife, the Inferno Coral. Many of the people I met were lively, engaging company, at least until the talk turned to rival clubs or factions.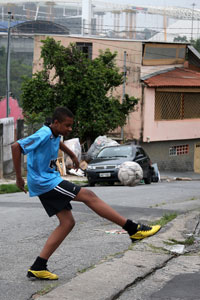 GettyImagesBrazil's poverty-stricken favelas and periferias are a breeding ground for football hooligans.
It is not easy to know what to say when the man you are sharing a beer with explains, with obvious pride, that the long, jagged knife scar across his abdomen is a souvenir from a fight at a Sport (Santa's Recife rivals) vs. Goias game. (The organizadas are governed by a system of alliances, meaning that Inferno Coral were duty bound to accompany their allies from Goias to the game -- and in the fighting.)

I asked the same man why he felt the need to smash buses, to run onto football pitches, to fight with other young men he did not even know. Bright and articulate, he talked about the effects of growing up surrounded by poverty and violence. He told me that he was often involved in skirmishes with both neighbourhood gangs and the police when he was a teenager, and once he discovered Inferno Coral, fighting with rival groups was a logical step.

He described his lack of opportunities without complaint, saying that university and a decent job never seemed like an option. "If it had been," he said, "maybe I would have had something else to focus on."

Such an upbringing is neither an excuse nor a defence, but if a solution to the problem of football and wider violence in Brazil is ever to be found, it is surely important to understand why many of the country's young, underprivileged supporters so readily turn to thuggery.

Brazilian society cannot be expected to transform itself overnight. But what is equally certain is that clubs and the Brazilian football authorities can do an awful lot more in the struggle against violence. It is clearly time that the clubs, which often subsidise the organizadas with free tickets and travel to away games, break their ties with gangs that continue to embrace violence, as Palmeiras did in March after players were threatened by members of the club's Mancha Verde organizada following a defeat in Argentina.

A less ambiguous moral stance on the part of directors would also help. After the Kevin Espada tragedy, Corinthians seemed more concerned with avoiding a Libertadores ban than condemning those responsible for the boy's death.

The Brazilian authorities, including the CBF (Brazilian Football Federation), an organisation that seems to alternate between ineffectiveness and outright negligence under the deadening hand of president Jose Maria Marin, together with the country's justice system, could focus more on identifying the individuals responsible for criminal acts and charging them accordingly.

While it is encouraging that three Vasco fans involved in the melee at the Arena Joinville are to be charged with attempted murder, the policy of the STJD (Brazil's sporting court) of banning clubs from playing in their own stadiums every time there is a violent incident has proved to be singularly ineffective.

Similarly a more intelligent, less confrontational approach to policing is required. The sight of gangs of organizada members kneeling on the ground, hands behind their heads, looking for all the world like a prison chain gang as the police surround them with weapons drawn in a pregame warning ritual, is all too common. Such actions can only contribute to the atmosphere of resentment and aggression that pervades the air outside grounds.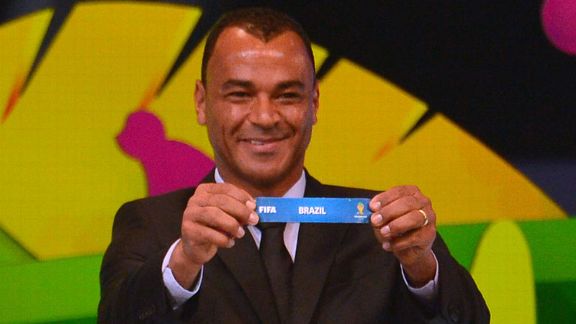 GettyImagesThe glitz and glamour of the World Cup is a far cry from the gritty reality of life in Brazil's domestic football leagues.
Stadium infrastructure, particularly in the lower divisions, is often terribly outdated, a reminder of the badlands of British football stadiums in the 1980s. The sight of women and children being hauled over the fence to safety at the recent ABC vs. Palmeiras game in Natal, for which the crowd allegedly exceeded stadium capacity, was a chilling visual echo of disasters past.

It is ironic that Sunday's violence came just a few days after the lavish expense of the FIFA World Cup draw. While images of Brazil's natural wonders and gleaming new stadiums blazed across the video screens in Bahia, the impression left upon anyone familiar with the dark underbelly of Brazilian football is that the relationship between the World Cup and the domestic game is an almost perfect reflection of wider society, with the Mundial representing the luxurious beachfront apartment buildings and gated communities of the country's wealthier citizens, and the Brazilian club game the shabby and often unsafe streets of the periferias and favelas.

This is why the rash of hyperbolic "World Cup to Implode in Orgy of Violence" and other such colourful potential headlines that are sure to follow Sunday's tragic events in Joinville will miss the point. The protective shield that will be thrown around next summer's event by FIFA and the Brazilian authorities, coupled with expensive ticket prices, mean that the torcidas organizadas will most probably remain the barbarians at the World Cup gates. Nor will teenage gang members from the suburbs of Recife, Rio de Janeiro or any other big Brazilian city have much interest in scrapping with visiting Japanese or Iranian fans.

Instead it is the ordinary Brazilian fan who will suffer, as violence continues to cut a terrible swath across the domestic game.