Farewell to Nilton Santos, the archetypal full-back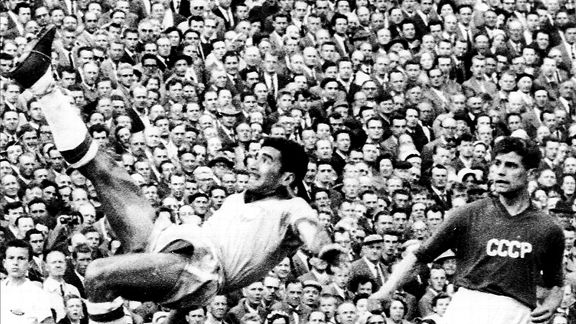 STAFF/AFP/Getty ImagesNilton Santos defined the full-back position back in the 1950s and his influence is still widely felt today.
Six decades ago, the distance between Rio de Janeiro and Stockholm looked much wider. As such, tales of Brazil's exploits at the 1958 World Cup were inevitably embedded with a combination of enthusiasm and poetic license from journalists following the Selecao around Sweden. It is nonetheless tempting to believe the story in which team manager Vicente Feola despairs on the sidelines and begs for his full-back to drop back, only to end up muttering "Well done" when he scores the second goal of a 3-0 first-round win against Austria.

I want to believe it not just because it's an amazing example of the cheekiness that made Brazilian football famous worldwide, but also because the player in question was Nilton Santos. Even if the specific episode might have been given some serious spin in match reports, the Brazilian left-back indeed broke the rules on the pitch. During a time in which players in these defensive positions were supposed to limit their actions to offering form at the back, "Master Nilton" started a tradition of attacking prowess that still is one of the trademarks of Brazilian football -- and modern football at large -- in 2013.

Santos, who died this Wednesday at the age of 88 due to complications caused by pneumonia, was also one of the most revered players in his native country. With a wondrous résumé boasting two World Cup titles (he also took part in 1954 and was an unused player in the ill-fated 1950 campaign) and 84 caps for the Selecao, his career is made even more impressive by the fact he represented just one club: Botafogo, where he made 723 appearances and won 26 trophies.

Nicknamed "The Encyclopedia" given his vast technical repertoire, Nilton Santos was also worshipped by the simplicity with which he handled fans and media. The son of a Rio fisherman, he was spotted playing in a kick-about while doing military duty with the Air Force. Taken to Botafogo in 1948, the hopeful striker was quickly moved to the defence when manager Zeze Moreira found out he could do a good job tracking back as well.

But the forward's instinct never left him, which helps to explain why Santos did not get a game in Flavio Costas' 1950 team for a home World Cup that Brazil was highly touted to win. The man who kept him out of the team was Bigode, the chosen one at a time when substitutions were not allowed. Ironically, he ended up singled out as one of the villains of Brazil's notorious defeat to Uruguay in the final.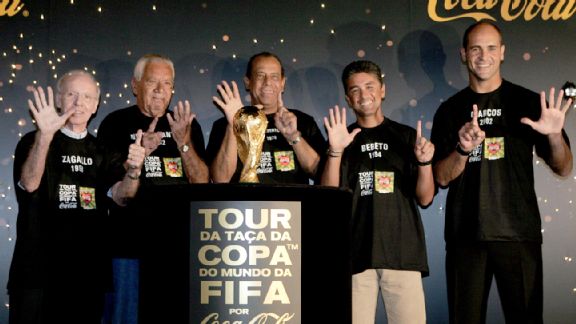 Caio Marcelo/AFP/Getty ImagesNilton, second from left, lived quietly in retirement but was named best left-back of all time by FIFA in 2000.

Four years later, however, Nilton owned the left-back spot and with him, Brazil would at last dazzle the world. Alongside Mario Zagallo, Didi, Garrincha and Pele, he helped Brazil lift their maiden World Cup in 1958. It was 1962 in Chile, though, that made Santos even more legendary.

During a tricky match against a Spain side boasting Alfredo Di Stefano and Ferenc Puskas that was leading 1-0 in the second half, Santos (defying the sport's limitations at the ripe age of 37) fouled striker Enrique Collar inside the Brazil box only to walk two steps forward and con referee Sergio Bustamante into awarding a free kick. Nothing came of the set piece and Brazil went on to win 2-1.

In the 21st century, this would qualify Santos as a cheater. Not in Brazil, though, where such cheekiness is still accepted as a valuable resource. Master Nilton, however, more than made up for such tricks over the course of his career. He endorsed Botafogo's signing of a weird winger with bowed legs in 1953, even after being skinned by the then-unknown Garrincha at a training session. "It's better to have him on our side so I don't have to mark him too often," he reportedly said.

Nilton was elected by FIFA the best left-back of all time but never really occupied a place in the limelight. His retirement days were pretty much spent talking about the past, especially when it involved tales of Garrincha. He did publish an autobiography in 1998, but 10 years later, after being diagnosed with Alzheimer's disease, Santos was in financial difficulties -- until Botafogo's directors and fans chipped in to fund his safe passage to a Rio nursing home.

Yet he never complained about the lack of money. "I have never envied the fact that players today are rich. I just resent how much freedom they have to go forward," he quipped in a 2001 interview. Those who had the privilege to meet him in person would be disarmed by the sound of his laughter and the smile that would inevitably come up when he reminisced.

Master Nilton's passing has further depleted that hallowed 1958 squad. In 2013 alone, right-back Djalma Santos and goalkeeper Gilmar dos Santos Neves also died. Only Pele, Zagallo, Zito and defender Bellini, the captain who lifted the trophy after Brazil's 5-2 demolition of Sweden in the final, now survive from the starting XI that put Brazil in the map of world football.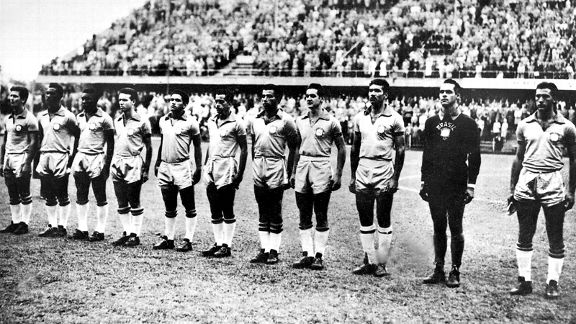 AFP/AFP/Getty ImagesWith Nilton's death, just four players remain from the Brazil starting XI that rocked the world in 1958.

Though Nilton Santos was not the Selecao captain, his experience and leadership helped settled younger teammates such as Pele and Garrincha, both of whom were brought in under a lot of pressure and expectations for a game against Russia after Brazil were held to a goalless draw by England, the first such 0-0 in World Cup history.

"I will be forever grateful to what Nilton did for me. He was an outstanding player and I will never forget how he took me under his wing when I was first called up to the Selecao at 16 years old. Apart from my father's, Nilton's advice was the most precious I had on a football pitch," Pele said on Wednesday after learning of Nilton's death.

Santos will also be remembered for opening the floodgates to other marauding Brazilian left-backs, more notably Junior and Roberto Carlos. His influence also migrated to the opposite flank, where players like Cafu and Dani Alves also pay tribute to this desire to break the mould.

If winning the 1970 World Cup doesn't make the Michael Jordan-Scottie Pippen analogy as applicable as it could be when mentioning Santos' importance to Pele's titles, the aforementioned endorsement leaves no doubt about Pele's gratitude. So, too, are we eternally grateful to the man who defined a position, a club and a nation.