Brazil's "London Mob" is at the heart of recent success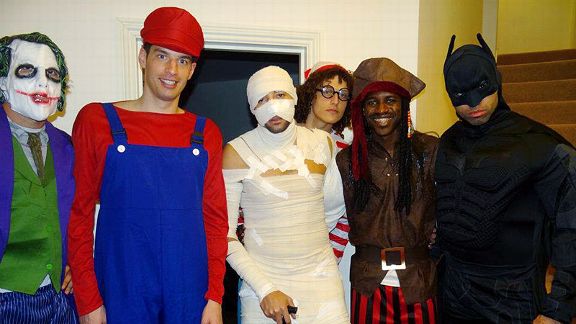 Globo sportSome of the Brazilian national team players got together for a Halloween party: Heurelho Gomes as a mummy, David Luiz as "Where's Waldo?", Ramires as Cap. Jack Sparrow and Sandro as Batman.
In a recent interview, Brazilian defender Thiago Silva spoke enthusiastically about getting together with his fellow countrymen.

"It's very good for team spirit and it's a nice way for us expats to congregate away from home," he mused.

However, the Selecao captain wasn't talking about Paris Saint-Germain's green and yellow contingent. Rather, he was actually moaning about having missed an invitation to hop across the channel and join his national team centre-back partner David Luiz at Sandro's house party.

While it remains unclear if the shy defender would be willing to make a fool of himself in fancy dress -- unlike David "Where's Waldo?" Luiz, Captain Jack "Ramires" Sparrow and Tottenham's Brazilian midfielder in a Batman costume -- he certainly appreciated the shenanigans of what has been described as the Seleçao's "London Mob."

With Chelsea regularly being the most represented club in Luiz Felipe Scolari's call-ups thanks to Luiz, Ramires, Oscar -- and, for this week's international friendlies at least, Willian -- it's clear when you factor in Spurs' Paulinho and Liverpool's Lucas Leiva that England-based players are an influential group in the squad.

Then there's goalkeeper Julio Cesar, one of the most experienced players in Big Phil's plans. In fact, it was at Luiz' birthday party earlier this year that the goalie caused a diplomatic incident with his own fans when he showed up dressed as the Chelsea defender, unwisely wearing the kit of QPR's hated West London rivals.

"We like to get together, talk rubbish and let some steam off. We're all away from our home country with our friends and we are Brazilians above club rivalries, although nobody ever misses an opportunity to banter," explains Sandro, still complaining about the taunts he received from Ramires and Luiz after Chelsea's Champions League victory in 2011-12 trumped Spurs' fourth-place finish and gave the Blues a CL spot the following season.

That said, rivalries in these gatherings are usually more related to Playstation or snooker grudges. Luiz' flat in Putney has a pool table where home advantage seems hard to be overcome. "One of the first things the lads told me was that David is basically unbeatable on his table," Paulinho remembers.

These social occasions have become important also for players who are going through rough patches. The above-mentioned fancy dress party at Sandro's counted Spurs' out-of-favor goalkeeper Heurelho Gomes, who dressed as a mummy, among the guests. Last month, Lucas Leiva's mobile phone was flooded with messages from London-based fellow countrymen when the Liverpool midfielder got his first call-up in almost two years.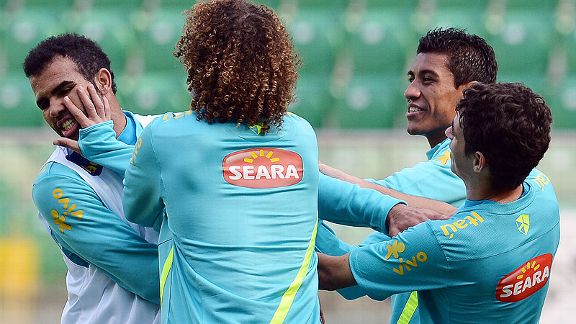 Janek Skarzynski/Getty ImagesBrazil's London contingent chemistry translates well for El Selecao.
These bonds are obviously carried on to the Selecao. However, they go beyond socializing, as Luiz states pretty clearly. "England is still the country that concentrates most of the players representing their national sides, so we have a chance to see these guys week in and week out, to study them up close."

For Oscar, there is the added bonus of familiarity. "There is never a lot of time to train when we are on national duty, so playing alongside club teammates can be an advantage," reckons the pint-sized midfielder.

The emergence of the "London Mob" also reflects the changes in the geopolitics of football. Previously packed with Serie A-based players, especially from the Milan giants, Brazil these days only count Lazio's Hernanes and Maicon's Roma as representatives. Real Madrid, which boasted Ronaldo, Roberto Carlos, Cicinho and Robinho in the 2006, is only represented by left-back Marcelo these days. Barcelona only has two regular participants, though Dani Alves and a certain kid named Neymar.

But there is at least one reason for Brazilians to worry about the dominant English presence in their national team. The Premier League is known for its physicality and a calendar that unlike all the other European major leagues does not have a winter break. As a result, the England team themselves have been systematically deprived from key players due to injury. What if the same were true for the Selecao? When players reported for duty before the Confederations Cup this past May, Oscar's fitness was one the main issues worrying Scolari.

Yet Brazil's manager is also a huge fan of the Premier League's intensity. And he certainly will not be complaining if more of his players are involved in Champions League football, able to measure themselves against the European elite. Still, some naysayers will point to a quirky fact to prove their point: In none of Brazil's five World Cup-winning squads has the team carried a single player based in England.

Scolari and his heavily based England contingent will hope that changes in 2014.