Cruzeiro celebrate while Fluminense face the unthinkable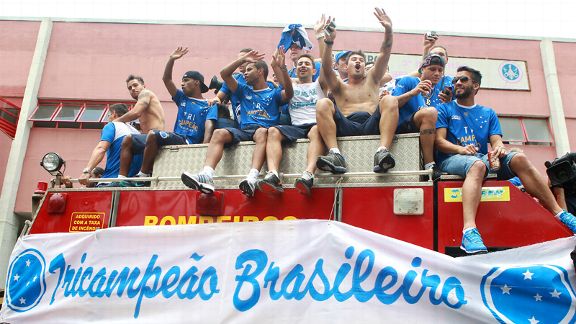 Alex de Jesus/O Tempo/Estadao Conteudo
Imagine if, in the same season, Manchester United won the Premier League and Manchester City lifted the Champions League trophy.

Now go to Belo Horizonte, the capital of the Brazilian state of Minas Gerais, where something like that has just happened.

As 2013 closes -- a year which seemed set to be dominated by Atletico Mineiro's maiden Copa Libertadores title -- the last laugh has gone to their city rivals.

On Wednesday, before stepping on the pitch for their match at Vitoria, Cruzeiro knew they had clinched their third Brazilian title with four rounds to spare, after Atletico Paranaense were beaten at Cricriuma.

The achievement is no little feat: not since 2003 had the Belo Horizonte side won the trophy, since when only Rio and Sao Paulo clubs have won the Campeonato Brasileiro. Cruzeiro matched Sao Paulo's FC 2007 record of the earliest clinching of a title and also became the first side to win the league having beaten every opponent at least once.

By contrast, last season's champions Fluminense have bigger things to worry than the loss of their crown. If they can't escape the pull of the relegation zone, the tricolores might actually set a record of their own and become the first champions in history to go down the following season.

The disparity between Cruzeiro and Fluminense is not limited to the table. In fact, it has become a symbol of good and bad in the Brazilian top flight.

Without star players and boasting a brand of collective football imposed by Marcelo Oliveira, a man whose cred amongst the elite clubs was negligible, the mineiros took the league by storm and never looked back after round 16, while Flu started treading water after their impressive 2012 season.

Bankrolled by health insurance giant Unimed, the Rio side had won Brazilian titles in 2010 and 2012 and were led by goal poacher, Fred, the top scorer at this year's Confederations Cup.

Meanwhile, former Barcelona and Chelsea midfielder Deco, they had a reliable creative source, nagging injuries non-withstanding. This year, however, Unimed reduced its funding, which led to desperate efforts to reduce their $3.6 million wage bill.

Wellington Nem went to Shakhtar Donetsk, while Wallace joined Chelsea and influential midfielder Thiago Neves returned to Saudi side Al Hilal.

Then, in August, came the blow of Deco's retirement and, a month later, an injury to Fred which has sidelined him ever since.

To make matters worse, the transfer money wasn't enough to cover expenses and for almost three months during the season wages went unpaid. As if that textbook financial mismanagement was not enough, the club also decided to part company with manager Abel Braga and replace him with journeyman Vanderlei Luxemburgo, whose life as a player and a manager is deeply linked to fierce rivals, Flamengo.

Ironically, given his status as an Atletico legend, Marcelo Oliveira also faced pointing fingers when he took charge of Cruzeiro in January. Nobody seems to be moaning now. Under him, the blue team of Belo Horizonte has stolen their rival's thunder by winning 46 and drawing six of 59 games.

Oliveira's merit is to have worked with a group of misfits. Defender Dede had been written off by the same people previously linking him to Europe's big clubs, while few people will disagree that little was expected from former Real Madrid and Arsenal striker, Julio Baptista. Free agents like Dagoberto and Borges came cheap while Willian came as part of the sale of Diego Souza to Ukrainian side, Metalist.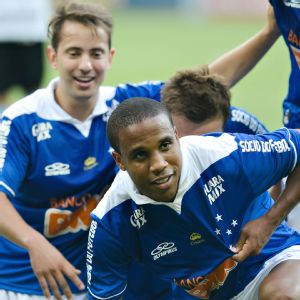 AP Photo/Eugenio SavioWith ten goals, veteran striker Borges (front) has been a key man for Cruzeiro.
Cruzeiro invested around $4.3 million to assemble their squad, three times less than the value of what Corinthians spent in an attempt to follow-up their 2012 South American and World Club Cup titles. It's a success story that resembles Atletico's continental push, apart from one obvious difference: Ronaldinho's signing. More sensible budgets and planning in Belo Horizonte contrast to poor financial handling in Rio.

Vasco is another side trying to avoid the drop having flirted dangerously with the bottom four for most of the season. They live beyond their means but still are able to use their prestige to score a few meals, like some kind of hanger-on in a Gatsby party.

While this Cruzeiro crown certainly isn't as impressive as that which they won years ago, when their dominance included the Minas Gerais State Championship and the Brazilian Cup, it certainly poses as a blueprint for Brazilian football.

This 'budget' squad did not scrape to 1-0 wins. In 34 games so far, Cruzeiro scored have 72 times, at least 19 goals more than any opponent. Furthermore, they also have the best defensive record, having conceded only 30 goals.

Oliveira's bunch also benefited from the fact they were hardly at risk of attracting Luiz Felipe Scolari's attention. If the risk of injuries to players on national duty is a problem wordlwide, in Brazil the situation is exacerbated by the league not stopping for international dates.

Santos, for example, had to play 17 matches in 2011 without Neymar due to his Selecao commitments. Of Cruzeiro's squad, only Dede broke the rule when he was called up for October friendlies against South Korea and Zambia.

Thus, both sides of Belo Horizonte are content, even if some Atletico fans might claim the Libertadores trumps the Brasileiro. Those supporters also dream of a miracle at the World Club Championship, where they may face the mighty Bayern Munich without Ronaldinho, who is fighting to be fit.

The inter-city rivalry promises to increase in 2014, as Atletico and Cruzeiro have already qualified for the next edition continental tournament.

Constantly mocked by people in Rio and Sao Paulo as country bumpkins, 'mineiros' can be forgiven for feeling somewhat smug.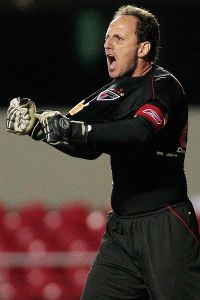 Rodrigo Coca/FotoArena/LatinContent/Getty ImagesRodrigo Ceni is set to end his impressive career.
Will Ceni stay or go?

Legendary Sao Paulo FC goalkeeper, Rogerio Ceni, passed his 40th birthday in a year where his club struggled for most of the season and he was beset by blunders.

He has already announced the intention to retire in December, which triggered rumors of a deal with QPR outcast, Julio Cesar.

However, until Ceni (who has scored a world record 113 goals from free kicks and penalties) actually hangs up his boots, speculation will continue…

The mighty miss out

Sao Paulo will not have a representative in next year's Libertadores. For the first time in 15 years, Brazil's biggest -- and richest -- city will miss out on the tournament.

Alexandre who?

Alexandre Pato, Corinthians' 14 million euro man, may be Timao's top scorer with nine goals, but he is well adrift of the league-leader, Atletico-Paranaense's Ederson.

He has 17 strikes and is one of the reasons behind the southern side's success this season, which has seen them achieve second place in the league and reach the Brazilian Cup final, in which they will face Flamengo later this month.

Fewer empty seats

After 34 rounds of matches, average attendances for the Brasileiro reached the 14,500 mark, which was higher than 2012 but still among the lowest since 2002.

Cruzeiro are, again, the surprise package, with 28,714 supporters per game, though they continue to trail mass-supported clubs such as Corinthians and Flamengo.