Can Robinho really help the Selecao?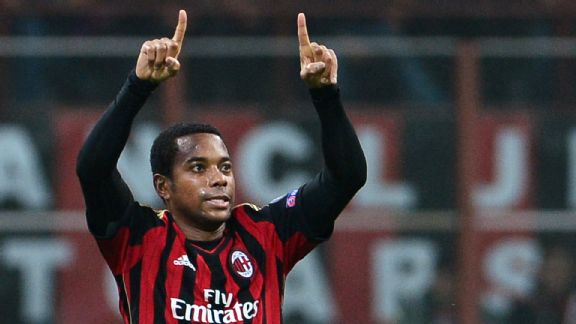 Giuseppe Cacace/Getty ImagesRobinho's worked hard to find a way back into the Brazilian fold. Yet he still has much to do if he's to feature at a third World Cup.
It's no surprise that the Diego Costa affair drew a lot of extra attention to the announcement of Brazil's list for their final squad call-up of 2013. But the fuss caused by the forced exclusion of the Atletico Madrid's striker after his decision to "go Spanish" ended up diverting attention from a name that should raised a few eyebrows for the exact opposite reason: Robinho is back in the Selecao fold.

At 29, and 15 months after he last dressed (at least officially) in Selecao gear, the Milan forward is the big intangible that Luiz Felipe Scolari will be taking to Miami and Toronto for games against Honduras and Chile this November.

And so, out of the blue, Robinho gets a chance to squeeze in and potentially feature in his third World Cup. Never mind that his presence on the list was more accidental than planned. While Big Phil pretty much expected Costa's defection and had announced his call-up much more as psychological warfare, he actually looks short in options upfront. Having apparently given up on the lack of bite by Alexandre Pato and Lucas Moura -- plus the talismanic Fred has been nursing a thigh injury since early September -- the manager needed some cover.

The timing could not be better for Robinho, either, as the former Real Madrid man was one the best players on the pitch in Milan's quite convincing performance against Barcelona in the Champions League, just two days before Big Phil's announcement. But there is an interesting caveat here: according to FIFA rules, national teams need to give at least 15 days' notice to clubs. Therefore, Robinho must have already been on Scolari's plans, an obvious reinforcement in the experience front.

It's old news that Big Phil still thinks the Selecao needs more seasoned characters -- especially for a home World Cup that carries even higher expectations after the team's triumphant Confederations Cup display. He has tried it with Ronaldinho and Kaka but seems to have not liked the result given that the pair have both since disappeared. Robinho, on the other hand, started this World Cup cycle alongside Neymar, featuring in the first post-2010 World Cup game and starting all the games in Brazil's pitiful 2011 Copa America campaign.

But after a defeat to Germany in Stuttgart, he fell out of favor with then-manager Mano Menezes, who seemed like many convinced that Robinho's best Selecao days were behind him. And few seemed to disagree, although Robinho would end the 2011/12 with 40 appearances and 10 goals for Milan. It just that people perhaps had grown tired of expecting bigger things from the forward.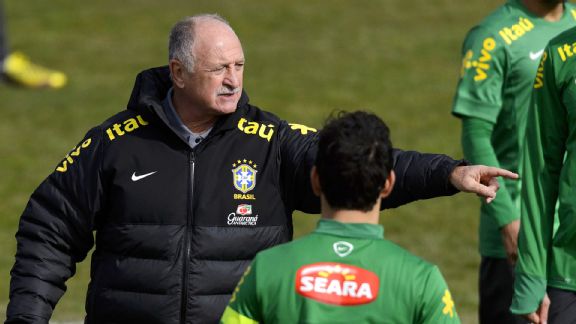 Fabrice Coffrini/Getty ImagesLuiz Felipe Scolari has tried veterans like Kaka and Ronaldinho recently but been underwhelmed. Will Robinho be the difference up front?

Sold to Real Madrid in 2005 after winning Santos FC's first Brazilian national titles since the days of Pele, Robinho failed to live up to the immense hype. He did have a more than decent run in his three years in Spain, finishing only behind Raul and Ruud van Nistelrooy in the scoring charts. Then came a lot of sulking and tantrums, as well as a British transfer record move (at the time) to Manchester City. It all ended badly again and it was quite a surprise when Milan came to the rescue in August 2010. Since then, he's been as maddeningly inconsistent as usual at Milanello, twice almost departing the club to return to Brazil. In his home country, it was all seen as a huge pantomime. And nobody really took it seriously when earlier this season, in a TV interview, he vowed to earn a call-up. One guess Robinho had the last giggle last week.

With two World Cups on his CV and 88 games for Brazil, Robinho is one of the most capped active Selecao players and still has a thing or two to tell younger teammates. The Milan forward is also known as "one of the lads," an easy guy to be around. Take a look at Scolari's 2002 World Cup squad and one will see that it wasn't solely composed of star performers or players whose contributions would directly link to the field of play. Exhibit A and B: Vampeta and Edilson.

"Thank you Brazil! It feels like the first time," was the brief comment Robinho posted on Twitter and Instagram to comment on the call-up.


Obrigado Brasil! Sentimento é o mesmo:como se fosse a primeira vez! http://t.co/jFBmKoXTG9

— Robinho (@oficialrobinho) October 31, 2013


Nobody will be more hopeful of rolling back the years than him.

Other Dark Horses

Kaka: Scolari's huffing and puffing on the sidelines when the player made mistakes during a friendly with Russia this past March suggested the manager had run out of patience with the 2007 World Player of the Year. But few players are as respected by peers and media as Kaka. If he settles at Milan, ruling him out of the group on experience grounds could be premature.

Rafinha: Logic says he should have already got called up if Scolari really wanted to test the Bayern Munich right-back. Besides, Maicon seems to have filled well the needs as Dani Alves' understudy. However, if Rafinha keeps getting games under Guardiola, he could earn a last-ditch chance to shine at the only friendly before the World Cup (against South Africa in March).

Philippe Coutinho: Injury has made his plight even more difficult -- and things could get harder if Willian, called up for the November friendlies, does well. But with six months before the World Cup cut-off date, a good run at Liverpool could definitely keep Coutinho's hopes up.