Diego Costa "defection" noise is unfair, nothing new
We should start by stating the obvious: Diego Costa should actually be able to choose which national team he wants to play for. It's not his problem if current FIFA regulations allow the striker to forget the 30-odd minutes he played with a Brazil shirt over two friendlies in March and accept what seems to be a honest opportunity to join European and World Champions Spain -- if rumors are to be believed, a guarantee from manager Vicente del Bosque of a place in La Furia's World Cup squad sealed the deal.

As much as the whole "defection" doesn't smell sweet, it is happening without flouting the rules. Moreover, Costa's career has pretty much existed in Spain after the striker left Brazil eight years ago without breaking into of the country's top clubs. It's not uncommon, either; some of his now-former Selecao teammates, including David Luiz and Hulk, found fame overseas and were both reportedly the target of attempts to switch allegiances to Portugal in the past.

- Report: CBF want Costa's citizenship revoked
- Lowe: Hate him or despite him, Costa's a star

Then there are the likes of Deco and Pepe, both Brazilians who did feature for the Portuguese. In fact, we need only look further afield to see that Costa's case is far from isolated. In recent years, naturalized Brazilians have popped up on every continent, blending into national teams and winning trophies. Before the emergence of Sergio Busquets, for example, Spain's midfield enforcer was Sao Paulo-born Marcos Senna, who helped La Furia to the Euro 2008 title. Francileudo Santos and Jose Clayton lifted the 2004 African Cup of Nations with Tunisia.

There's even a world champion: Amphiloquio Guarisi (known as Fialho or Filo) made it to the 1934 World Cup and was part of the Italy squad that won the trophy 24 years before Brazil did for the first time -- now that is a good question for a pub quiz. Speaking of the 1958 Brazil team, their initial first choice for the number 9 role, Jose "Mazzola" Altafini, was playing for Italy four years later in Chile, although a change in FIFA rules after abuses such as Ferenc Puskas representing Spain in 1962 would later render Altafini, the joint fourth biggest scorer in Serie A history and a 1963 European Champion with AC Milan, ineligible for both the Selecao and the Azzurri.

Japan has twice featured Brazilian-born players in World Cup, most recently in 2010 with defender Tulio Tanaka -- who famously clattered into Didier Drogba in a warm-up friendly and inadvertently hampered the Ivory Coast's chances of escaping the Group of Death.

More recently, Kevin Kuranyi played for Germany and actually managed to score an equalizer in a friendly against Brazil in 2004 -- a year earlier, Deco had gone a step better by capping his debut for Portugal with a winning goal against Brazil in Braga. We also shouldn't forget former Arsenal striker Eduardo da Silva, who also had the mixed feeling experience of facing his country of birth while wearing the Croatian uniform. In the last European World Cup qualifiers, striker Igor de Camargo was called up by Belgium, the same national so heralded for its homegrown talent and that in 1998 had former Fiorentina star Luis Oliveira in the squad. Italy again has a Brazilian in their ranks: Thiago Motta.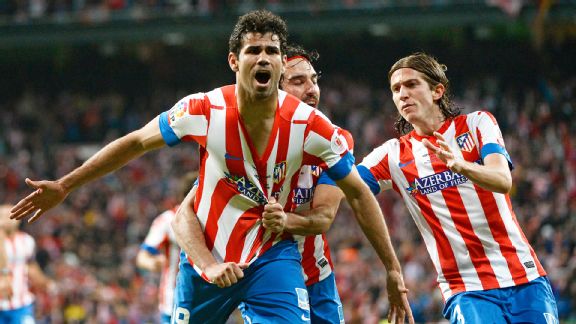 Pierre-Philippe Marcou/AFP/Getty ImagesIt's unfair to brand Diego Costa as some kind of traitor. After all, he's siding with the country that made him the player that he is.

With the exception of Altafini's switch -- which the former Milan and Juventus legend has since regretted but justified reasonably with the fact that Brazil turned away foreign-based players until the 1980s -- one of the aforementioned cases led to the commotion that Costa's decision has triggered. On Tuesday, Selecao manager Luiz Felipe Scolari accused the Atletico Madrid player of "turning his back to millions of Brazilian people" while FA president Jose Maria Marin vowed to lodge an appeal to FIFA.

We have discussed the rationale of the Brazilians' position before. If it's tempting to think that Costa's good start of the season Spain has made Scolari rethink an apparent decision to not rely on the striker's services anymore -- especially as the "number 9 scarcity syndrome" seems to be haunting the Selecao once again -- represents a kind of psychological warfare. Furthermore, Big Phil has shown to be a master of mind games much before he managed Brazil the first time, don't you forget that.

Ultimately, the official reaction wasn't pretty. But even the most libertarian opinion has to acknowledge that FIFA's amendment to the naturalization rules, which previously tied players to the countries they've represented in friendlies, had made this case uglier than it needed to be. The truth is that nobody forced Costa to accept the call-up for the Italy and Russia games in March. Reports in Brazil, saying that his declared love to La Furia came after he waited in vain to be on the list for the Selecao October friendlies against South Korea and Zambia, aren't helping matters either.

However, that does not justify any retaliation, impossible as it is to imagine Costa escaping the taunts from Brazilian fans if he actually makes it to the World Cup next year. Scolari and the Brazilian FA should actually look to de-escalate the tension, although the manager did have a point when he complained in September about possible abuses of the current regulation. But pinning the "unpatriotic" card on the Atletico Madrid player is unfair.

Like many other unknown Brazilian footballers who headed to the airport before him, he had many backs turned to him until he became a good player. To turn this into a nationalistic discussion is dangerous, especially in a country where dissent used to be classified as lack of patriotism by the likes of Marin, whose connections to the army rulers of the 1970s are well-known.

Let's not go there.

Please.