Pato's struggles put him into Selecao's shadows
Even for a player so normally introverted like Nelson Dida, a decisive penalty shootout save merits some kind of special acknowledgement. Yet the Gremio goalkeeper looked too embarrassed to celebrate. Not only did his heroics in Wednesday's Brazilian Cup quarterfinal against Corinthians come at the expense of former AC Milan teammate Alexandre Pato, but Dida pretty just had to be fall in front of the ball to make the save after Pato's horrendous attempt to execute a "Panenka" spot-kick.

Just when you thought the striker's poor run couldn't get worse, it did. Almost a week after a lacklustre display for Brazil in their Asian tour -- one that represented his last chance to stake a claim for a place in the World Cup squad -- the 24 year-old helped finish Corinthians' chances of a relevant trophy in 2013 and a precious chance to secure a place in next year's Libertadores Cup, South America's preeminent competition.

True, Pato is not the only culprit for the 2012 South American and World Champion's woes -- one could easily name the sale of Paulinho to Tottenham and the poor form of many key Corinthians' players as mitigating circumstances. However, the fact that the Brazilian club broke all national records by paying around 15 million euros to sign him from AC Milan last January does put Pato a different basket.



Since making his high-profile return to Brazilian football -- where he had previously played only 10 games for Internacional, the same club Chelsea signed Oscar from in 2012 -- Pato has failed to make a proper splash. With 10 goals in 27 games in main competitions, he might be Corinthian's top scorer in the Brazilian League this season, but the hits are dwarfed by misses that contributed to an abysmal collective offensive performance – Corinthians are 12th on the table and their 23 goals in 30th games is only better than 20th place and second division-bound Nautico.

The numbers per se would have been enough to incense the club's ever-demanding supporters. But fans are also picking on him thanks to a perception that the striker is not really bothered. For supporters and even Corinthians manager Tite Carvalho, Pato's "Panenka" was careless. Carvalho, as a matter of fact, has reportedly given the striker a proper dressing down in front of his teammates after the Gremio away game.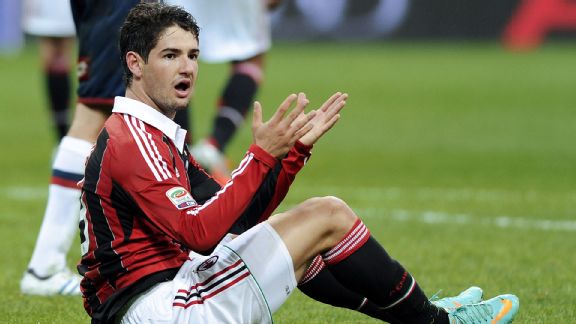 Claudio Villa/Getty ImagesAlexandre Pato has struggled ever since being anointed as the next big thing in 2006. From here, his career looks uncertain.

The atmosphere got so bad that Pato didn't travel back to Sao Paulo with the team in order to avoid a commotion at the airport -- to say nothing of the "personal commitments" in Porto Alegre offered as the official reason. He also issued a statement on Friday apologising for the penalty miss. "I worked with Dida a couple of years at Milan and knew he was leave his line before the kick so I tried to place the ball in the middle of the goal. I didn't try the chip or anything fancy. I accept the criticism but not that I was careless. I am really upset with what happened," Pato said via a statement.

Even those words will irk Corinthians tribal fan-base, for whom the professional mea culpa will reinforce the image of Pato as a player who doesn't embody the team's fighting spirit, one that isn't helped by his posh image -- his nickname is inspired by the fact he was born at Pato Branco ("White Duck") in southern Brazil -- in a club that is quite proud of its mass appeal. For example, the striker's decision to rush from the dressing room after a defeat in the league in order to watch a Beyonce concert in Sao Paulo was largely publicized (and criticized) in the Brazilian media.

Even Corinthians president, Mario Gobbi, has weighed in, publicly saying that the former AC Milan isn't playing to his full potential. It also seems like Pato has not bonded well with some of his teammates, a few of whom didn't try to hide their dissatisfaction at the outcome of the shootout.

Unfair as it seems to single a player out, the under-performance argument is also plaguing Pato's Selecao hopes. While his string of injuries was once a legitimate cause to give him leeway, his fitness these days is not a cause of concern. The striker has also struggled with Corinthian's 4-2-3-1 system. It is unavoidable to suspect, though, that Pato might actually be coping badly with the weight of expectation even before his repatriation.

Elevated rather prematurely to the category of "wonderkid" in 2006 after a handful of matches -- at the time, his club Internacional actually resorted to secret training sessions in an attempt to keep away scouts for European clubs -- Pato was sold to AC Milan in the following year as the next big thing in Brazilian football. He has been trying to justify the hype since.

Returning to Brazil was a chance to revive career and hopes, especially at a time in which the Brazilian national team is finding it hard to pick the right strikers are hard to come by. Reality proved a bit tougher and the diplomatic tone adopted by Luiz Felipe Scolari after the striker's bureaucratic display in Brazil's friendly against Zambia in Beijing -- "I always tell the players that they need to grab all the opportunities they get. Nobody will be judged by just one game, but they know there are few chances before the World Cup to show they deserve a place" -- couldn't hide the collective disappointment.

It will be interesting to see how the situation unfolds. While Corinthians actually needs Pato at the moment, few would bet in them a long-term relationship, especially now that the absence of continental football last season could lead to culls in the payroll. The problem is finding suitors for a player who looks jaded and somehow uninterested. Whether he knows it or not, the duck has become the elephant in the room.