Tug-of-war for Diego Costa could sour relations between Brazil and Spain
In a week, Brazil manager Luiz Felipe Scolari will announce his squad for November's double-bill friendlies in Miami and Toronto, possibly against Honduras and Russia. Unusual as it sounds, Spain manager Vicente del Bosque will look closely at the call-ups, because one name could actually trigger a cold war between the two football powerhouses.

The name is question is Atletico Madrid's Diego Costa.

Although he recently announced his desire to represent Spain since obtaining dual citizenship, the Brazilian striker could be called up by Scolari for the North American tour. Big Phil has refused to give up on a striker he might have not used since early March and insists Costa has been on his radar.

"I am the Brazil manager, and as far as I'm concerned, I am entitled to call any player eligible to play for this country. Diego Costa is part of a list of over 40 players we follow closely in the buildup to the World Cup, and I have until May 7 to make up my mind about using them," Scolari said bullishly in a news conference in Beijing on Tuesday after Brazil's friendly against Zambia.

Scolari also confirmed the Brazilian Federation had been formally approached by the Spanish counterparts to discuss the striker's situation.

Before boarding a plane to Asia last week, Big Phil started a war of words by criticizing the ethical stance of the Spaniards. He said the move for Costa, whose bright start for Atletico Madrid this season raised eyebrows on both sides of the Atlantic, was just a bit uncalled for when the striker had actually amassed a few minutes for the Selecao -- 35, to be more precise -- in exhibition matches against Italy and Russia. Costa struggled to make an impression in those games and since then has not featured for Brazil.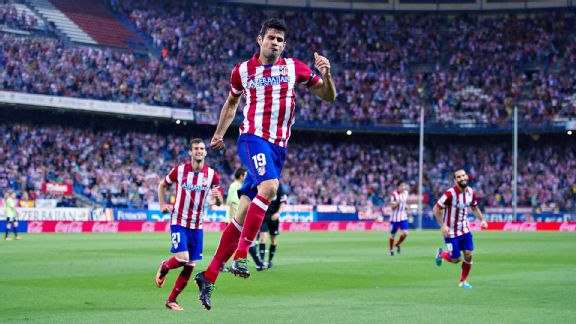 Denis Doyle/Getty ImagesDiego Costa has been a breakout star in La Liga this season.
The manager has quickly preempted accusations of double standards by arguing that his well-known push for Brazilian-born Deco and Pepe to join Portugal, in 2002 and 2007 respectively, while he was in charge was a different situation.

"They had never even been considered for the Selecao. I just find it strange that a player can actually represent two different national teams. Are we going back in time when Spain could field [Ferenc] Puskas and [Alfredo] di Stefano and that was OK?" Scolari said, referring to the usage of both the Hungarian and Argentine legends by La Furia in the '60s.

It is hardly the same thing, although a recent change in the FIFA rules made Costa available for selection by Spain over the fact that he has not played an official match for Brazil. Brazilian sporting authorities, though, have hinted they could claim that the country is actually unfairly treated because their automatic qualification to the World Cup as hosts deprived them of competitive matches.

Del Bosque has hinted he will play hardball, too.

In recent interviews, the manager suggested the striker should have the final word. He might as well, but it won't happen without some tough attrition. Direct interests are not the only reason Big Phil is digging his heels in this matter. Indeed, Brazil have had hardly any luck with strikers recently, and their Confederations Cup savior, Fred, has struggled lately and is hampered by niggling injuries.

Former Manchester City and Everton striker Jo has been deputizing, but the only other option has been a lackluster Alexandre Pato. Scolari can't afford to let a in-form goal scorer disappear into the sunset. Especially when he might just waltz into one of Brazil's main rivals for the World Cup trophy next year. Whoever has seen Fernando Torres play recently will agree Costa could easily take over the No. 9 role for Spain, just as another Brazilian, Marcos Senna, filled the midfield enforcer role and collected a Euro 2008 winner's medal before missing the final cut for South Africa 2010.

Squad leaders such as Xavi Hernandez have been quoted singing the praises of Atletico's No. 9, although it remains to be seen how he would handle such an abrupt exit from Diego Simeone's comfort zone in Madrid.

Even the suspicion that Costa might turn the Selecao down will not stop Scolari from creating a fuss. By calling up the striker, he will send the ball into Costa's court. The 25-year-old will be under the spotlight, and the possibility of becoming a rare case of a player refusing to represent the most famous international side in the world will certainly play in the back of his mind.

By shifting the pressure toward the striker, Scolari will also deal with criticism back home in case Costa is actually poached by La Furia. The Brazil manager, however, is far from a mere puppetmaster role. In Beijing, he had to admit he is short of strikers and options to help offload the scoring burden from Neymar. However, he will have to use his best paternal moves to lure Costa back.

That is if Big Phil really wants him instead of just stalling and unsettling the Spaniards. Part of the answer should come in a couple of days in Rio.